Legal Cheek's Will Holmes sits down with Gerard Frith, Taylor Wessing's Entrepreneur in Residence, to discuss how technology is changing the legal profession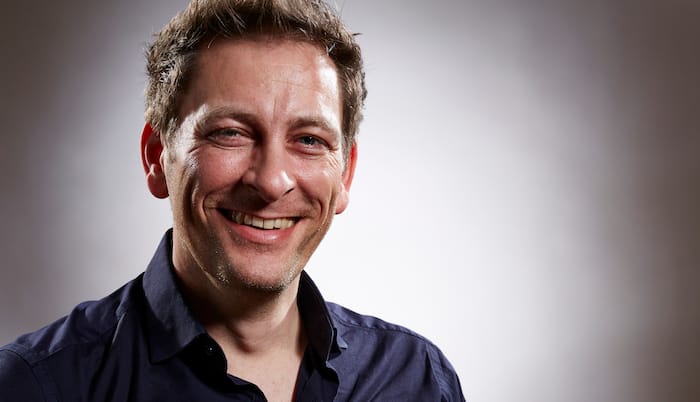 "Always read and think as widely as possible," advocates Gerard Frith, who recommends that aspiring lawyers develop a keen eye for identifying problems and finding innovative solutions that sometimes "challenge the orthodoxy".
The 'Entrepreneur in Residence' might not seem like the sort of person you expect to find at a City law firm. His background is in Artificial Intelligence (AI) rather than law and his career includes stints with the likes of Deloitte, PwC and Westminster City Council as well as a host of businesses he has founded. But at the end of 2016, he left MatterAI, the AI product build and consultancy start-up he created and turned into a multi-million pound business, in pursuit of a new challenge.
"I was really struck by how there is an extraordinarily big opportunity to make an impact in the legal sector," he explains, noting how the profession tends to be "behind the pack" when it comes to innovation. He joined Taylor Wessing, a firm which he feels is really "non-hierarchical and open to bold new ideas".
"They do such innovative work at the firm and there are lots of lawyers here with STEM degrees and PhDs which gives the place a real openness to change," says Frith, who is a big supporter of Taylor Wessing managing partner Shane Gleghorn's impetus in pushing the firm forward in this area.
Within this pro-innovation atmosphere, Frith has been able to channel his less risk-averse entrepreneurial approach into building new products that can enhance lawyers' roles and turn a profit at the same time.
So, what inventions has he been promoting? Well, in his words, "a mix of different stuff" including expert systems using natural language processing that can answer simple client questions and a visual recognition AI tool named 'Dupe Killer' that can scan the web hunting for intellectual property infringements. He's also interested in how more formalistic legal language might be translated into smart contracts which he argues have "a lot of untapped potential".
Tools like these can make law firms more attractive both to lawyers, who are relieved of "the boring bits" of their day jobs, and to clients, who receive better quality service and needn't worry about being billed high rates for relatively straightforward legal queries.
Will this sort of innovation wipe out lawyers completely? Frith suggests that "lots of work will be taken over" with AI being "almost as good as lawyers for contract review", for example. But new tech only redefines the role of the lawyer and reveals where they have been "doing the wrong sort of work". Indeed, the future, according to Frith, seems bright for lawyers: "Technology can create new ways of training and developing lawyers, making them more skilled and effective earlier on in their careers."
And we're only just getting started. For Frith, blockchain technology and the metaverse are both exciting innovations for the legal sector. He believes "these technologies could revolutionise the way we interact with data and collaborate with others", citing the prospect of re-imagining how disputes and contracts are visualised to make them more integrated with the processes they are used for. In layman's terms, everything from more accessible case management systems to holograms and interactive online spaces are not out of the question.
With predictions of big changes in the legal sector, the serial entrepreneur also thinks that acquiring broader skills is important for aspiring lawyers. "UX, client experience and servie design thinking, for example, will be really worth spending time on," he advises, and he encourages rookies to actively get involved in innovation. With the tides of the latest tech developments turning, it looks like it is up to aspiring lawyers to learn how to ride the waves and propel their careers into a new digital age!
Gerard Frith will be speaking at the virtual event, 'Digital ventures and designing the client experience — with Taylor Wessing', on Tuesday, 4 October. Apply now.
About Legal Cheek Careers posts.