Partners and associates share experiences of handling stress at work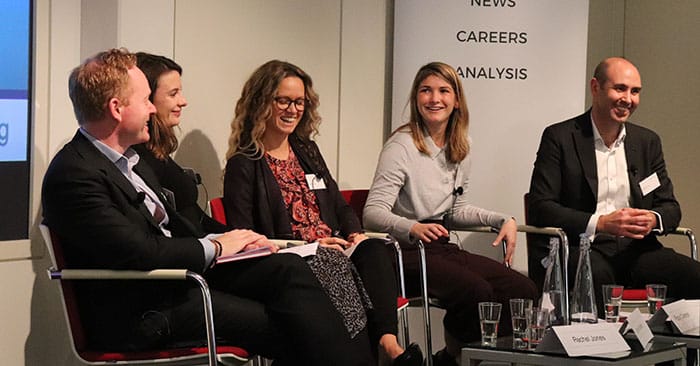 Five Taylor Wessing lawyers of varying levels of seniority came together in October to talk about how they approach mental health and wellbeing at work, at Legal Cheek's latest event.
Opening up to the audience of nearly 100 students, the speakers — two junior associates, a senior associate and two partners — told of the challenges they'd faced in their careers, how the stress had affected them and the strategies they had developed to cope.
We have summarised the best bits from the discussion, chaired by Legal Cheek publisher Alex Aldridge, below.
---
The speakers
Laurence Lieberman: disputes and investigations partner and head of Taylor Wessing's UK Wellbeing Network
Katie Knowles: commercial technology and data senior associate
Rachel Jones: commercial technology and data associate
Poppy Coleman: real estate associate
Matthew Royle: patents partner and Taylor Wessing training principle
---
The speakers' experience of stress
Asked by an audience member to "Tell us about a time in your work where you felt yourself under pressure to do something impossible, and how you responded to that, for better or for worse", data law specialist Katie Knowles highlighted the run-up to last year's GDPR deadline as particularly tough. "I was extremely busy at work and my sister was seriously ill. It was a very tricky 12-18 months. I got through it because I learned to ask for help. I went to my boss, and put my cards on the table, and he was incredibly supportive. I attended counselling sessions and increased my mindfulness practice."
Junior associate Rachel Jones spoke about the pressures of applying for a newly qualified position whilst trying to balance her commitments as a trainee to another department. "You put so much pressure on yourself — going to our in-house GP really helped — it's a great service that Taylor Wessing offers. It helps to talk it through and develop practical measures to cope with difficult times," she recalled.
Taylor Wessing training principle and partner Matthew Royle remembered over promising on a task as a trainee, and staying up all night in a desperate bid to meet his self-imposed target. "I realised what I was trying to do was impossible, but you learn from that and now I try to help trainees who find themselves in similar situations. Communication in this respect is so important," he said.
Which practice areas are most stressful?
Taylor Wessing scored pretty well in the average hours survey that Legal Cheek conducts each year as part of its Trainee and Junior Lawyer Survey, with an average leave the office time of 6:50pm. But the speakers agreed that working hours can vary widely between departments. Not that hours always correlate with stress.
As Laurence Lieberman, disputes and investigations partner and head of Taylor Wessing's UK Wellbeing Network, put it: "Everybody finds their place in the firm. What I do as a litigator has phases of intense bursts and sometimes long hours, such as when you're in a trial or seeking an injunction. That can be stressful but for me, ultimately, it's a good kind of stress because it's a part of the job I love."
Having completed her training contract last year, Poppy Coleman, who is now an associate in Taylor Wessing's real estate team, remembers clearly the experience of rotating between different departments. "You find yourself more suited to some than others, and spending time across the firm is an important part of finding the place that is right for you," she said.
Personality traits
The speakers agreed that many lawyers share traits such as conscientiousness, diligence and a commitment to achieving their goals. Such qualities are associated with a tendency to bottle up problems. To combat this, Lieberman explained how his firm works hard to "encourage people to show vulnerability and be open with colleagues at work".
Knowles added that "learning what your limits are" is important, so that "you are able to spot the danger signs when you are stressed and recognise it and then take steps to do something about it".
This "self-awareness" was necessary to "give yourself boundaries", added Jones. Such boundaries become more important as you progress in your career and take on more responsibility, the speakers added.
For Royle, finding something to de-stress, in his case going to the gym, has become an important method of handling the ups and downs of his busy patents practice.
What the firm is doing to help
Lieberman, who leads Taylor Wessing's UK Wellbeing Network, explained to the audience what the firm is doing to support its lawyers' mental health. Initiatives include training staff to become Mental Health First Aiders, the launch of Taylor Wessing's in-house GP service and the roll out of the Headspace meditation and mindfulness app to all of the firm's staff.
As important as the individual benefits of these initiatives was the wider message they conveyed about the firm's attitude to mental health. "It helps to enable conversations between people," said Lieberman.
Also significant in this respect has been Taylor Wessing's embrace of agile working. "Everyone's different — the option to work from home every now and again, and get outstanding tasks done without interruptions, whilst having the freedom to catch up on your washing, is something I really value," said Jones.
Royle told the audience of two associates in his team who having returned from paternity leave are each week working four days in the office and one on an agile basis to fit in with nursery pick-ups. And Lieberman, who is separated from his wife, explained how he leaves early on a Tuesday and Thursday when looking after his children, before logging back on after they have gone to bed.
If I knew then what I know now
Legal Cheek publisher Alex Aldridge concluded the session by asking the speakers: "Knowing what you know now, what would your advice be to your future lawyer self?"
Royle: "Be open-minded about opportunities that present themselves."
Coleman: "Feel able to rely on your colleagues and be that person for other people."
Knowles: "Be inquisitive. There is no such thing as a stupid question."
Jones: "Continue to be proactive about mental health: It's easy to let things build up to the point where you're having to be reactive and that's a lot more difficult to come back from — prioritise yourself."
Lieberman: "It's really liberating to be authentic. Looking back I sometimes did what I thought was expected, portraying the image I thought seniors wanted. I'd try to be myself more."
About Legal Cheek Careers posts.