Your City law career doesn't need to be in a straight line, says Pinsent Masons' associate Zoe Pond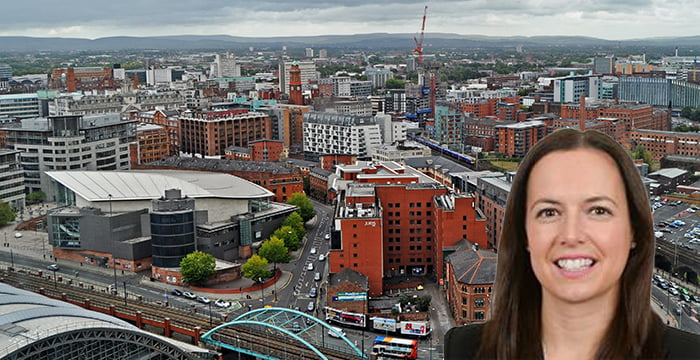 A career in law is not always a straight-line process from your university library to the shiny offices of an international commercial firm. Zoe Pond, now a successful associate at Pinsent Masons in their construction team, living and working in Manchester, has followed an unusual trajectory to get there.
Pond, who spoke at Legal Cheek's recent Secrets to Success event demonstrates that there are many routes to the doors of a top commercial firm's practice — and all the different work experiences that you have along the way will help you when you get there: "It can be tough but it will all prepare you for working in a large firm," Pond says.
And that includes time spent at a much smaller firm doing very different work to that which she is doing now: Pond did her traineeship at a high street practice in Lancashire undertaking family law and conveyancing. But her stint at the two-partner firm taught her a lot: "I enjoyed it there. I had a lot of client contact and a huge amount of responsibility for someone who was a trainee. In conveyancing, I was running my own caseload."
Pond knows that her training was unorthodox and that she probably missed out on some of the more structured training programmes she might have experienced at a large, international firm like Pinsent Masons but her time in a high street practice: "did not hold me back. You get a lot of confidence from running cases and having close contact with clients, which is invaluable."
Pond had also come to law a bit later in life: she had originally studied Management and Spanish at Leeds University. This was followed by a stint living among London's bright lights working in recruitment for a series of investment banks including at Goldman Sachs.
It was while Pond was processing IT contractors' employment contracts at Credit Suisse that she had her law 'epiphany':
"I was looking at these contracts in a purely administrative capacity and frequently I would have to liaise with the Legal Department in order to agree amendments to those contracts. I thought: hang on, I could do that!"
Switching to law meant returning home to live with her parents and taking up full-time study again with no income: "it was a real lifestyle change," Pond explains. But her GDL and LPC courses at the University of Central Lancashire she found "really intellectually challenging and interesting" and more than compensated for the downsides. She also did night school in the second year of traineeship to get a full law degree.
During her traineeship, Pond knew that the small practice, though rewarding in many ways, was not where she saw herself in the longer term, so she set her sights on moving to a larger practice and into a more commercial line of work.
It was at this point that Pond demonstrated that a little determination in life goes a long way. She was looking for a post which fit her criteria, and found one being advertised at Napthens, a regional commercial firm in Preston. But the recruitment agencies were very negative about her chances and wouldn't put her application through. Instead of being defeated by this, Pond simply emailed the relevant partner directly. The same day she had a response and later got the job which was in the construction team.
After a year at Napthens, Pond had the necessary experience — and confidence — to apply for a position at Pinsent Masons: "When I started at Napthens, I really didn't know anything about that area of law or the construction industry. But by the end of it, I had learnt a lot. The move to Pinsent Masons was not hard — the deals are bigger of course but my time at Napthens had prepared me well."
Working in Manchester is hugely positive for Pond:
"Everything I need is here: there is a strong legal market and lots of networking opportunities for junior lawyers. It's a happy medium: the city is not too big and accommodation is affordable, but there's also lots going on."
Looking forward, Pond says that in the medium term she is very happy progressing her career at Pinsent Masons which is, she says, "absolutely the right choice of firm for me" and where the work is "top calibre". Looking back, Pond reflects: "When you are 18, it is hard to know what you want to do, and you don't really know what work is like." For that reason, Pond argues that sometimes alternative career paths might be the answer: "I think apprenticeships, for instance, are an excellent way to earn, learn and discover where the right place is for you." There are not always just straight lines.
About Legal Cheek Careers posts.