Ahead of Womble Bond Dickinson's vacation scheme and training contract application deadline next week, the firm's lawyers answered questions from students about blockchain, AI and a changing legal market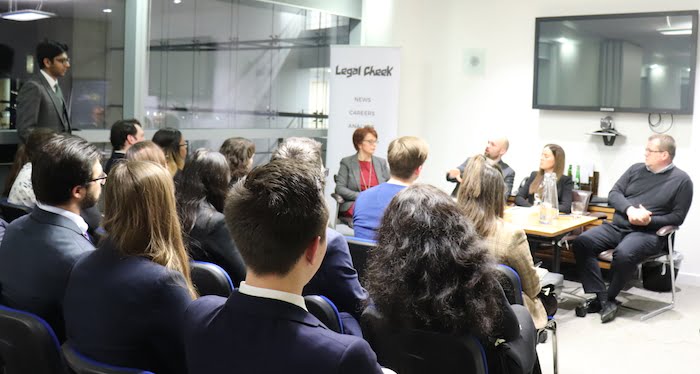 This month three Womble Bond Dickinson lawyers and a member of the firm's senior business development team got together in Leeds to take questions from over 50 students at our latest Legal Cheek Live event.
They shared a range of perspectives, with partner John Connor offering his insights from banking & finance, managing associate Sam Dixon providing a restructuring angle, and associate Fiona Hinchey giving a private client lawyer's take. Meanwhile, Alison Rutherford, who leads the firm's bids and tenders function and sits on its innovation panel, focused on the client perspective. Here are some of their key thoughts.
Blockchain is important because it will unlock clearer ownership knowledge
The bigger picture with blockchain is that it has the potential "to unlock clearer knowledge of ownership", said banking & finance partner John Connor. That could well be a game-changer for asset classes that have been hitherto difficult to monitor — and, by extension, to fund.
"Once you have knowledge of ownership you have an asset class that you can exploit and generate cash — or Bitcoin — from," added Connor.
Restructuring solicitor Sam Dixon detailed some of the things that Womble Bond Dickinson is doing in this space, including participating in a project — known as Accord — to create standard contracts for certain areas of international trade. In particular, the Accord Project is exploring ways to automate payments. Dixon explained:
"As well as the law, [blockchain] will impact pretty much every sector, wiping out the need for audit in some areas, changing the way that land registration works and overhauling supply chains."
Picking up on this, Rutherford gave the example of a client experimenting with using blockchain to monitor the importing of South American coffee beans. With the quality of the beans sometimes impacted by transportation, there is the scope to write provisions into a smart contract that vary according to container temperatures, she explained.
It's just the beginning for artificial intelligence
Connor likened the current state of artificial intelligence in law firms to Amazon's Alexa in homes.
"That is roughly where law firms are with AI," he told the audience. "We all see that it's worth investing the time to make these products better and to teach them to do the things that we need them to be able to do. But they are far from the finished product at the moment."
He estimated that in five to ten years legal AI would be delivering some very impressive results.
Dixon has been on the frontline of some of the firm's work with AI, working over the last year on a machine learning algorithm that can be taught to analyse documents. He commented: "We have taught it to review debentures and other securities documents. And now we have trained it to a point that with 90% accuracy, at the click of a button, it can identify each of the clauses we are looking for in documents, and automatically extract them."
Having since gone live with the tool, Dixon's team is reporting 50-60% time savings on these tasks compared to when they had been handled manually. However, he noted that this sort of AI is still at an early stage. "The potential for applying this further to other areas is huge," he said.
Expect more developments in an area that is being driven by demand from corporate clients who are experimenting with all sorts of tech themselves. "Clients want to now what you are doing in this space, not whether you are doing anything," said Rutherford. And they want it to deliver results. She continued: "We are constantly asked to quantify the cost savings and overall benefits — what does that mean for the client's bottom line?"
Advice for students to prepare themselves for the changes
The panel agreed that the fundamentals of legal education and training are unlikely to change. But they expected some alterations in modules on LLBs and vocational law courses to incorporate technology elements.
Drawing a distinction between "technology used to pick out information" and "the person analysing that information and advising how it impacts on the application of the law", private client lawyer Fiona Hinchey urged law students not to undervalue their human skills — both when studying and after they make it into practice.
Dixon echoed this anti-hype message when he questioned whether law students needed to code when most AI-derived software runs through Microsoft Office-style interfaces.
But the last word went to Connor, who suggested that technology actually meant that legal skills, good judgment and character had never been more important, as junior lawyers were faced with less grunt work and more opportunities to be genuine advisors at quite an early stage in their careers. "This is a very exciting time to be entering the profession," he concluded.