Ahead of Legal Cheek's latest student commercial awareness event, with Burges Salmon in Bristol next week, we spoke to projects and transport lawyer Ed Barratt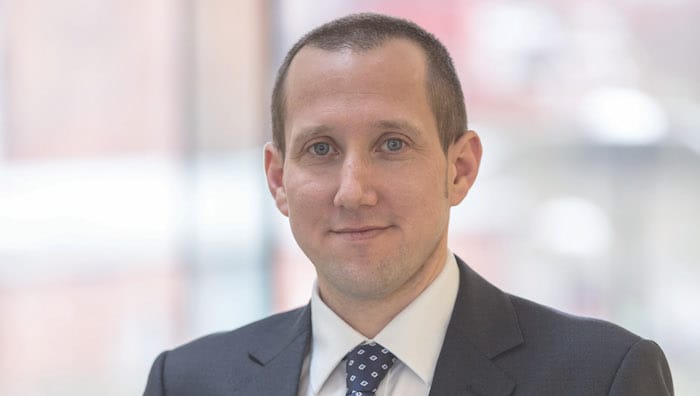 Burges Salmon director Ed Barratt began his career as an English language teacher after completing a degree in archaeology and anthropology and history at the University of Cambridge. For Ed, however, the jump from language to law was natural. As he puts it: "Law is all about good communication and using language to describe concepts clearly."
Keen to make the most of a strong degree by switching to law, he notes: "The students from other non-law backgrounds who adapted quickest were the philosophy graduates: they were the most familiar with the very precise way in which lawyers use language". Ed's academic background must have also proved useful preparation however: he successfully completed the Graduate Diploma in Law (GDL) and joined Burges Salmon in 2004, where he has been ever since.
One of the factors that drew him to the firm was its reputation and emphasis on quality. A recognition of "how limiting it can be when you haven't got the support to do the job as best as you can" informed his thinking in this regard. "From the first contact I had with graduate recruitment the process was very well organised," he recalls.
Another key attraction was Burges Salmon's location in Bristol. The city has retained its own character while evolving with the recent influx of media and tech professionals. Still, he spends a couple of days a week in the capital working from Burges Salmon's London office. Another two days are usually spent in the firm's Bristol headquarters and one is typically spent working from home or elsewhere.
"The advances in technology means that we can work in a more agile way than we could ever before," he says. "Work is an activity, not a location".
Now a director in the projects team at Burges Salmon, Ed's role is similar to that of a salaried partner in other firms: he runs projects, manages teams and generates work for the firm through business development activities. With particular expertise in both rail and the wider transport and mobility sectors, Ed enjoys the freedom he has to apply his core black letter legal skills to many different scenarios within these sectors and others which overlap with them, such as energy.
He is currently focusing on developing the electric vehicle practice at Burges Salmon. The much heralded departure from internal combustion engine vehicles to battery-powered electric vehicles presents a "massive" challenge not only to fleet managers and transport providers but also to the energy sector.
"The big problem is the distribution system — how we get power to where it is needed — and will affect anyone involved in providing energy," Ed explains. This especially the case given that 40% of UK homes do not possess a driveway — begging the question of where drivers should charge their electric cars. "We don't currently have the infrastructure for an electric network that meets large scale demand," he says.
The growth of the electric vehicle industry is therefore mirrored by an increasing demand for new infrastructure. These large-scale projects are likely to require complex partnerships between funders, contractors, local authorities and others, and this should throw up plenty of interesting work for lawyers.
Another area for Ed is advising on connected autonomous vehicles. He has been closely involved with VENTURER, a government-funded project that tested public acceptance of self-driving vehicles. Alongside insurance company AXA and other members of the consortium, Burges Salmon looked at how traditional models of insurance can be adapted for use with self-driving cars. Some of the themes that the consortium considered were directly relevant to the Automated and Electric Vehicles Act which became law earlier this year.
This exposure to interesting, innovative work has come Ed's way through carefully-fostered professional ties: "I focus on developing long-term relationships. This way you get to understand your client's business in a way that means you add value that you can't if you don't have that background," he says.
Here Ed is referring particularly to his work in the rail industry, another sector with multiple challenges. He attributes the need for legal input to the heavily-regulated nature of the sector and the need to find effective solutions to previous underinvestment in rail infrastructure. Ed also notes the touch points between rail and other emerging technology relevant to his practice: "A lot of the challenges are common to the different transport modes and the technological — and potentially the legal solutions — often cross over."
As for aspiring lawyers wanting to succeed in the transport and energy sector, Ed stresses that "rail and energy tends to attract those who are passionate about these areas, and almost by definition you will do work which you find interesting". While being aware of hot button topics in the sector will help, the best way to demonstrate that enthusiasm is by gaining experience — whether it is with law firms specialising in this area or with transport and energy companies.
Ed and his colleagues will be speaking at Commercial Awareness Question Time — with Burges Salmon in Bristol on Thursday 1 November 2018. Apply to attend.
About Legal Cheek Careers posts.