Reed Smith trainee Tiffany Law reflects on her journey into law and how she took onboard feedback to earn a spot at her firm of choice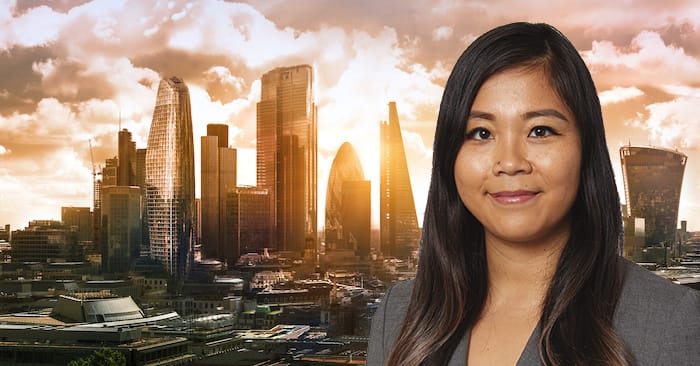 Ahead of this afternoon's virtual event, 'Life as a trainee — with Reed Smith', the Legal Cheek Careers team caught up with fourth seat trainee Tiffany Law to hear about her career journey and the challenges she overcame along the way.
In a few words, tell us about you and your journey into law
I am a fourth seat trainee in the entertainment and media department at Reed Smith. I have a unique background, having studied international relations for my undergraduate degree back in Canada, my home country, and a master's in law at the University of Bristol — so have both a law and non-law background. I attended a state school equivalent high school back in Canada. I am also the first person in my extended family to become a lawyer, and the first person to go to university. My journey into law includes internship experience around the world, in Toronto, Canada, as well as in Beijing, China; paralegal experience in Bristol; and taking a gap year in between my two degrees to work at a legal tech start-up in Hong Kong.
What drove you to pursue a career in commercial law? Has it been what you imagined?
Prior to my career in commercial law, I used to work at a dance music record label. That allowed me to discover my love for music and my vision to combine this interest with a commercial legal career to become an entertainment and media lawyer. I have tried various other jobs in the past from account management to teaching and marketing. However, I felt I was always looking for something that was more challenging, a career where I would constantly be learning and developing new skills.
As expected, a career in commercial law has definitely been a challenge so far, but a rewarding one. There is a saying that you get what you put in. I've been fortunate enough to have been able to gain experience in the firm's top departments — banking, transportation, and entertainment and media. I've been to the Supreme Court for a hearing, and while on secondment, was able to assist in a client's largest acquisition in the history of their business operations. The opportunities I have gotten are greater than I could have imagined but has no doubt made me a better lawyer!
Please could you share any challenges or difficulties you have had to overcome on your journey into law
Coming from a single parent family, in order to fund myself through university, I had to work part-time and take out loans. It was difficult juggling work with studying and extra-curriculars, but the experience allowed me to become super organised and mindful of my time management. It also allowed me to gain transferable skills in the workplace. I understand it has been difficult for aspiring trainees to gain legal work experience during the pandemic, but never underestimate the skills you are able to learn in any job, even if it is not legal related. I was a Subway 'sandwich artist' for one term at university and it allowed me to gain invaluable skills dealing with difficult customers and working in a fast-paced environment.
Like many others, I was not successful in obtaining a training contract on my first try. Rather, it took me three rounds of applications before I was finally successful in obtaining my vacation scheme with Reed Smith. The constant emails of rejection are rather dejecting, especially if you are a high achiever and someone who constantly did well in school. However, every failure is a lesson to be learnt. It is about shifting your mind-set and perspective on the situation. Learn why you failed and understand why your application was not successful. With the help of amazing organisations such as Aspiring Solicitors, I learned to improve my applications and better prepare for my interviews. Learning from my mistakes and my failures allowed me to succeed in my application to Reed Smith and ultimately earned me a spot as a trainee at my top choice firm.
If you could go back and do it all again, would you? And if so, what piece of advice would you give to your high school self?
Yes, for sure, nothing great comes easy in life, and that is the piece of advice I would give my high school version of myself. Also, nothing happens overnight. To achieve your goals, you will need to work hard. Not every day will be a good day, but it is important to dream big and keep your eyes on the prize. I am currently still on that journey, on my path to achieving my goals. Dreams and goals can also change so don't be afraid of this change. The area of law I hope to practise is more niche and competitive than other areas, but it is important to stay true to yourself and shape your career in the way you want it to develop.
Hear from other Reed Smith trainees at 'Life as a trainee — with Reed Smith', a virtual student event taking place today (Tuesday 2 November). You can apply for one of the final few (and free) places to attend the event.
About Legal Cheek Careers posts.