Legal Cheek Careers sits down with John Watkins, ULaw's director of employability, ahead of next week's in-person workshops and networking evening in London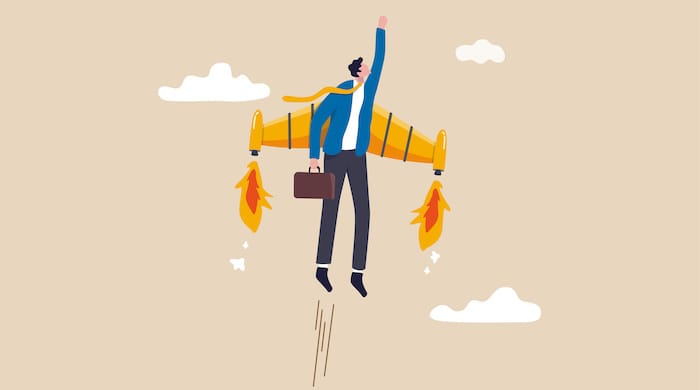 What makes a good application, what will impress a law firm, how can you improve your networking skills, and how can you make yourself stand out from the crowd?
These and other topics are likely to be discussed at an in-person evening of workshops and networking in London, with Ashurst, Bristows, Reed Smith and The University of Law (ULaw). The event also covers life at a global law firm, an insight into a career as an IP lawyer and a look at current topics in global markets.
Ahead of the event, we asked John Watkins, ULaw's director of employability, for some career tips. Here's what he told us.
Can you tell us about your background and your role at The University of Law?
I balanced being a sports commentator with training as an accountant before deciding to follow the head rather than the heart into a full-time career in the accounting profession. As time progressed, I spent more and more time using the broadcasting talent in front of audiences — lectures, presentations, training — before taking on the role of director of learning and development. After 20 years in the profession, I moved to higher education in 2012 and to ULaw in 2015. Alongside lots of traditional forms of student support, I have introduced much of the skills training that tends to form parts of graduate schemes, middle management programmes and even partner development sessions, to those at the start of their career.

What are the current challenges facing aspiring solicitors looking to enter the legal market?
There are lots of opportunities and thus it continues to be a very attractive career path where the challenges can all be overcome and are worth the effort involved.
The past few years have impacted on learning, building relationships, gaining work experience and broadening cultural horizons. There are many students whose confidence and self-esteem are relatively low. Our Employability Team are very skilled at recognising and supporting these aspects as well as advising on the content of CVs, application forms etc.
Competition remains fierce for training contracts and pupillages. How can students stand out of the crowd?
The primary goal is to work out what their ambitions are and to research thoroughly to understand which employers will suit them.
It is so much easier to show compatibility when there is a strong fit.In telling the story of who they are and what they are looking for (which comes through the CV/application form) they are effectively standing out because their story is unique.
However, finding something that matches the employer's values/goals etc allows the reader to look favourably upon candidates — it comes back to the research and understand point.
What are some of the do's and don'ts when it comes to networking?
The main point here is that networking is not an optional extra or a 'soft skill'; it is a fundamental requirement for all aspiring professionals. Thus, time must be set aside to do it. We have a compulsory employability session with all first-year undergraduates in the first two weeks of term which introduces networking and attempts to alleviate any fears. The top tip is to have a strong personal introduction — something factual, interesting and relevant. That allows conversations to start well, reduces the chance of awkward silences and gives confidence that the experience will be positive. Good preparation and strong follow-up are further top tips.
In terms of don'ts — don't put it off.
What in your view makes a good application?
Authenticity — I need to see where the student has come from, what has influenced them and why all that now means that they are ideally suited to the job they are applying for.
A good application is easy to read and all the different sections fit together with a consistent message.
There is an opportunity to tailor according to the employer which will sometimes include laying down a few challenges. Employers expect staff to deal with challenging questions from clients and are often not averse to seeing candidates display a willingness to 'test' the employer. In recent months I have seen what I regard as excellent responses to questions on application forms which ought to have made employers think very carefully about their commitment to such areas as the climate, wellbeing and diversity — their future employees have lots to bring to the table and high expectations in these areas.
What careers support is on offer at The University of Law?
The provision is designed to support every individual achieve their personal ambitions. In this context students have a wide range of potential forms of support available from which to choose.
One-to-one careers advice remains hugely popular as does the opportunity to gain practical experience through our pro bono provision.
Employer events, mentoring schemes, professional skills workshops, access to resources, membership of the Employability LinkedIn group are all very popular.
The twice-yearly Commercial Awareness Challenges — for all students on all campuses, studying all courses — attract 1,000+ participants.
What is the best piece of careers advice you have given or received?
My personal favourite is to encourage people to put themselves in the shoes of others.
It is a life skill but equally important in recruitment processes — try to envisage what the reader of the application form or the interviewer is really looking for.
The other regularly shared advice is that you must convince the employer that you want their job not just a job. It all comes back to finding the right fit and then evidencing and articulating it.
John Watkins will be speaking at the 'In-person workshops and networking evening in London — with Ashurst, Bristows, Reed Smith and The University of Law' on Thursday 6 October. This event is now fully booked.
About Legal Cheek Careers posts.