Four successful lawyers reflect on the opportunities presented by setbacks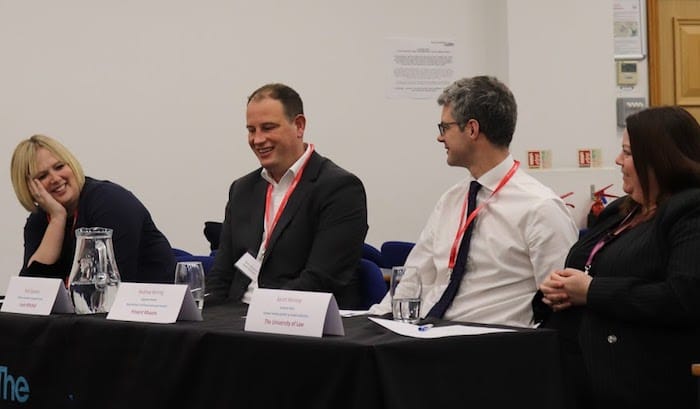 On a chilly December evening 70 students gathered at the University of Law's Birmingham campus for Legal Cheek's final and most candid event of 2018. On the panel sharing the secrets to their successes were Samantha Holland, a commercial litigation partner at Gowling WLG; Nick Dawson, a partner in the corporate team at Irwin Mitchell; Andrew Herring, a partner in Pinsent Masons' civil fraud and asset recovery team; and Sarah Ramsey, campus dean at ULaw Birmingham. Here's what happened in the very open and honest session.
Reflect and improve
As the recruitment cycle reaches application time, students wanted to know how they should deal with the inevitable rejections that pile up. While setbacks can be disheartening, Gowling WLG's Samantha Holland told students that "nobody is going to hold it against you if you've been rejected." Instead what recruitment partners like her are "looking for is people who learn from their experiences".
She advised attendees: "If you are getting knockbacks — reflect on that. Ask for feedback why that is? Go out and think about how you are going to act upon that feedback."
As ever, the most frequent errors candidates make are easy to fix. Many applications have a "lack of attention to detail". Irwin Mitchell's Nick Dawson cited examples where answers had just been copy and pasted. Other common mistakes were "not answering the questions on the form," and instead "trying to answer the question they want to answer." Aspiring lawyers should remember that these are competency-based questions and Pinsent Masons' Andrew Herring likened tangential responses to an unsuccessful attempt to "squeeze circles into square holes."
Finally, ULaw's Sarah Ramsey implored students to "use your university's careers service". Given that "law firms don't reinvent the wheel every recruitment cycle," these services have banks of questions from people that have been successful at assessment days.
Students are not "snowflakes", says Sarah Ramsey, dean of The University of Law's Birmingham campus, who instead stresses the "amazing examples of resilience" that she often comes across.

Posted by Legal Cheek on Tuesday, 9 April 2019
Realism: know what you are signing up for!
Candidates should also be clear about the realities of the job. As Herring commented: "Being a commercial lawyer is hard work. You can't get away from it."
He went on to detail examples of having to decamp "down to London for the week for a trial at the Technology and Construction Court" or "flying out early in the morning" to advise a European client.
"People put on their applications that they want to work for international law firms because of the exposure to high-quality work, to travel, to work for exciting clients doing innovating cutting edge things. If you aspire to that type of work, it is likely to involve longer hours," he continued.
Holland spoke about a couple of occasions when work had to take priority. She recalled how during a major litigation case where after having "just finished preparing a 120-volume trial bundle" they were "landed with 2500 new documents" on December 21st. This forced the team she was part of "to work on it over Christmas and New Year at a time when everyone else was on holiday, including all of the people who we needed to help us make the bundle!"
Ramsey, who previously practised as a legal aid lawyer, was keen to point out that things are not so different in criminal law. As she put it: "Criminal law may not be as exciting or glamorous as you may think." She explained that she "could be called out to the police station in the middle of the night three times and still be expected to go and do a trial at 9am the next morning in the family court."
She added: "Of course, there is exciting court work and advocacy. But be realistic! If anyone is going for criminal law, absolutely, go and experience some first though!"
Finally, she reminded those gathered that "the support and salary" offered by commercial law firms means they "are good places to be."
Attitude is important
Given the sometimes intense nature of legal practice, it's no surprise recruiters look for attitude as much as academic achievement. Dawson highlighted "emotional intelligence" and the "ability to get on with people."
Similarly, Holland's most sought-after qualities are "enthusiasm and positivity". She said: "We are in the office for quite long hours. We are working quite closely together. There is nothing worse than working with someone who sucks the joy out of every situation. If I'm going to have a trainee, I'd like to have someone who is excited about the work we are doing together at two o'clock in the morning on disclosure."
Herring added: "The best trainees that we have in our team are self-directed, they get given something to do and they take ownership of that task. They stand out because they take responsibility."
Technology needs to be relevant
What matters most when it comes to tech, said Herring, is "an understanding of what coding is and what the software is capable of" — rather than actually knowing how to code.
Similarly, Holland doesn't necessarily need her trainees "to be the next Bill Gates." Instead, they should "always [be] thinking about; how can we do things a little bit better and have the courage to come to talk to me about it."
Dawson spoke a little bit about how Irwin Mitchell has been using machine learning. Whereas before, "junior Lawyers [would spend ages] going through reams and reams of documents looking for [the] change of control provisions," artificial intelligence has allowed these "contracts to be put through a scanner [which can] help organise the work."
He then went on to make an interesting comparison with the retail industry. Just as "House of Fraser failed because it didn't embrace technology or online retail," similarly law firms that aren't adapting to technology will fall by the wayside."
Opening minds towards mental health
Like all professional services, lawyers are expected to work hard and manage a client's critical issues. This pressure can impact someone's mental health, but fortunately, awareness and understanding have significantly improved. Dawson outlined the scale of the transformation:
"What's changed is the understanding that everyone has got mental health. Previously we just looked at people with poor mental health or mental health issues."
Holland echoed this sentiment, observing that "there is a huge drive towards openness and honesty about discussing mental health issues. It isn't something you can't talk about anymore — quite the opposite."
Dawson went on to detail the steps that have been taken, noting that he has "attended Mental Health First Aid courses at work, to make sure [he] can recognise issues in [his] team." Moreover, he believes "having supervisors understand the importance of training people to manage their time" can help alleviate the pressure of deadlines.
Seek advice
The final part of the evening saw the panel encourage future trainees to be open-minded and proactive. As Dawson said: "There are no stupid questions when you are a trainee solicitor."
Holland remembered being afraid of "looking stupid or speaking to somebody and thinking they were going to laugh at me" when she was younger. Now she counsels applicants:
"Don't be afraid of those people you think are slightly untouchable and ask them for advice — mentoring is one of the things that has been very helpful to me in shaping my career to date, and I wish I had done it a lot sooner."