Four City lawyers answer the classic interview question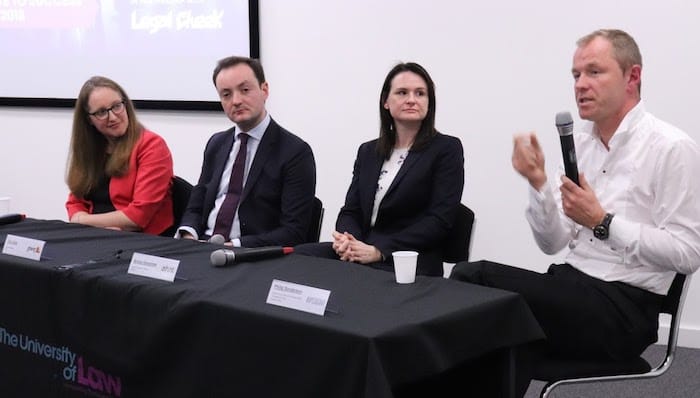 It's your first day as a trainee. You start your day with a seamless transition from home to work in a driverless bus, whilst collecting your favourite hot drink, a superfruit (greenhouse gas neutral) chai latte from your robot as you walk into the office. You go in, look at your PC (on your wrist, of course) and check to see that a client file has been reviewed overnight by an algorithm, and then automatically distributed internationally to all interested parties.
Such is the futuristic picture with which dean Jill Howell-Williams welcomed over 90 students to The University of Law's Moorgate campus last week. A starlit panel of City lawyers joined the students to talk about the future of the profession in what is a period of huge change and disruption. Pointing to the dean's vision, CMS senior associate and solicitor advocate Louise Boswell said, "some of that we are already doing, some of it I can see coming in in the next couple of years, and some of it may be a bit longer term".
Tech: hype and reality
In Boswell's view, "in the long term, the main challenge that law firms will face is technology. That is something that is constantly developing, and frankly those law firms that don't develop with it will get left behind. Which is why you'll find that most law firms now have a focused team that is concentrating on what the developments in technology are and what they should be doing to make sure they keep up."
Stay ahead by looking those up. But don't ignore the old school lawyers, who "tend to slightly downplay tech at the moment", were the words of Ropes & Gray partner Philip Sanderson. Look at "the law firms that are the real winners globally at the moment — have they become so defined because of their approach to tech? I can guarantee they haven't". It boils down to "being good lawyers and good advisers," continued Sanderson, "I think sometimes people get too obsessed with tech as if it's some great new frontier that's going to completely revolutionise law."
It's hard to imagine that when Sanderson first came to the City he didn't have a computer at his desk for four years — "documents were typed outside my office and then changed with liquid paper… if you even know what that is!" he quipped. Clearly, technology has changed a lot over that time, "but has it changed what is required to be a really good lawyer and law firm?" questioned Sanderson. Instead, the biggest challenge that law firms currently face, according to Sanderson, is:
"Anything that is going to reduce the demand for legal advice — the big battle of demand for legal services over the years has been New York versus English law. Things like globalisation and how a law firm reacts to that, Brexit, our economy and other geopolitical factors I think will be very important to all of you."
Commercial awareness
Brexit is going to impact many fields and sectors. For lawyers, it's an opportunity, said Boswell. The change that it will bring will mean that inevitably lawyers from all practices will need to adapt but also potentially get new business. While the corporate kids will see a downturn in the event of another financial crisis, restructuring teams will be in demand, explained Tom Dale, senior associate at PwC. Still, he predicts the tech craze will continue to grow, immune to the political outcome of Brexit.
If lawyers hesitate to dip a toe in the tech wave it's because they're inherently risk-averse creatures — and for good reason. Cyber warfare has meant that all law firms have had to make significant investment in the security of their IT. Crucially, "AI (artificial intelligence) has to get to a place where we're comfortable to rely on it," added Ashurst senior associate Briony Holcombe, who is currently on secondment at HSBC. She continued: "Then we can do more interesting work with it."
Until then, the future law firm is likely to look more like CMS, the megafirm that in 2017 underwent a tri-merger. With her litigator's hat on, Boswell said we've "got to question what the definition of a traditional law firm is… because what is a traditional law firm is going to change, partly due to technology and partly due to other factors such as pressure from the Big Four."
The team on a litigation case is typically made up of a partner, an associate or two, some trainees and maybe a paralegal team to help with all the document review. But in the future that may not be the case. "You may have an accountant on the team or a legal project manager. You may have a coder and some other tech expert that helps you to create the right software you need to review all the documents and identify what's relevant," said Boswell, who specialises in commercial dispute resolution.
Flexible working
In true tech spirit, students did some online live polling. What will change the legal profession the most over the next decade? they were asked. Flexible working got the winning vote, but AI was close behind. "I'm really encouraged that people would say flexible working," commented Sanderson, "I hope we are going into a new world. I have been at firms where only ten years ago I remember partners saying well, obviously mothers can't be transactional lawyers."
Boswell also welcomed the cultural progress so far:
"Flexible working is a subject that's quite close to my heart. It is something that certainly will change the way the legal profession works. At CMS we all have tablets, we don't have computers — it means we can work anywhere in the office and we don't have to sit at desks, so we can have meetings in our canteen or what we call 'collaboration zones', where if you have a case meeting you go with your tablet so that you're not tied to your desk. And it means that for good or for bad, you are always online," she said.
Before robots appear in corridors, the law firm of the near future may swap boardrooms for coffee shops, and desks for open plan spaces or urban gardens (confidentiality permitting). Nearer still, partners are "getting increasingly used to the idea that as long as you do the work, and they trust you to do the work by the deadline, you don't have to be stuck at your desk doing it." Boswell thinks "flexible working is key," because "in this day and age you can't expect people to be sat at their desk from nine till nine, and actually clients don't expect that either — they want you to be flexible". Sanderson added:
"It's also down to young lawyers coming through, to fight against any culture of over-delivery, over-achievement, working just because everybody says you're a corporate lawyer or a litigator and you've got to be there at all hours of the day. The most successful law firms understand the importance of providing lawyers with an attractive place to work and this of course includes a dialogue on flexible working."
Applications and interviews
Remember that bit about being a good lawyer? Sanderson shared an interview question he has asked vac scheme and training contract applicants, for over 15 years. Mull over this: A guy driving a Land Rover fell asleep at the wheel after being up all night, and drove off the dual carriageway, straight down onto a railway. He woke up, got out of the car and dialled 999, but it was too late — ten people had died as a result of his car hitting the train. This was the tragic Selby rail crash.
He was sentenced to five years in prison. Is five years too much, or not enough? What was the fault? Was it because he was up all night? What if the police were at fault, and didn't immediately react to the call? Interviewers will look at where your mind takes you, as you analyse the scenario in a legal way and hold an argument, said Sanderson.
Tis the season to shine in applications and interviews as a fresh batch of training contracts is up for grabs. If you think the goal is to learn how to handle hundreds of rejections and carry on firing out applications "you need to re-think your approach". Dale narrowed his TC wish list to about six firms, got vac schemes at three, and a training contract at one. Bingo.
"The secret is fit", is what Dale would tell his former self. "Focus and figure out a personal narrative as to why a law firm is uniquely fitted to you and vice versa, based on your interests and things you've done." Wise words.