Herbert Smith Freehills lawyers talk tech transforming the firm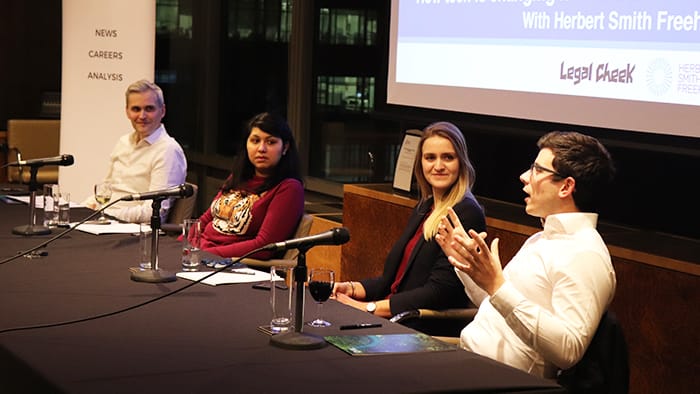 "Every company is a technology company," were the wise words of former Gartner research chief Peter Sondergaard in 2013 — and six years on this continues to ring true.
Law firms advising these companies need to be fluent not just in business but also technology. This was the central theme of a discussion that took place at Herbert Smith Freehills (HSF) last month. Over 100 students arrived at the global firm's London office to hear how technology is transforming law and business, and the opportunities this presents to junior lawyers.
The panel, which comprised of HSF's legal tech lead, a senior associate and two trainee solicitors, agreed one area in which we are seeing great change is the skills required of lawyers. Matt Goff, innovation facilitator, and one of the four speakers at the event, stressed the importance of being entrepreneurial. Jamie Ball, a trainee solicitor currently in his second seat in technology, media and telecommunications, was also on the panel. His background speaks to this advice.
Ball came to HSF with ten years of tech experience. The self-taught coder set up his own web business at the age of 14 from which he developed web-based apps for large companies. A contractual dispute that arose during this time kickstarted his fascination with the law. Now almost a year into his training contract he explained how his previous experience complements his work as a lawyer. "I'm working on tech deals, leading parts of negotiations, advising certain banks about their technology infrastructure and making challenger banks, through investment, a reality," he told the audience. "I'm able to use my skills, leverage former client relationships and do what I love at HSF with a focus on tech."
Goff added: "A lot of legal tech is quite intuitive and so it's not the case that you'll have to learn how to code. You'll have the necessary resources to support you while working on a large-scale project at HSF. What we're looking for is entrepreneurial spirit."
For fellow trainee and panellist Ghislaine Nobileau, being clued-up with an inquisitive mindset is key. "Display an interest in the goings-on in the legal industry. Become familiar with concepts such as blockchain and artificial intelligence (AI), and try to understand who the different legal tech providers are and the types of tasks they're trying to address," she advised the audience. It's also worth getting a feel for different tech tools you'll be using as a trainee, the former paralegal added.
Kushal Bhimjiani, a senior associate in HSF's banking and finance team, shared four skills she believes to be essential to the role of a transactional lawyer. They are the ability to multitask, be adaptable, think on your feet and lastly, to be curious. Having skills such as these will enable students to hit the ground running once they join the world of work and have to get to grips with novel technology, explained Bhimjiani, who is currently on secondment to HSF's Digital Law Group.
She also noted a shift in the global firm's attitude towards tech. The 'move fast and break things' approach may have worked for Facebook, but law firms like HSF, she said, have to move fast (to keep pace with their clients) while also ensuring the advice they deliver is "correct, enforceable and suitable".
Despite the size of the London-headquartered firm (the annual trainee intake is around 60) both junior panellists have already pitched innovative solutions to document-heavy tasks. Nobileau, who is currently in her second seat in energy and infrastructure but was previously part of the arbitration team, recalled the time she teamed up with a fellow trainee to pitch to a member of the innovation team her idea to streamline a suite of documents. "There is room, even as a trainee, to be entrepreneurial despite the size of our firm. People see the value and reward initiative," she said. Ball has similarly taken up initiatives to speed up tasks such as proof-reading and billing.
Towards the end of the discussion the panel was asked 'what single piece of technology has had the greatest impact on your work since you started your legal career'. Bhimjiani credited the BlackBerry as a piece of game changing kit — "you could now read emails, amend documents and record time on the go — it was revolutionary for that time" — recalled the Indian-born lawyer.
Goff, who previously worked at LexisNexis, Norton Rose Fulbright, Barclays, Macfarlanes and Taylor Wessing in knowledge and innovation managerial roles, has seen a huge change over that time with many knowledge management and other systems being implemented to support the work of legal professionals. At the event, he suggested automated 'legal blacklining', a way to compare the changes between two legal documents, as a key example of one of these tools. However, he suggested AI-derived automation software as having the most significant potential impact, which happened to be the top result of an online poll conducted mid-discussion asking the audience comprised of students and graduates what would change the legal profession most over the next decade.
Though only at the beginning of his legal career, Ball considered new ways of collaborating through group chats, for example, to be revolutionary. "It cuts out the formality of having to send emails," he said. Technology as such could prove very useful in the future, he added, and these platforms could carve a path for multi-authorship of documents and real-time collaboration with clients. "How we work together, and by extension, how we work with technology is something I think we'll look back on in ten years' time," he concluded.
About Legal Cheek Careers posts.