Ahead of Legal Cheek's latest careers event tomorrow, 'How tech is changing law and business', we sit down with Herbert Smith Freehills senior associate Kushal Bhimjiani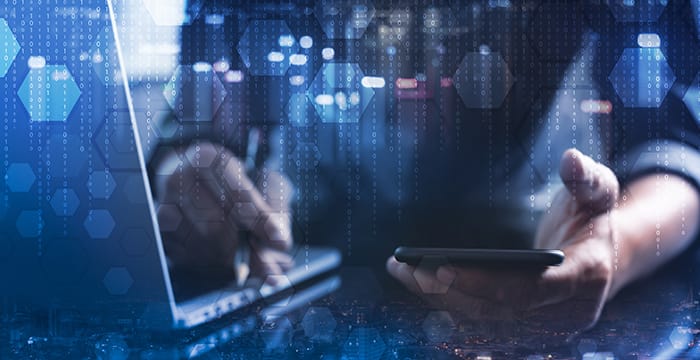 Legal technology: you either love it or you hate it. Some lawyers are never happier than when canvassing the latest developments with blockchain or artificial intelligence; others reckon the noble practice of law took a wrong turn with the invention of the typewriter.
Firmly in the former camp is Kushal Bhimjiani, a senior associate at Herbert Smith Freehills (HSF). Her day job is energy and natural resources projects and finance for banks and a range of other big institutions, but she's also heavily involved with HSF's pioneering efforts on digitalisation and legal technology. Speaking to Legal Cheek ahead of a forthcoming event to discuss the firm's lawtech work, the word "exciting" comes up a lot — as well as a sense of the sheer competitive spirit driving major law firms.
Law firms use technology in two main ways: internally, to make the running of their own business more efficient, and externally, to make the work they carry out for clients run more smoothly. A recent Thomson Reuters report on lawtech start-ups describes the (admittedly crude) split as being between "managing the business" and "performing the work".
HSF, it seems, wants in on both. Kushal says that internal lawtech was "traditionally focused on eliminating practice inefficiencies", but things have moved on. She describes using software to analyse the return on new business pitches — putting technology at the heart of the firm's bottom line.

When it comes to client-facing products, the global giant is making a major play on smart legal contracts. These would allow contractual performance to be automated: "Say there's a clause stipulating that party B will send party A a notification upon the delivery of a shipment of goods. A smart legal contract can make this process more efficient by allowing this clause to "talk" to an Internet of Things sensor at the location of delivery. The sensor can detect and tell the clause of the arrival of the shipment and, in turn, the clause can automatically notify party A — all instantaneously through a digital platform".
"We're in the throes of developing both the legal as well as the technological backbone of smart legal contracts", Bhimjiani says, with the firm hoping to create a market-leading product that will take the world by storm. She admits it's "quite ambitious", but stresses that the top firms are in a race to be the ones to create world-beating legal tech.
"You can either be the ones who use legal technology made by others or be the ones who create it", Bhimjiani explains. "We want to be the innovators". Firms are scrambling to develop the new industry standard in their practice areas of choice, the dream being to sell the product to others rather than having to line rivals' pockets.
In an effort to stay ahead, HSF recently unveiled "Innovation 10", a scheme giving staff the opportunity to spend up to ten working days a year on lawtech projects, from apps to AI. This, Bhimjiani says, is about "giving people the opportunity to live and breathe the culture of innovation that exists across the firm".
Enthusiasm alone won't cut it for budding legal technologists, though. Bhimjiani warns that "you have to be a good black letter lawyer to create products that other lawyers want to use".
Bhimjiani, who finished her law degree in 2010, can scarcely remember a time when snazzy lawtech wasn't a given. But spare a thought for some of the older generation, who have been through several waves of disruptive automation in their careers already.
"Generational change has happened so quickly that some of our partners remember redlining documents with a literal red pen", Bhimjiani points out. She also recalls — with no particular fondness — ye olde days of discovery, "when you would get boxes and boxes from the other side and someone would have to read through them all to find the smoking gun". Nowadays, e-discovery "helps with the analysis of this data so that the most significant can be read by humans".
This takes some of the drudgery out of the lives of junior lawyers, but many think that such efficiencies will reduce the demand for City solicitors. Bhimjiani is sanguine about the rise of the robots, preferring to think of the future as one of "Lawyer 2.0 — a better human lawyer enabled by technology".
It no doubt helps that the Indian-born lawyer has been through plenty of change in her life already, studying at the heart-stoppingly competitive National Law School of India University in Bangalore before landing a training contract in London. She admits it was something of a "crazy journey", but the "very international culture and friendly colleagues" at Norton Rose Fulbright and now HSF helped her settle into life in the UK.
Bhimjiani celebrated becoming a British citizen in true overachiever's fashion by adding a second line of work to her already manic day job, standing for the Liberal Democrats in last year's council elections (she didn't win, but raised her party's share of the vote). She'll soon be pounding the icy pavements again ahead of December's general election — but you can catch her first at HSF HQ tomorrow, on 21 November.
Kushal Bhimjiani will be speaking alongside other lawyers from Herbert Smith Freehills lawyers at our latest careers event, 'How tech is changing law and business', on Thursday 21 November, at the firm's London office. You can still apply to attend the event, which is free, now.
About Legal Cheek Careers posts.