Tara Waters, partner and head of Ashurst Advance Digital, discusses how law firms are embracing tech and what it means for future lawyers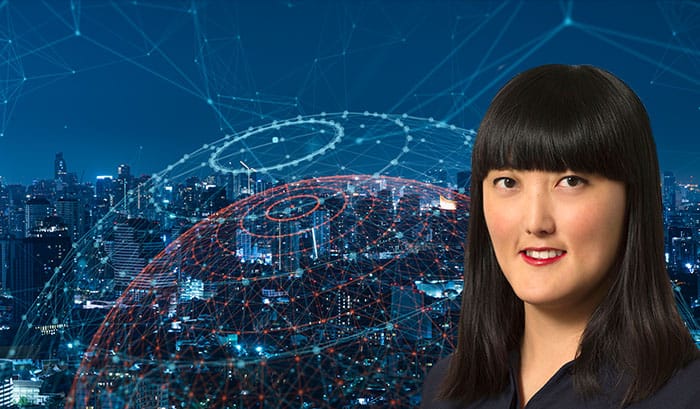 There's been a notable increase in the number of law firms adopting legal technology in recent years, notes Ashurst partner Tara Waters.
"They are now using many more applications compared to the standard desktop suite used when I started out in 2009 — but it's not been a tech revolution yet," she explains. Waters continues: "What we still haven't seen is tech that will fundamentally change the way lawyers do things. We're still waiting for these technological innovations to sprout and show themselves."
In terms of what's happening now, Waters says larger law firms are using AI-powered document review platforms to help lighten the workload of lawyers. In certain areas, Waters shares there is a real focus on efficiency gains: "We're starting to see some slightly more sophisticated software around functionality, for example, delivering automated decision trees. But a lot of what we're using day-to-day are tools to make processes more efficient," she notes.
Over the next ten years Waters hopes to see more collaboration between law firms to develop solutions for clients. "Clients don't want ten solutions for the same thing — they want one [solution]. So we need to be talking to each other a lot more about what works best for the client. Increased collaboration will be really positive for the industry as a whole," she predicts.
This increase in collaboration needs to extend beyond the confines of the legal industry, according to Waters. "Tech has advanced incredibly over the past 20 years but we're not seeing the same level of advancement in the legal sector", and one of the reasons for this is because of the lack of collaboration between major tech players and law firms, Waters tells me.
As head of Ashurst Advance Digital, Waters and her team are responsible for finding new and innovative ways to embed tech into the firm's services and products.
The digital services side of the team sees Ashurst technologists work closely with the firm's practice groups to find ways to assist on specific client matters using technology to increase efficiency and profitability.
On the products side, the team looks at how tech can be used to automate work and then, based on these findings, create a product that can be offered to clients. "This way clients can get the answers they need from the product, but as if they're talking to us. Clients get the Ashurst experience but in a purely digital way," Waters explains.
Tech is bringing about a variety of new opportunities for law firms. "Clients are bringing new projects to us that they previously may have gone to an accounting or IT consultancy firm. But now law firms are getting into the mix," she explains.
To explain how this works in practice, Waters uses the example of the introduction of GDPR. "A client will recognise this has wide-ranging implications across their business and so they'll need to examine every policy, procedure and piece of tech used to ensure it is GDPR-compliant." There are several elements to consider when advising on the matter: understanding the requirements of GDPR, understanding its practical effects, and then implementing the necessary work. Normally the client would turn to an accounting or IT firm for the implementation. However, tech is now making it possible for a law firm to deliver this full service to the client. Waters adds: "We even have a consulting arm so we can give a consulting view in-house. It's very powerful for a client to be able to go to one firm for the full spectrum of work."
For those interested in the interplay between technology and the law, Waters tells me that there's no traditional path to entering this space. Waters came from a non-law background having studied electronic art and media at university. She taught herself coding during her first year and graduated in 2000, the height of the dot-com boom, and so getting involved in the tech sector seemed like a natural step.
Whilst working in the tech sector, it was a good friend that sparked her interest in pursuing a legal career. "My friend recognised that legal skills and analysis were similar to how you have to think and analyse when you're writing code, so he thought there were transferable skills," she explains. "He also recognised the perennial problem that tech moves faster than the law and how it was crucial to have people in the legal sector who understood technology."
This prompted Waters to go to law school in New York where she studied intellectual property, media, and entertainment. She began her legal career in 2009, joining Allen & Overy's London office focused on corporate finance and capital markets.
Waters maintained her interest in tech though and was keen to integrate this interest with her legal career. "When there were any deals involving tech companies I always tried to get involved. I also attended tech events after work and tried to stay plugged into the tech world," she tells me. It was in 2014 that Waters joined Ashurst where she now works as a partner and head of Ashurst Advance Digital.
Waters' advice to those looking to enter the legal tech space is to remember that understanding the client is a fundamental aspect of her team's work. "Everything you do needs to be catered towards the client so having spent time myself as a practising lawyer means that I understand my clients and their needs," she elaborates. However, the key, Waters emphasises, is to have a genuine interest in this area:
"It's not just a job — you need a real interest and a passion for the challenge of what we're trying to achieve."
Tara Waters will be speaking alongside other Ashurst lawyers at 'Technology and the law', a virtual student event taking place next week, on Monday 26 October. You can apply to attend the event, which is free, now.
About Legal Cheek Careers posts.