Nottingham Law School's Executive Dean Jenny Chapman on the role of clinical legal training in a super-exam world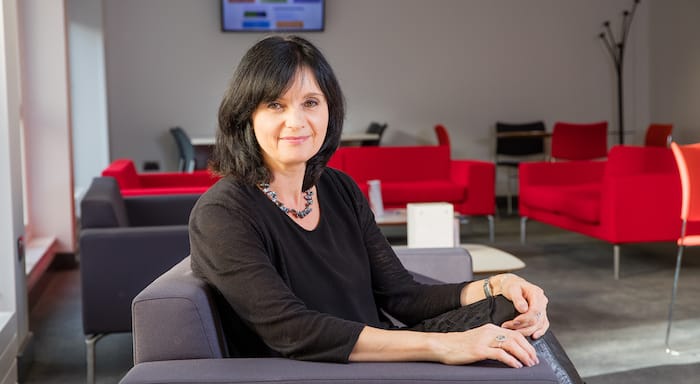 Seven years ago, Jenny Chapman was in Chicago seeking guidance on Nottingham Law School's latest project: launching the UK's first student-staffed law firm.
Piquing Chapman's interest was a new approach to university-led law clinics. During her "eye opening" trip, she discovered US law schools providing fee-generating legal services, while replicating the experience of working at a private law firm. Such hands-on experience, she found, was integral to how law students were trained.
This approach mirrored Nottingham Law School's mission to transform clinical legal education. "As part of our commitment to access to justice, we already offered a legal advice clinic — but we wanted to take it to the next stage and really do something unique to prepare students for legal practice," recalls Chapman, now Executive Dean of Nottingham Law School.
Soon after, Nottingham Trent University's Legal Advice Centre was granted Alternative Business Structure (ABS) status by the Solicitors Regulation Authority (SRA) — transforming the humble pro bono clinic into a fully-fledged 'teaching law firm'. Since then, the Centre has gone from strength to strength, winning many awards including, most recently, "ABS of the Year" at the Modern Law Awards 2020.
Under the supervision of the Centre's qualified solicitors and support staff, student volunteers provide free legal advice on areas including social welfare, employment law and outreach services, as well as affordable commercial assistance to social enterprises, small businesses and start-ups. Since its inception, the Centre has recovered over £4 million in benefits and compensation for clients.
Now the Centre is to play a key role in the law school's strategy for the Solicitors Qualifying Exam (SQE). A "great leveller", it provides an opportunity to contextualise black letter law, as will be examined in SQE1, while also equipping students with practical skills to be assessed during SQE2. "The Legal Advice Centre creates meaningful work experience and allows our graduates to develop the critical skills, ethical values and emotional intelligence relevant to the legal profession," Chapman explains.
Standing in front of a judge and presenting your client's case in a County Court or tribunal, for example, requires strong communication skills and confidence. Dealing with clients also takes leadership and resilience — especially when clients face difficult circumstances. Meanwhile, student volunteers juggling their study commitments alongside their work at the Centre will find their time-management skills tested. "Our students are exposed to the very real difficulties of practice," says Chapman, who qualified as a solicitor before moving to academia.
Students also experience legal office tech in action. From using eDisclosure to simple email etiquette and navigating an Excel spreadsheet, volunteers quickly build the skills that lawyers use daily. "That's what employers want: well-rounded candidates who can function in an office environment," says Chapman.
Following the COVID-19 shutdown, the Centre now offers its services remotely. Students who would usually conduct client interviews in-person, now deliver legal advice and support over the phone or through video-conferencing tech. Clients with questions concerning the crisis, can also refer to the Centre's free online resources on employment related issues.
Interestingly, Chapman tells me that under the new SQE route, students who volunteer at the Centre, could count this towards their qualifying work experience — depending on the hours requirement to be outlined by the regulator. This alternative route to qualification reflects the SRA's aim to offer more flexibility to those unable to secure a traditional two-year training contract. "The Centre is an integral part of our SQE offering," adds Chapman.
The Centre complements the law school's longstanding focus on legal practice. For example, prospective students can choose between the university's full suite of legal undergraduate and postgraduate courses — including the Legal Practice Course, the Graduate Diploma in Law, the Barristers Training Course and Legal Apprenticeship training.
Looking ahead, the law school will offer a range of SQE preparation courses that incorporate interactive online learning and face-to-face classroom teaching. Indeed, it was this blended approach that enabled the university to move courses and assessments online overnight in response to the lockdown. "One of our strengths is versatility. We are already positioned to support law students in the post-Brexit, post COVID-19 landscape — whatever that will mean," she says.
More important, Chapman believes, is offering students greater choice and flexibility in how and when they study. Nottingham Law School's SQE strategy, for example, already includes an Applied Legal Knowledge pathway — which includes aspects of SQE1 preparation within the cost of an undergraduate degree. The pathway, available to all final year law students, covers the practical application of foundation of law modules, such as contract, criminal and tort.
As for postgraduate SQE prep courses, Nottingham plans to introduce fast-tracked, firm-tailored programmes, designed for training contract holders, as well as SQE-LLM combined courses which will qualify for government loan funding. Regardless of which SQE course students opt for, however, they can expect an "excellent, high quality" learning experience, says Chapman.
She concludes:
"Our SQE courses will be more than just about passing the exams — we work to a higher common denominator than simply 'pass' or 'fail'. Our focus is to help our students get the jobs they want by developing skills that matter to employers, that make them attractive as candidates, and that help them to succeed in a professional environment."