Luke Blease appeared in more than 70 courtrooms across the country, including before High Court judges in the Royal Courts of Justice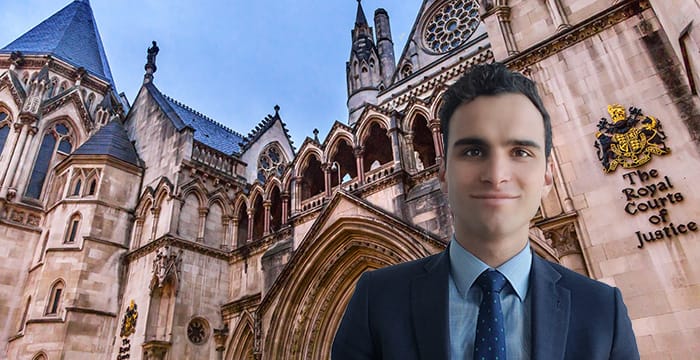 Is it possible to get a head start in the formidably competitive arena of professional advocacy? A cynic might say 'yes, it's easy — just plug in to the old boys' network'. But times are changing at the bar, as much as elsewhere, and for those who don't mind getting their hands dirty there's a better, more meaningful way of fast-tracking your advocacy skills. Just ask Luke Blease, a 26-year-old history graduate from the University of Warwick who this week joins a chambers on the northern circuit.
By the time he starts pupillage, Blease will already have two-and-a-half years' solid courtroom experience under his belt, thanks to what he describes as a "fantastic" stint with LPC Law. Working on the Northern Circuit as well as a six-month spell in London, Blease has bagged appearances in more than 70 courtrooms across the country. "It couldn't have gone better," says Blease, a keen sportsman in his spare time. "My confidence and professionalism have come on leaps and bounds by working with LPC Law."
A word, then, about LPC Law. For the uninitiated, they're nothing to do with the solicitors' Legal Practice Course exam, but rather a Canary Wharf-headquartered business set up in 1994 with the aim of providing a top quality, efficient advocacy and clerking service for hearings before district judges in chambers. As the business grew, LPC Law — regulated by the Solicitors Regulation Authority and designated as LPC Law in 2010 — evolved to provide a nationwide fixed fee service covering every county court in England and Wales.
Many of LPC Law's advocates are recent Bar Professional Training Course (BPTC) graduates who join to promote their chances of getting a pupillage. Blease was firmly in this category. Despite first studying history, he always knew he wanted to go into the law and became convinced that the bar was for him after a series of mini-pupillages while he was an undergraduate. He also attended careers fairs, and admits to enjoying an argument. Blease explains:
"I've always loved a good debate, and enjoyed watching university mooting competitions. I was also sure that I wanted to work for myself. But I wanted to get some hands-on experience to understand the practical side of life as a barrister."
And so, having completed both the Graduate Diploma in Law and BPTC at BPP University, Manchester, Blease began life at LPC Law after a brief deferral for family reasons. "The team at LPC Law were really understanding and flexible about this — as they were throughout my time with them. They would effectively let you manage your caseload," he says.
In February 2016, then, Blease began life as an LPC Law advocate. He took to it at once, relishing the blend of being thrown in at the deep end — "there's no better way of learning" — and ready availability of advice and help when needed. Better yet, no one day or week were the same. Blease continues:
"The work was varied and each day would bring something different, whether costs and case management conferences in high value personal injury cases, dealing with all civil matters that are heard 'in chambers' and the wide variety of disputes that enter the small claims track, or appearing in Companies Act applications and bankruptcy matters in the Rolls Building."
That's not all. Blease acquired a thorough understanding of the civil procedure rules and associated case law, undertook cross-examination and witness handling in non-PI road traffic accident trials, and appeared before High Court judges in the Royal Courts of Justice on interim applications and costs management cases.
Perhaps just as importantly, LPC Law gave Blease a daily opportunity to network and build his contacts. "Speaking to opponents and others in the profession, building relationships in the advocates' and robing rooms, getting to know how various judges work, liaising constantly with the instructing solicitors at LPC Law — all this was brilliant experience," he explains.
No surprise that Blease found a receptive chambers, but aside from his work with LPC Law this is a man with an impressive CV. Not a single of his grades at GCSE or A level was below 'A' or 'A*', and he followed a high 2:1 in history with a 'Very Competent' grade after his year on the BPTC. He's no slouch on the sports field, playing competitive rugby and enjoying five-a-side football, and also has a slightly quirkier skill: he's a jazz bass player, with a Grade 7 (distinction).
Blease, then, undoubtedly always had the wherewithal to do well, but he credits LPC Law with providing that extra something. He tells us:
"I learnt so much in my time with them. Whether in terms of law and procedure, punctuality and time-keeping, all round confidence, professionalism or networking — the experience was first-rate. I learnt, ultimately, to be able to advocate myself — and if you can't do that, you're not going to get very far as a barrister."
LPC Law is currently seeking BPTC and LPC graduates to work as county court advocates across England and Wales.
About Legal Cheek Careers posts.