Ahead of today's 'How technology is changing law and business, with Addleshaw Goddard in Manchester', Michael Kennedy reveals how developing lawtech skills helped him to transition from paralegal to trainee solicitor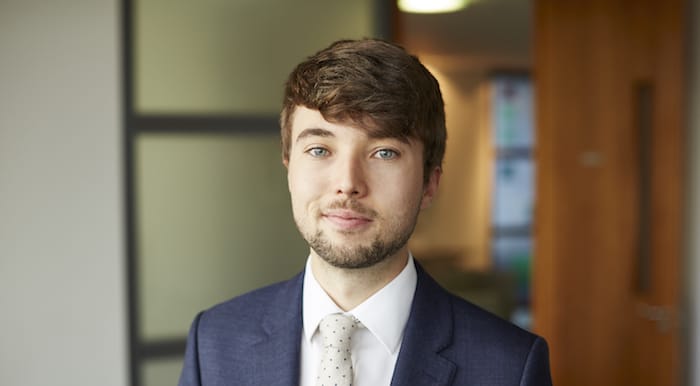 While working as a paralegal for Addleshaw Goddard, Michael Kennedy witnessed ways of working that he thought could be improved. "As a paralegal you're at the bottom of the chain doing all the jobs that no one wants to do — it's here that you see all the inefficiencies of everyone above you," he says. Such change, he believes, is achievable through technology.
A good example is applying new tech-based solutions to lengthy due diligence tasks. Kennedy recalls a large project that was priced at an impossible amount and was set to put the firm at a huge loss. Previously, he explains, lawyers would be burdened with uncovering information buried deep inside a vast number of documents. Rather than stick to the "old fashioned way", the University of Kent graduate pushed for a better solution through software provider Kira Systems. The Kira technology uses artificial intelligence to search and analyse text contained within contracts by reviewing billions of terabytes of data. In this instance it proved to be a cost-effective solution that left both parties happy.
Since then the University of Kent law grad has worked to implement Kira across Addleshaw's Manchester office. Kennedy's active role in this process saw him transition into a senior paralegal role working within the firm's growing innovation and legal technology (ILT) team.
As a way to promote more efficient ways of delivering services, Kennedy has found himself pitching new tech-based products to clients. One service in particular is HighQ, a "jack-of-all-trades multi-purpose platform" that can be used for secure file sharing and data storage. Referring again to the diligence example, Kennedy says that instead of collecting unstructured data that the client would then need to break down, HighQ can transform the information into a digestible format — for example, through charts clearly analysing risk. The cloud-based software also enables increasingly tech-savvy clients to track the live status of their automated contract through an online portal, keeping them in the loop at all times. According to Kennedy, such technology is instrumental in firms being more client responsive. "We are working with the client, asking them what they need and then matching it," he says.
Pivotal to Kennedy's success is his ability to programme and code — skills he taught himself through online tutorials. Although he had interest in blockchain and smart contracts, the real driver was personal motivation to do his job better. "At first it was born out of necessity. I had little access to software developers, but I had all this data that I wanted to present," he says. As the firm's ILT team expanded, Kennedy was able to use his foundational knowledge when communicating new ideas. "My job is half-lawyer and half-tech expert. I can identify the problems and potential solutions with basic code and then come together with the software developers to make a working solution," he says.
When Kennedy came to apply for a training contract with Addleshaw Goddard, his understanding of the firm's ethos and business model certainly strengthened his application. However, it was his "desire not to be a traditional lawyer' that gave him the winning edge. Kennedy was clear:
"Aspects of this industry need to change and people like me can change it. Rather than perpetuating the inefficiencies of the traditional lawyer role, I can bring diversity to the firm."
Kennedy is well into his training contract and is now taking a lead on research and development into further artificial intelligence and natural language processing software. For the born and raised Mancunian, the firm's central location is perfect — allowing him to be close to his family, friends and the city's vibrant music culture. Kennedy stresses that he doesn't "feel any disadvantage of working in Manchester" in comparison to London. On the contrary, he says, Addleshaw Goddard's "massive" regional presence makes it a key large player in the north offering exciting work — and comes without the long and stressful commute.
To aspiring law-tech lawyers, Kennedy stresses the importance of thinking for yourself. "When you're given a task, you don't have to follow a status quo. There's no harm in suggesting improvements. This is how change happens: someone has to push things forward and stand firm," he says. Conscious of the "time-is-money" culture often present within law firms, Kennedy warns against just "jumping in and starting work" and instead says, "we need to spend some time thinking about the results you want and the best way to get them".
Michael Kennedy will be speaking at 'How technology is changing law and business, with Addleshaw Goddard in Manchester this evening.
About Legal Cheek Careers posts.