The results from the new Legal Cheek Trainee and Junior Lawyer Survey are in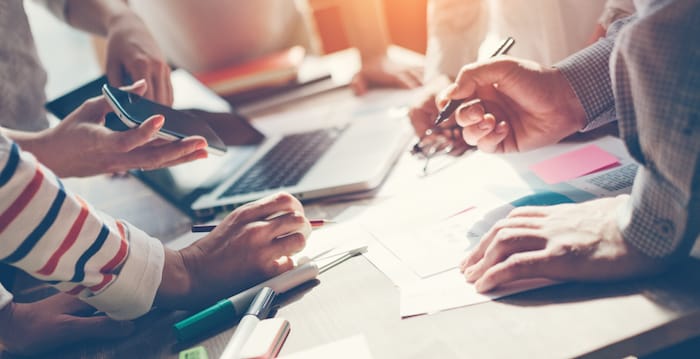 Tech is the hot topic in law right now, as the legal professions embraces — or talks about embracing — artificial intelligence (AI), blockchain and other sexy-sounding innovations.
But it's the less glamorous efficiency-boosting developments that tend to have the biggest impact on trainee and junior lawyers' lives. Many of these are made by firms' good old IT teams.
This was the central finding of the 'How tech savvy is your law firm?' question in the Legal Cheek Trainee and Junior Lawyer Survey 2018-19 of over 2,000 trainees and junior lawyers across the nation's leading 80 law firms.
Along with the responses, we also received hundreds of comments. Interestingly, there were very few reports of trainees and junior lawyers using AI. One of the only firms that this happening at on a relatively widespread basis seems to be Pinsent Masons, which has developed its own AI tool. This is now being used regularly for document review, we understand.
Pinsents is one of 11 firms to receive an A* for tech-savvy in this year's survey. Others to have bagged the top grade have done so for a variety of reasons.
Take Allen & Overy, which has led the way as a law firm tech pioneer by launching a tech incubator called Fuse. This has clearly impressed trainees. One notes: "Setting up Fuse and the intention to integrate legal tech shows that we are very much looking to the future and looking to embrace new technologies." While another adds: "Start up incubator on the first floor #yah #Shoreditch #flatwhiteeconomy #oldwhitemanagement".
Taylor Wessing is another that has long been at the forefront of tech, opening up a small satellite office in trendy Shoreditch workspace Second Home as early as 2011. Rookies at the firm seem impressed that, like Pinsent Masons, its internal IT team has "developed a range of bespoke software for internal use (e.g. document creation) and external use (e.g apps)".
Three other firms whose tech pronouncements appear to be backed up by action on the ground are Addleshaw Goddard, DWF and Osborne Clarke. One Addleshaw insider tells us that "tech and IT are a huge focus for the firm with lots of enjoy being pumped into its legal tech arm. Following the role out of the upgraded IT system across all the offices, the introduction of 'AGID', tech is right at the forefront of what the firm is doing and trying to achieve".
DWF, meanwhile, which has its own 'DWF Ventures' tech arm, is "constantly updating" its systems, and has "our own tech which we use such as DWF draft and a claims management system". At Osborne Clarke there are "regular training sessions on technological developments and how they might affect the firm/its clients" and "new systems" that are managed well with "a lot of trouble-shooting".
Then there are the firms that haven't historically been known for their commitment to technology but turn out to be doing it pretty well. Bryan Cave Leighton Paisner, CMS and Gowling WLG all fall into this category. One of the things that makes these firms standout in trainees' eyes is the high standard of hardware they dish out — with upgraded laptops (Surface Pros are increasingly popular among law firms), iPhones of reasonably recent vintage and desks with dual monitors becoming ever more common. They also have good IT support desks, which can make a huge difference to a junior lawyer's life.
And finally there are the tech-focused law firms with lots of tech clients to which tech comes naturally. Bird & Bird and Bristows don't need to shout about their prowess in this area because it's a given. And the trainees that enter these firms — a high proportion of whom are STEM graduates — come with certain expectations. "We nerd out a lot talking about tech," one Bristows insider notes.
The law firms which scored an A* for tech in the Legal Cheek Trainee and Junior Lawyer Survey 2018-19
Firms listed in alphabetical order; winner to be announced at the Legal Cheek Awards on 21 March 2019
Addleshaw Goddard
Allen & Overy
Bird & Bird
Bristows
Bryan Cave Leighton Paisner
CMS
DWF
Gowling WLG
Osborne Clarke
Pinsent Masons
Taylor Wessing
Outside of the A* grades, 18 firms scored an A for tech-savvy, 29 got a B, 17 a C, and eight got a D.
Peruse all of the firm's new 2018-19 survey scorecards — including training, quality of work, perks and much more — via the Legal Cheek Firms Most List 2018-19.
Previously: The best law firms for training 2018-19