Ahead of LegalEdCon North on Thursday, College of Legal Practice CEO Giles Proctor outlines a vision for the SQE that is winning prominent admirers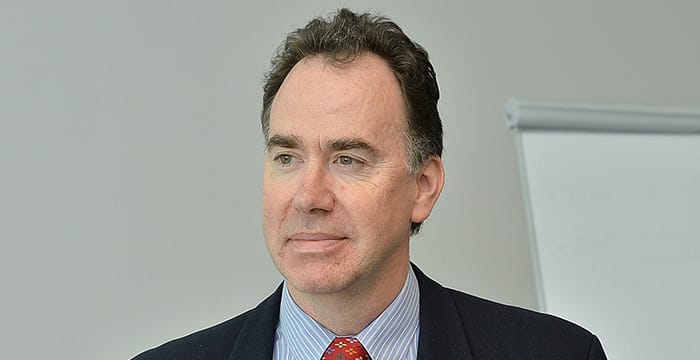 There's a new global player on the block, The College of Legal Practice (CoLP) launched towards the end of 2019, with the aim of 'disrupting' the legal education and training market.
In February, the new law school takes another leap forward with the appointment of Dr Giles Proctor who takes over as chief executive officer from interim chief and former University of Law president Professor Nigel Savage. As the former dean of both Kaplan (the organisation appointed as assessor for the new SQE exam) and Roehampton Law School and spells at the University of Law, Nottingham Trent, Manchester Met, as well as training with Addleshaw Goddard, Proctor is uniquely qualified for the role.
With a pedigree derived from its Aussie parent, the well-established College of Law Australia, The College has access to significant investment and tech-based online learning and development processes, as well as access to the burgeoning Asia student market.
Proctor will head up an organisation whose star-studded board is chaired by Richard Clark, the former executive partner of Slaughter and May, Freshfields chief legal innovation officer Isabel Parker, Joseph Catanzariti, former senior partner of Australian firm Clayton Utz.
Proctor stresses that the SQE is the catalyst for reshaping legal education and CoLP will play a role in much the same way as the emerging alternative providers of legal services collaborate with firms and GCs . They have already teamed up with global provider BARBRI, who are leading on the development and marketing of their SQE offering with content for SQE 2 provided by CoLP. They have been successfully collaborating for some years on the QLTS overseas version of the SQE, in what Proctor describes as"'net practice" for testing their SQE development ideas.
Proctor has his eyes firmly on attacking the dominance of ULaw and BPP. "We don't have to compromise our model by protecting existing revenue streams such as an LPC, or utilising expensive real estate which adds to the cost for our customers. We bring the experience from Australia of delivering programmes directly into the workplace and collaborating with other providers. Significantly, and unlike the two legacy players we are entirely postgraduate and are not competing with the public universities.
He also sees real scope for helping universities sustain their pipeline of overseas students as domestic regulators embrace the English model. He says: "Indeed there is a real opportunity to make the solicitor status the global qualification of choice which, in a post-Brexit environment can only benefit UK plc."
The College's role will be to provide 'wraparound' skills, practice-based training that law students, paralegals, trainees and qualified lawyers will need. Its target market is lawyers and legal professionals in all parts of the legal services sector, and at a national and international level. All the programmes will be practitioner-led and based on the needs of practitioners. Tutors will be recruited as the business develops.
"This will be a complete change in the market," says Proctor. "We will be providing lots of different types of training around the needs of SQE2 as well as training for lawyers at all stages. We will be talking to firms and providing training for lawyers who want to upskill." He continues:
"The courses will be based on practice and procedure. Take transactional skills, for example. We want to really get under the skin of what's involved and what lawyers need in this area. For example, if a young lawyer is involved in a shares sale then they need legal skills, knowledge of the law, but must also be able to provide technical advice. They need to know what the client wants and needs, manage the client's expectations and know what documents they will need. These are 'wraparound skills' that compliment a lawyer's basic legal knowledge."
Proctor says the developing trends in legal education are for flexible learning, and greater use of technology in the learning process. He says young lawyers want to be more engaged in the training they receive, which makes the learning process more effective. "Lots of lawyers want a more personalised training programme — they want more support, they want mentoring — and this makes the programme more effective."
One of the new college's key selling points is that it will 'provide delivery to desk' — delivering screen-based training programmes directly into the workplace at a time that suits the recipient. Proctor says "we want to be as flexible as possible. We know that once you are working in the legal profession you are extremely busy. There will be things you want to be better at, skills you want to develop, and we can support you in a flexible way. The key thing is that there will be a number of tutors available who will be able to talk through feedback and methods. We are confident this model of training will deliver more effectively than traditional classroom-based methods."
He predicts: "The next 10 years will see more routes into the legal profession opening up, which will broaden access to the profession. Additionally, there will continue to be a wider variety of careers available within the law. We want to be integral in helping to remove barriers and obstacles and widen access to the profession."
Dr Giles Proctor, CEO of The College of Legal Practice, will be speaking at LegalEdCon North in Manchester on 30 January 2020.
About Legal Cheek Careers posts.