Three A&O Peerpoint lawyers explain how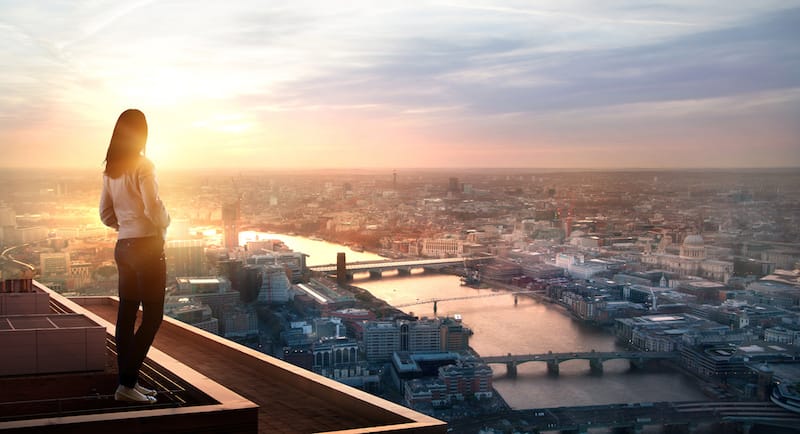 Three ex-US and magic circle associates reflected at Legal Cheek's lawyer event on the balance they have achieved working as consultant lawyers for Allen & Overy's (A&O) legal consulting platform, Peerpoint.
In a series of short talks, Anup Mehta, Florence McDonald and Liz Poon, were joined by Lisa Mulley, head of consultant management at Peerpoint, to explain their reasons for joining Peerpoint and dispel some of the myths surrounding a career in legal consulting. Here are some of the highlights.
Anup Mehta: Peerpoint lawyer and boxer, actor and tech start-up co-founder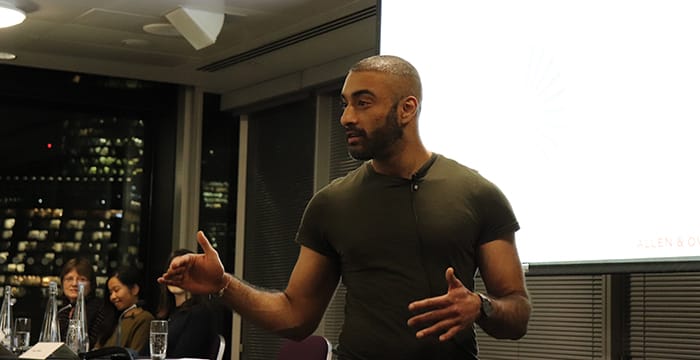 "I'm a dreamer. Ever since I can remember I've been cooking up one thing after another," said Anup Mehta, kicking off the evening's TED-style talks.
His first dream was to become a footballer followed by getting a taste for entrepreneurship after helping his father run the family business. Whilst the experience left him dreaming of running his own business one day, he came to appreciate the struggles involved, especially as the family business had to sadly shut down. So, while the budding entrepreneur enjoyed the experience, he prioritised job security, and became a lawyer via Speechly Bircham (now Charles Russell Speechlys), before moving on to Gowling WLG and eventually A&O.
The Cambridge law grad's goal was to make partner at seven years PQE. He knew that meant "more late nights, all-nighters and missed holidays" but persisted. "Have you ever had the feeling that you're not living anymore, you're just existing?" he reflected with the audience of 30 lawyers from leading City firms. So he went on secondment to re-assess his priorities.
In that time he took up boxing, did some stage acting and began working on a parcel delivery start-up venture. When the end of his secondment neared, he knew that he no longer wanted a career in private practice but also wasn't quite ready to quit law and dive straight into his business, which is when he discovered Peerpoint.
"The more I learnt about Peerpoint the more I realised this was exactly what I needed — the chance to make my legal career work for me instead of the other way around."
Peerpoint offered him a six-month contract which he accepted, and was later extended, whilst he worked on his start-up in his spare time.
In his talk he shared four important considerations in any career: money; job security; work/life balance; and passion. He advised the audience of lawyers, who were at the early stages of their careers, to put these in order of what matters most to them right now "because we can't have it all" and acknowledged that these priorities will likely change as they progress in their career.
"Zone in on the first one and accept that while you may get some of the others, you're unlikely to have all four, and it's okay if your priority changes," Mehta said. With Peerpoint, however, he feels that there's now "a strong middle ground" to operate from that allows lawyers to combine working with a world class platform and following their passions.
How I became a Peerpoint legal consultant

Working with Peerpoint enabled me the opportunity to found my own tech start-up, says Peerpoint consultant Anup Mehta. 'It gave me the chance to make a legal career work for me instead of the other way around' #LCCareers

Posted by Legal Cheek on Thursday, 5 March 2020
Florence McDonald: Peerpoint lawyer and artist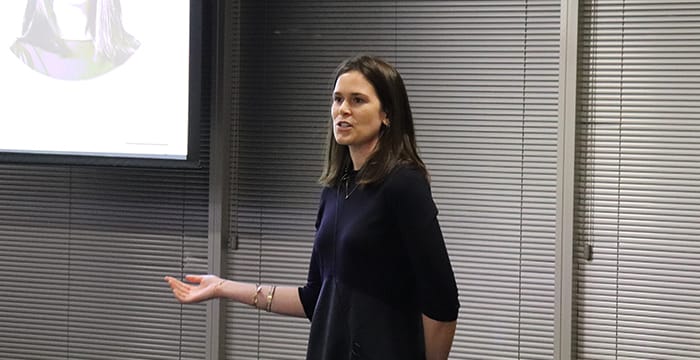 Florence McDonald completed her training with a national firm before moving to the London office of a US firm as an associate in the debt finance team where she stayed for three years. The US firm has an accelerated track to partnership but McDonald soon realised this wasn't the path she envisaged her career heading in.
The demanding nature of the job and long hours, for instance, meant she was kept from being able to pursue her passion to become an artist. So she took a year out and enrolled on a fine art foundation course at a local studio.
"I felt as if my brain had awoken from a deep sleep," she said. "I'd not felt mental stimulation on the same scale from my job."
The challenge then was to consider how she could have a dual career as a lawyer and artist. She had heard about Peerpoint from a colleague, who knew a Peerpoint consultant who spends six months of the year practising law followed by six months focusing purely on painting, and was successfully exhibiting his work. This opened her eyes to what was possible and she joined Peerpoint.
Working as a consultant in A&O's leveraged finance team, she said Peerpoint provides an opportunity to "diversify your skillset", with the support and training from the Peerpoint team. Plus self-directed consultants are given autonomy over the roles they take on and this means she can also progress her aspirations to become a professional artist.
Liz Poon: Peerpoint lawyer and diversity and inclusion advocate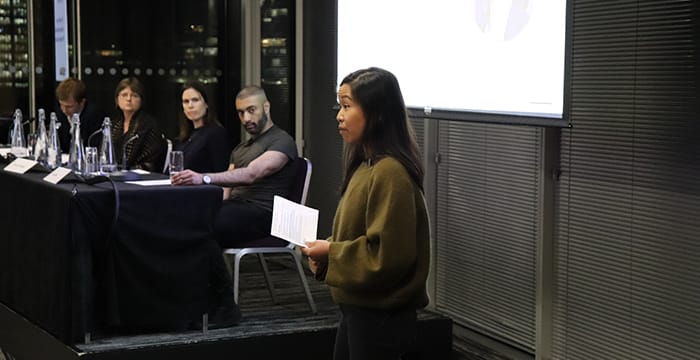 LSE law grad Liz Poon trained with A&O and qualified into the firm's banking team. Three years later she took an associate role at Dickson Minto in the Scottish outfit's London office.
Another three years later the then senior associate came to the realisation that the linear career pathway, from trainee to associate to partner, wasn't for her and so she invested time in exploring alternatives. High on Poon's priority list was a healthy work/life balance.
Poon joined Peerpoint just over a year ago and, since then, she has taken on a real estate finance project and is actively seeking out ways she can further her interest in diversity and inclusion.
Poon volunteers through the charity, Inspiring the Future, participating in events such as a school careers fair to promote social mobility and introduce students to the world of work. She has also completed a coaching foundations course given her keen interest in inclusive coaching and how that could be used to further diversity and inclusion in the workplace. She is also exploring what other industries are doing in this space through work placements.
To those contemplating a career in consulting Poon advises speaking to as many legal consultants as you can. Everyone has a unique story from which you can learn. You have to be prepared for the "ebb and flow" of consulting but Poon is very positive about her future.
Lisa Mulley: Peerpoint head of consultant management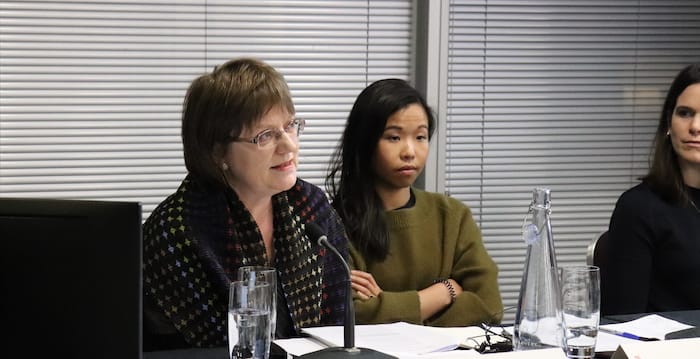 Mulley practised as a litigator for six years before moving in-house with a financial services company and later joining Peerpoint as a consultant. Mulley now heads Peerpoint's consultant management team and was on hand to explain how her team supports consultant lawyers throughout their careers.
"We put our lawyers right at the centre of our business," she said. Indeed, the team work closely with consultants to understand their skillsets and career motivations to then match them with the right opportunities and support when on placement. Peerpoint is a practice group within A&O and so consultants can take advantage of the magic circle firm's network which includes access to its partners, seminars and vast range of resources.
This new way of working requires a shift from an employee to a consultant mindset, emphasised Mulley, and "this doesn't happen overnight". Her team, made up mostly of former lawyers, provide objective careers advice and coach consultants through a development programme which is tailored to a consultant's individual needs. She concluded:
"We constantly challenge our consultants because we want them to succeed. It is a transparent and open relationship built on trust and one that has consistently led to positive and constructive outcomes, not only for our consultants but also for our clients."
---
Want to be an entrepreneur, artist or scuba diver but don't want to give up your hard-earned job at a City law firm? Perhaps you want to make films but also appreciate the value of a steady income and high calibre legal work? It's all possible — even for those at a relatively early stage in their career.
Allen & Overy's consultant lawyer business, Peerpoint, places experienced lawyers with clients on an interim basis, encouraging lawyers to fulfil their career potential while exploring new opportunities. This unique offering gives consultants the high-calibre support of an international law firm alongside the freedom to pursue their dreams. Find out more about Peerpoint.
About Legal Cheek Careers posts.