Bryan Cave Leighton Paisner's Nick Pryor gives his insight into the past, present and future of legal technology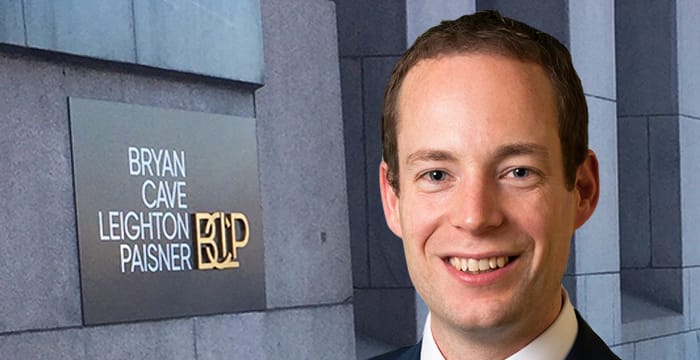 Nick Pryor's latest project, Clear/Cut, is an early dispute evaluation service that assesses whether a client "should or should not go ahead" with a claim. It is made possible with data interrogation tools including predictive coding — a form of machine learning.
"We ask the client for 5GB of data, which amounts to 50-60,000 documents. We then look through a sample to assess what's relevant and not relevant, then train an algorithm on what we're looking for. It sifts through the documents and puts forward things which it thinks might be important," Pryor explains. From that, Bryan Cave Leighton Paisner's (BCLP) litigation team are able to assess the strength of their client's case. "It's a way of assistance, making the process more efficient and offers the client more certainty," he adds.
This is just one example of the magic that Pryor can wield in the world of lawtech. In the eight years that he's been with BCLP, Pryor has been instrumental in identifying, assessing and deploying legal technology to improve legal services across the firm's practice areas.
As BCLP's Director of Innovation Solutions for Europe, the Middle East, Africa and Asia, Pryor finds himself travelling around the globe, working with the firm's international offices to build tech-based solutions. In these meetings, Pryor's approach is to emphasise that lawtech should always be a means to an end — and not the end itself. He says: "I try to manage expectations; don't get distracted by whatever is the market's new shiny toy, but come to me with a problem," before adding: "Don't jump straight to the solution, trust me to show you the toolbox and show how we can help."
It's here in this roaming role that Pryor catches a glimpse of where lawtech may be heading — which he believes to be relative to each jurisdiction's legal market. In Europe, he says, the pressure to become more innovative has led firms to build more technology for themselves or partner with the "white hot" legal tech start-up market. Take, for instance, BCLP's CrossLITE and SwiftAgree offerings — a contract management platform, and online contracting tool, respectively. These are proprietary technologies built and owned exclusively by the firm. But in other areas, the firm makes strategic decisions to buy in technology rather than attempt to "reinvent the wheel".
The Asian legal tech market is also highly vibrant, albeit with some challenges around fully leveraging the new tools flooding onto the market. "A lot of client data and records are still paper-based, which limits what you can do with the technology," Pryor explains. "You then need to rely more on people and processes as a part of the solution, recognising the limits of the technical solution that can be brought," he adds.
Of course, Pryor did not start life in lawtech. Fresh from his undergraduate degree at Durham University in 2003, Pryor completed the Legal Practice Course and began his training contract at Macfarlanes with the idea of eventually working towards becoming a partner with the firm.
After a busy four years working in Macfarlanes' litigation and dispute resolution team, Pryor says he felt slightly constrained by working on individual disputes — he was angling for a broader perspective. As a result, he decided to take up a position at BCLP as a knowledge development lawyer (a role more commonly known as a professional support lawyer). According to Pryor, the role allowed him to "step back from day-to-day matters", offering him "more breathing room to take a broader view on reoccurring legal issues and be up to date with developments in the law". This was the opportunity for Pryor to engage with "harder technical questions" facing lawyers, who lacked the time to properly address them.
With lawtech emerging as a real force, it was inevitable, therefore, that Pryor found himself answering these questions with tech-based solutions. He recalls working heavily with e-disclosure, which, according to Pryor, "has been lawtech longer than 'lawtech' has been a thing!" The clever software is used to gather millions of documents in preparation for a trial — thus reducing the costs associated with producing physical copies and makes text searches easier. At this point Pryor was no stranger to e-disclosure, having already used the technology at Macfarlanes on an enormous and high profile dispute involving dumped waste materials that saw over 30,000 individual claims brought against the company deemed responsible.
It wasn't long before Pryor's involvement with lawtech was formalised. Promoted to Head of Client Technology, Pryor became responsible for bringing in new technology to BCLP's litigation and dispute resolution department which was when Clear/Cut came into being.
He is open to the notion that expectations around lawtech are "certainly overblown" and believes the hype will subside once "the way that tech can help is better defined" — although noting we are "a long way from realising its full potential".
One thing Pryor is certain of is what tech savvy-law firms like BCLP — which scooped an A* for tech in this year's Legal Cheek Trainee and Junior Lawyer Survey — are looking for in future trainees. "Understanding the way that tech works is invaluable, but even more important are project management skills which go hand-in-hand in handling big projects and leveraging tech."
About Legal Cheek Careers posts.