Olivia Davies' love of sport — and law — helped her secure a training contract at Bryan Cave Leighton Paisner, she tells Alex Wade. Since joining she has done seats in real estate and construction, and a secondment in Abu Dhabi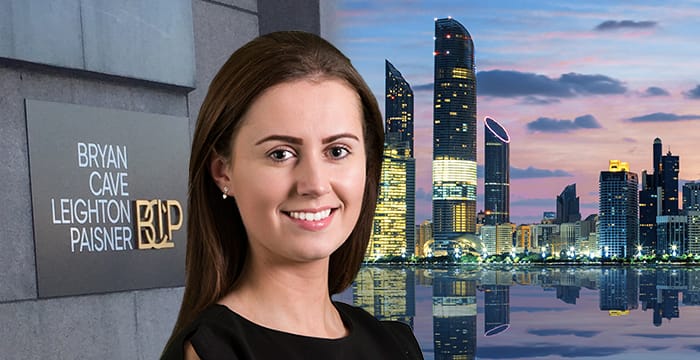 Fresh from a secondment in Abu Dhabi, Olivia Davies, a second-year trainee solicitor with Bryan Cave Leighton Paisner (BCLP), offers an intriguing piece of advice for aspiring lawyers.
"Get involved in sport," says the Sheffield University graduate. "Playing sport did me the world of good, both during my school years and at university."
And if now, immersed in legal and social life at London Bridge-based global player BCLP, Davies doesn't have time for her sport of choice — hockey — she says she still benefits from the lessons it taught her.
"Sport teaches the value of teamwork, quick and incisive decision-making, and leadership," says Davies, Wirral born and bred with a 2:1 in her LLB from Sheffield. "Crucially, when it comes to interviews, it helps to show that you're a well-rounded person."
Davies expects to pick up a hockey stick in anger again soon, perhaps for BCLP, which has its own hockey team. "Following the merger of Bryan Cave with Berwin Leighton Paisner earlier this year, BCLP has around 1,400 full-time lawyers," says Davies. "It's big enough to accommodate a lot of sports, and there's a mixed hockey team. I hope to play for them soon."
A left-back for her university, Davies brought the same focus and determination that she showed on the hockey field to the business of becoming a lawyer.
"I knew from a young age that I wanted to go into law," says Davies, who has A levels in history, English literature and psychology, as well as an AS level in French. "Even before my GCSEs, law struck me as offering a really interesting career."
Davies went to Sheffield University straight after her A levels. After a gap year, she headed to the University of Law in Moorgate to complete an LLM Master's Degree (which included the LPC). By this stage, Davies had already bagged a training contract with what would become BCLP — a global legal heavyweight currently co-chaired by Lisa Mayhew and Therese Pritchard.
"I attended a week-long vacation scheme with the firm in my third year at Sheffield," she explains. "I had a fantastic time, and got a real insight into the way the firm worked. The people were great, and I knew that I wanted to work with them."
And so, albeit that she had toyed with the idea of the bar, Davies took the plunge and applied for a job with BCLP. She was thrilled to be accepted — and has enjoyed every minute of her working life, since she joined in August 2017.
"My first six months was spent in real estate disputes, and the second six months in contentious construction," she says. "Both departments were fascinating, especially the work in Abu Dhabi in the contentious construction department."
Davies loved her time in the capital of the United Arab Emirates. "The firm make the transition to working in a foreign country almost seamless," she says. "Everyone was really welcoming. With around 25 people in the Abu Dhabi office, you get to know all your colleagues. The work was fast-paced and I was always busy, particularly on two large arbitrations in the Middle East and London. I was fortunate to work with some of the world's largest contractors on disputes arising out of a variety of projects, from major expressways to international airports."
Her stint in Abu Dhabi gave Davies experience of all stages of the litigation process, including strategising, drafting witness statements, preparing for trial and assisting with settlement discussions. As she puts it:
"The work was fairly research-heavy, which helped me gain a better insight into the jurisdiction, and will hopefully strengthen my research skills in London. It was a very sociable office too."
The tone was set right at the beginning of Davies' Abu Dhabi sojourn with a firmwide welcome dinner — and she was to learn that food is an important ritual in the UAE. "Brunch is a major event, a four-hour extravaganza of lovely food and drink in amazing surroundings," she says. "Brunch tended to be the main event on Fridays and Saturdays."
But Davies, who is now working in private client, found that Abu Dhabi is also perfectly located for travel. "I had weekends away in interesting nearby countries like Beirut, and Dubai is just down the road," she says. "I also had a holiday in Sri Lanka, which is only four hours' flight away."
What other advice does Davies give to today's law undergrads? She says:
"Getting recognised and doing well at interview is incredibly difficult, but there are all kinds of things that people can do to help themselves," she says. "Sport helped me but I also made an effort to be involved in university law society events. This sort of thing demonstrates your passion for the law. But I think the most vital thing of all is a blend of research and self-awareness. You need to do as much as possible to understand the firm you're thinking of applying to — get to know its culture, the kind of work it does, its history, everything. And then be honest with yourself. It's no good applying to a firm and saying you want to do M&A work if, in reality, you don't want to do any all-nighters."
About Legal Cheek Careers posts.