Alex Underwood, associate director at Osborne Clarke, discusses how the actions we take over the next 30 years will determine whether we can meet the climate challenge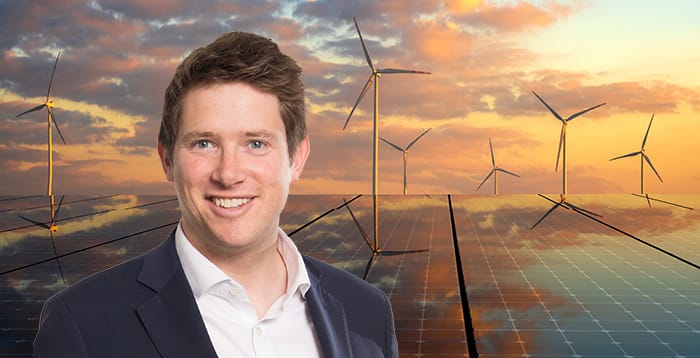 Although the government's target of net-zero emissions by 2050 may seem some time away, action to reduce our carbon footprint needs to increase now.
Osborne Clarke's Alex Underwood, who specialises in M&A in the energy and infrastructure sectors, works closely with the firm's clients to help them achieve their decarbonisation goals. This sees Alex regularly work on major renewable energy projects including solar parks, wind farms and hydro, as well as representing flexible energy and tech providers involved in the generation, management and trading of energy.
Alongside his energy work, Alex is also a transformation manager for Osborne Clarke's new '3D strategy' — decarbonisation, digitalisation and urban dynamics. Considering decarbonisation specifically, Alex tells me that this element of the firm's strategy responds to the 2050 net-zero greenhouse gas emissions target set for the UK and similar international commitments.
Much of the work that Alex is involved in is aimed in helping to achieve this goal. If he isn't handling the sale or purchase of a renewable or flexible energy project, you can find him analysing the decarbonisation of transport systems and finding ways to support the move towards electric vehicles and alternative lower-carbon fuel forms.
I asked Alex what his opinion was in relation to transport on the recent amendment to bring forward the UK's target to sell only electric cars from 2040 to 2030. "In itself, it is an important target and message, particularly to the manufacturers in transforming their production lines towards electric," he says. "However, the increase in the deployment of electric vehicles is just one element amongst required changes and though important, cannot in itself get us to net-zero."
Other elements, according to Alex, include removing emissions by increasing cycle lane use or pedestrianisation. "Electric vehicles on the road is only good if it means reducing emissions by less or no fossil fuel-burning cars on the road," he explains.
With regards to the infrastructure element to his work, Alex notes that the firm is also heavily involved in energy storage. Alex states that this area is an important development in order to support the increase and stability of renewable energy onto the electricity grid.
Alex explains: "Historically we have had a centralised, large-scale and vertically-integrated energy system." However, we are shifting towards a more "decentralised, flexible and smaller-scale energy generation through renewables". This is where the second 'D', digitalisation, comes into play to ensure that these far more numerous and widespread installations can be digitally managed with changes in demand to provide a smarter energy system.
Despite describing the transition from a fossil fuel based energy and economy to a low carbone one as "one of the biggest challenges of our time", Alex says it is a challenge we are better placed to meet with the continued advances in technology.
It was upon qualifying as a solicitor in 2008 that Underwood decided he wanted to practise within the renewable energy sector. He went on to spend several years in-house at two renewable energy firms before eventually joining the London office of Osborne Clarke in 2016.
Reflecting on his time in-house, Alex tells me that he would find himself "deployed across the organisation", as opposed to specialising within one specific department as is often the case in private practice. "You get involved with all sorts of different areas that you would never have dreamed of," he reflects.
What Alex found most interesting about his in-house role, however, was the opportunity to work with different professions on a day-to-day basis, including, engineers, commercial modellers, project managers finance experts and software programmers. "Mixing with those different professions and working together as a team to achieve something was a great experience," Alex says.
Alex felt motivated to return to private practice, and specifically Osborne Clarke, when the opportunity arose "to work for a large number of relatively decentralised energy-linked businesses at the same time". In Alex's mind, this is the best thing about working in private practice. It is an opportunity to interact with a variety of different businesses deploying different business models and technologies and to develop a wide skill set and deep sector understanding to help those businesses succeed.
Turning to careers advice, Alex advises students seeking to enter the legal profession to "be different". He urges future lawyers to not be disheartened by the competitiveness of obtaining legal work experience but to recognise that non-legal work experience can be just as valuable. For graduates, he notes that although paralegal experience is invaluable in equipping oneself with legal skills, there has been an "explosion" in the number of opportunities to work for start-ups over recent years, across a broad range of sectors, and with working remotely increasing these were becoming less geographically centric. Comparable to paralegal work, the skills that can come from these experiences are invaluable and demonstrate a keen interest in the sector that you are interested in.
Alex Underwood will be speaking alongside other Osborne Clarke lawyers at 'Mega trends: How digitalisation, decarbonisation and urban dynamics are driving legal business — with Osborne Clarke', a virtual student event taking place this week, on Wednesday 28 October. You can apply to attend the event, which is free, now.
About Legal Cheek Careers posts.