Three experts from Osborne Clarke reflect on the latest trends and how the legal landscape will look in the next decade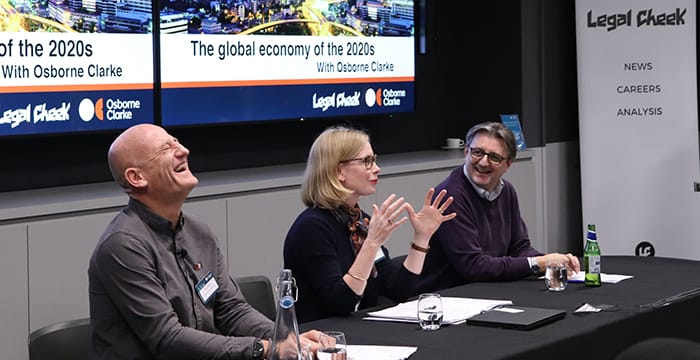 In Osborne Clarke's London office, Ray Berg, UK managing partner, Simon Hobday, energy partner and Catherine Hammon, digital transformation knowledge lawyer, joined over 90 students for a discussion on how the global economy is going to look in the 2020's, at Legal Cheek's recent careers event.
Will it be tech, the environment or Brexit that dominates the next decade? Here's what they had to say…
Uncertainty
A key theme to the discussion was uncertainty, which has dominated the past three years since the Brexit referendum. It's not all about Brexit though, with the US-China trade war impacting the global economy.
When asked if they believe other countries will follow the US in implementing protectionist policies, Berg said: "there are conflicting themes of protectionism and nationalism versus increasing globalisation" and therefore it is "hard to call" which way other countries are going to go. He specified that whenever protectionist policies have been created, it's mostly the US. "The UK generally hasn't thought about it as a member of the EU but this could change with Brexit", he added.
Hammon, meanwhile, joked: "uncertainty is the new certainty", while Hobday said that no matter what, "the market and businesses will find a way to continue to work".
Uncertainty is not necessarily a bad thing for lawyers, though, as when quizzed on the upcoming general election and the potential impact of Labour's renationalisation policies, Berg predicted "any changes of a radical nature will create work for lawyers" because it will create "huge competition issues". All of the panellists predicted a rise in litigation should Labour succeed in the general election and start to implement their renationalisation strategies. For this reason, Hobday mentioned that he is under pressure from clients to close deals before the election on 12 December.
The green economy
Hobday, as the energy partner on the panel, understands how the landscape has changed for some of the biggest polluters of the past and how the focus has shifted to greener, more renewable energy sources. He said that "a lot of change has been happening despite the law and regulation" and suggested that his clients have been looking to this greener future for many years.
Tom Connelly, Legal Cheek editor and chair of this panel posed the question: "Have you seen an overlap between the tech and energy sectors when it comes to a greener future?"
"Technology has been interesting in the energy sector as it's not always useful for trying to make the system greener. Technology itself uses a much larger amount of energy than you would expect. Huge datacentres with hundreds or thousands of computers are at the root of 'the cloud' and require a lot of power to run", Hobday explained. He went on to say that "some technologies have been useful in trying to monitor energy use and to collect that data, but there's still a long way to go".
Tech: you ain't seen nothing yet
Regulation in the tech sector has been a big topic globally. The panel were asked which areas of their specialisms are under-regulated and how. Hammon took the lead stating that it "depends on who you speak to" and that, crucially, "it's down to whether or not the risks are understood". She continued:
"There's a delicate balance between regulating too early and too late as technology is constantly shifting. If you regulate too early you may limit the technology to a point where it's essentially useless" but stressed that regulation is important as it "helps you to manage risk."
Berg continued this point by adding that "we don't know the scope of many technologies so it's very hard to try to regulate at this point." He went on to say that "the ethics behind technological change is an interesting question which I don't think we've got our heads around".
"Big ethics questions do come out here as to what we want our society to look like and how the technology that is coming in is incorporated in to that", Hammon added.
This led on to a question regarding cryptocurrencies and whether the panel believed that they were going to succeed or fail in the 2020's. Hammon suggested that "the jury is out on cryptocurrency generally" at the moment as it "suffers from a lack of regulation". She also said that "we don't need to invest in blockchain (the security technology behind cryptocurrencies which creates a time-stamped record) and cryptocurrency as we have perfectly good payment systems, but other countries, such as Japan, may benefit from cryptocurrencies as they do not have the same robust payment systems we currently enjoy".
Berg said technologies such as cryptocurrencies, which are seemingly redundant in territories that already have the technology to do the same thing, are "symptomatic of the broader debate around tech". The idea should be to look at humans first, then the process and then use technology as a "last resort". He continued:
"What's the real solution with cryptocurrency? I can be in Spain and send my children money instantly. What problem is cryptocurrency solving? There are bigger problems we can use technology to solve."
Careers advice
"What skills should prospective trainees focus on developing? How is Osborne Clarke helping its own trainees?" asked one attendee.
"Fundamental skills such as: listening, building relationships, understanding business and problem solving are always going to be critical skills for lawyers to have", Berg stressed.
Catherine Hammond said: "You don't have to be a programmer, but it is important that you have tech literacy and digital curiosity. Keep an open mind and be open to the potential of technology. Make the time to invest in it. If you're interested in something in particular, find that information, read that article."
Simon Hobday believes in the power of networking, adding: "Talk to people, find the experts in their industry or field and ask them lots of questions", he guaranteed "they will love talking about it!"
About Legal Cheek Careers posts.