Ahead of tonight's Secrets to Success event at ULaw Birmingham, Pinsent Masons associate Ian Morgan reflects on his time in Dubai and Doha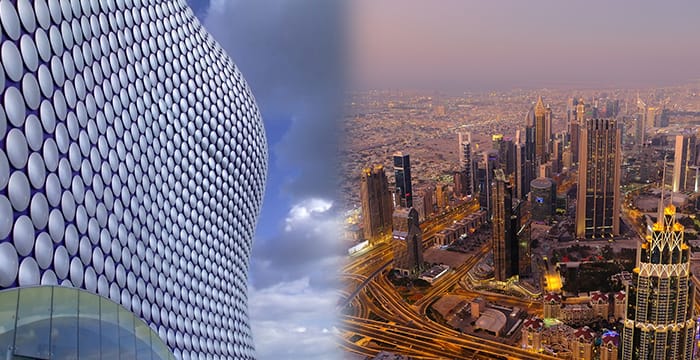 When Ian Morgan touched down in Dubai on a Friday afternoon in 2014, he was nervous to say the least. In two days' time, Morgan, then a second year trainee, was set to begin a six-month international secondment in Pinsent Masons' construction team in the United Arab Emirates (UAE). Having already sat in transactional and contentious seats back in the firm's Birmingham office, Morgan was well equipped to handle the challenge ahead. However, it was the change in culture that concerned the born-and-bred Brummie the most. He explains:
"When I got the phone call telling me that my application for secondment had been successful, my first reaction was, 'Oh my God, what have I signed up to?' I was perfectly settled in Birmingham and yet I've applied to uproot my life for six months and live in another country!"
But the University of Birmingham law graduate hit the ground running. Keeping him busy was the UAE's neighbour, Qatar, and its booming legal market. Both nations' new-found focus on diversifying their traditionally oil-reliant economies saw huge investment poured into infrastructure projects and a rising demand for lawyers to service them. On this, Morgan, who studied the Legal Practice Course at the College of Law (now the University of Law), says:
"Wherever there's construction, there's always scope for dispute. Most construction contracts have penalties in them if the contractors don't perform to agreed time scales which will see compensation claims for the delay — that's where the lawyers come in."
Just three weeks into his secondment and Morgan was sent to Doha to assist on a large construction dispute — a five-day trip that ended up lasting nearly four months. Morgan would split his time between Doha and Dubai, spending weekdays at the client's site office helping fee earners prepare for arbitration, before then returning to Dubai at weekends for some well-deserved downtime. Soon enough, his initial concerns subsided: "I never had time to feel out of my depth — we were in the throws of litigation and it was a case of all hands on deck," he recalls.

Although Morgan was not trained to practise in the Middle East, he worked closely with local lawyers where needed. Contracts there are often drafted to be governed by the law of England and Wales, Morgan explains. "One of the attractions of England and Wales as a legal jurisdiction is its global reputation for the quality of its judiciary and its legal system". So, international law firms, like Pinsent Masons, will often advise on matters with contracts governed by the law of England and Wales from their overseas offices.
However, that was not always the case: working with local lawyers meant having to at least understand the basics of local laws — and fast. Influenced by the Egyptian civil code, the UAE legal system is based on civil law, rather than common law. "It was completely different to anything I had ever done before," Morgan recalls. Online legal databases, like LexisPSL, didn't exist for the Gulf market at the time — so this meant he had to learn it all "from scratch" with the help of one of Pinsent Masons' "infinitely patient and highly experienced" practice development lawyers (also known as professional support lawyers).
When he wasn't working, Morgan took the chance to learn about the culture and soak up the sun. Although his working week involved a busy travel schedule, this was offset by weekend excursions to Bahrain and Abu Dhabi — and even the odd exploratory boat trip. His stand out moment? Big brunch on a Friday: "There was a very collegiate atmosphere amongst the expat community and I had some great experiences," he explains.
When he eventually returned to Birmingham as a newly qualified (NQ) lawyer, Morgan experienced another culture shock. "It's hard being out of the office for that long — you think nothing will change, but it does," he says.
Much to his surprise, one of the biggest differences was the city itself. Like the Middle East, albeit on a smaller scale, Birmingham had seen an influx of public and private sector investment, particularly into regenerative building projects. As the UK's second largest city entered a so-called 'renaissance' era, its legal market prospered. Having been exposed to international markets, Morgan returned endowed with new-found skills leaving him ready to take on booming Birmingham. "After the secondment, I was a lot more confident as a litigator to deal with whatever the day threw at me," Morgan tells us.
Although he finds himself reminiscing about his time abroad, the property dispute resolution specialist stands by his decision to build his legal career in Birmingham. "Birmingham is my home and a city I'm really proud of. I've always known I wanted to work here in the long term and I've never felt held back," Morgan says.
For lawyers-to-be looking to work abroad, Morgan advises to apply to international firms where opportunities are available. Pinsent Masons, for example, now offers a training contract whereby trainees are sat in Doha and Dubai, with a view to qualifying in to a Middle East office. They also have recently launched a new programme to enable NQs right through to more experienced associates to live the firm's "connected" value by being temporarily seconded to one of the firm's growing number of international offices. Then, when you're presented with a secondment opportunity, have the confidence to put yourself forward. He says:
"The biggest lesson to come out of my 6 months living and working abroad was: 'if you don't ask, you don't get'. It's so easy to let your doubts or own insecurities get the better of you, but if you don't try you will never know and you may surprise yourself. Put yourself forward, accept that things won't always be completely plain sailing, but always look for ways to morph that into a positive and press on. You will get out what you put in."
About Legal Cheek Careers posts.