Ahead of Legal Cheek's 'How to get into law as a career changer' event in London on Thursday, Shearman & Sterling trainee Jessica Stanion looks back on her route into the firm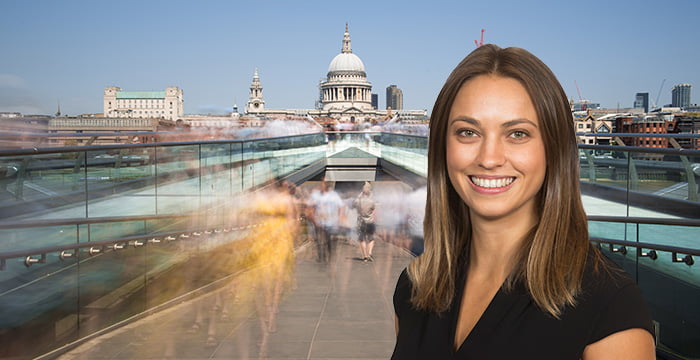 "I'd always thought about law," says Jessica Stanion. "It was always in the back of my mind. And now that I've gone into it, I have no regrets at all. It's been all I hoped it would be, and more."
Stanion is speaking just as she comes to the end of her first year as a trainee with Shearman & Sterling. She makes for a fine ambassador for the firm, speaking with real passion about her time with the US heavyweight which, at the time of writing, has more than 900 lawyers in 22 offices around the world. Collectively, they speak more than 60 languages; Stanion herself is eying up a six-month stint abroad for her final seat as a trainee.
But rewind just a few years, and the Newcastle University graduate's career was heading in a different direction. Stanion, with A levels in economics, English and history, studied business management at Newcastle, graduating with a first in 2014. During her second year, she had worked as an intern for a media company. Stanion says:
"I worked with Zenith Media for six weeks in its London office, as part of the TV buying team on the L'Oréal account. The role involved negotiating with media owners, booking and buying my own campaigns for L'Oréal and maintaining a good relationship with the client to ensure their needs were meet. It was good experience, and fun. It seemed logical to carry on after university working in the media."
So, in September 2014, Stanion joined Saatchi Masius's graduate scheme to train as an account executive. Six months into the job, she knew it wasn't for her. "They're a great company and I met some fantastic people there, but the role wasn't playing to my strengths. I wanted something a bit more intellectually challenging, with more variety. And something that didn't rely so much on creativity. After all, I had a business degree, and it didn't feel that I was making good use of it," she explains.
Law — always there, bubbling away — moved from the back of Stanion's mind to the forefront. She did not, however, change horses without doing some due diligence. She tells Legal Cheek Careers: "Some friends were doing the Legal Practice Course (LPC) at the time, so I asked them what it entailed, and how they felt about the law as a career." Stanion continues::
"They were very encouraging and helpful. One thing they pointed out was that the legal profession relies a lot on teamwork. They also warned me that the law isn't for the faint-hearted; that you will work long hours, but that there are many rewards for this — especially the sense of achieving something as part of a team. This appealed to me. I also did a lot of desktop research into what kind of lawyer I could be. Corporate law was logical. Next in the jigsaw was a Shearman & Sterling Career Change day. The firm hosts these annually. I applied to go on one and was accepted. It was the turning point."
Stanion's day with Shearman & Sterling convinced her to enrol on the Graduate Diploma in Law (GDL) at the University of Law (ULaw) in London, and then complete the LPC, again at ULaw. She gained a distinction in both. Thanks to the career change day, she was also inspired to apply to Shearman & Sterling. She explains:
"It was a fascinating day. We met partners, associates and trainees, and the head of graduate recruitment gave an inspirational talk about the benefit of having transferable skills from other walks of life. Everyone was incredibly helpful and positive."
A selling point for Stanion was that Shearman & Sterling have a relatively low trainee intake, meaning that the firm can promise trainees good quality work. That's how it's turned out for Stanion, who was thrilled when she secured a training contract with the firm. "I've worked in finance and tax so far, and it's been excellent," she says. "The work is constantly stimulating and varied." Indeed, so happy has she been with her career change that she has inspired a friend to switch into law too.
What, though, would Stanion — a keen marathon runner outside work — say to anyone else contemplating a career change? She tell us:
"It's nerve-wracking, and you shouldn't take the decision lightly. You've got to think everything through very carefully, and be as sure as you can that law is for you. There's no point taking yourself out of employment for two years, to do the GDL and LPC, if you have any nagging doubts. So it's vital to do your research, and ask friends and contacts what their legal lives are like, what their firms are like. Find out about the culture of firms you're thinking of applying to, and try and work out what area of law would suit you."
And then, there's one more thing. "Be brave," says Stanion.
Jessica Stanion will be speaking at 'How to get into law as a career changer' with Irwin Mitchell, PwC and Shearman & Sterling at ULaw's Moorgate campus on Thursday evening. Apply now for one of the final few places to attend.