Ahead of Wednesday's event, 'What next for the global economy?', Weil, Gotshal & Manges banking & finance partner Tom Richards looks back on his career and offers advice to the next generation of lawyers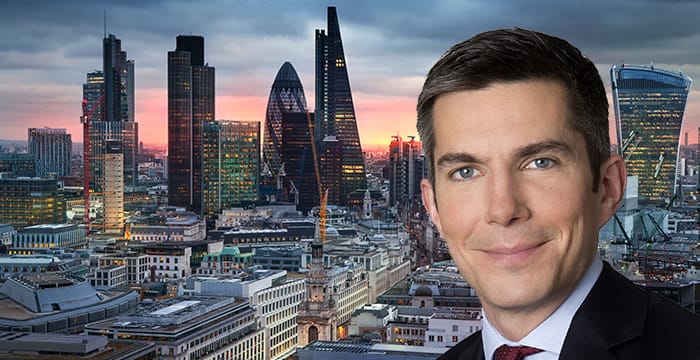 A decade on from the financial crash, indicators suggest there could be trouble ahead. As the US-China trade war continues and the Eurozone economy splutters, a global slowdown over the next few years appears more likely than not.
And yet, Tom Richards, a banking and finance partner at the London office of New York-based elite law firm Weil, Gotshal & Manges remains unfazed, looking ahead optimistically to the 2020s. "Whilst there may be a downturn in the short to mid term, I don't expect it to be as severe as 2008 and also anticipate it will throw off a range of interesting opportunities," Tom says.
Having begun his career as a trainee at another global firm in 2005, Tom's career has had plenty of twists and turns. Notably he went through the 2008 market meltdown and emerged to tell the tale.
"If there's any good time for that to happen in a career, it was then, at the beginning," Tom reflects. If anything, it was an educational experience. He continues:
"We all learnt a huge amount from that economic cycle. When the market is very hot, with people fighting to win deals, sometimes people are less interested in nuanced advice — but in a restructuring process, the detail of the legal documents is absolutely key."
The downturn served as a reminder that law firms, to a certain extent, are recession-proof. While appetites for M&A deals and transactional work waned, litigation, restructuring and insolvency practices buoyed as the UK economy slid into recession.
Knowing which practice areas are hedged against cyclical disruptions isn't always so obvious without the benefit of hindsight. To stay ahead of the competition, partners need to be thoughtful and show good judgement. "We are always looking ahead to the future in the short, mid and long term, to which practice areas are going to be the busiest and should be expanded," Tom says.
With the global economic storm weathered, in 2012 Tom joined Weil's London office as a senior associate in its banking and finance team. It was good timing as a wave of cheap money, fuelled by low interest rates and government-generated quantitative easing, flooded into markets. With traditional banks bound by post-2008 rules preventing risky lending, the private equity sector — a core element of Weil's finance client base — has been a major beneficiary. The rising tide helped Tom become a partner, being made up in 2014. Along the way he completed a successful secondment at Goldman Sachs that saw him win new work for Weil.
A major part of Tom's practice is advising private equity sponsors seeking to acquire companies (industry public companies) through leveraged buyouts — in other words, acquisitions funded by debt. With less decision-makers at the helm, private equity deals differ from those with traditional players in that they are more streamlined and efficient. "Sponsors are less institutional, more personal in comparison to our relationships with banks or larger corporates," he says.
Keeping up with this fast-paced practice is no easy task. "As a transactional lawyer, you are on call all the time. Deals move very quickly and if you're not there, someone else will be," says Tom. Such speed was what led the solicitor to banking and finance in the first place. "I liked the fast-paced nature of the work — it means you move through deals relatively quickly and can move onto the next thing," he adds.
An early starter, Tom begins his day by plugging into news wires, tracking market developments. Putting him in particularly good stead are the critical analysis skills picked up during his English literature undergrad degree at Newcastle University. "I always intended to be a lawyer, but I always loved reading. So, I thought, why not spend three years reading books and then do the law conversion afterwards?" Tom recalls.
He found studying law, and the simultaneous acquisition of commercial awareness, not too much of a leap from his days as an undergraduate reading novels. Following the business news and understanding the financial sector as a trainee and then junior lawyer also proved to be a reasonably straightforward continuation. "After settling into their practice area, successful associates should want to get into the weeds of their practice. That means not just understanding their role, but also understanding their market. It separates the good associates from the very good associates," advises Tom.
Looking ahead, Tom has one eye on restructuring, the traditional counter-cyclical hedge to big-ticket deal work and another Weil strength. "Any kind of liquidity squeeze, following a decrease in private equity access to bank leveraged loans or an increase in interest rates, will certainly lead to deals having to be restructured," the partner predicts.
But this time around Tom believes a downturn could create unique opportunities. "Private equity firms are sitting on top of a lot of firepower and unspent money. We're talking about very smart people with money looking for smart ways to spend it. So, there will be lots of opportunity to put this money to work in a financial downturn — they will just have to work harder at it," he says.
Weil's relatively small size in London could work to its advantage in such conditions. "Bigger firms can't be as nimble, simply because practically they have more lawyers. Our size allows us to retool and strengthen client relationships by offering bespoke or more unique services," says Tom.
For students preparing to enter this branch of the legal profession at a time of uncertainty and opportunity, Tom has this advice: "Work hard, get as much legal experience as you can and start building an understanding of the financial markets."
Tom Richards will be speaking alongside other Weil, Gotshal & Manges lawyers at 'What next for the global economy?', on Wednesday 11 September at the firm's London office. This event is now fully booked.
About Legal Cheek Careers posts.