Joint heads of Gatehouse Chambers, Brie Stevens-Hoare QC and PJ Kirby QC, invited Legal Cheek's Phoebe Mather for an exclusive tour of the set's new home at 1 Lady Hale Gate, Gray's Inn, to discuss its recent rebranding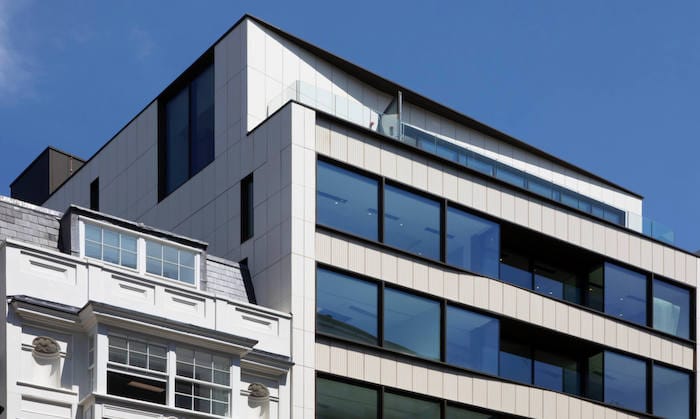 The new decade has brought a new name and a new home for one of the country's leading barristers' chambers.
Until recently named Hardwicke but now operating as Gatehouse Chambers, the roots of the London set's original name can be traced back to the English lawyer and former Lord Chancellor, Lord Hardwicke, who was one of two authors of the Yorke-Talbot opinion. The 1729 opinion was relied upon by slave owners as providing legal justification for slavery for decades.
But the Black Lives Matter protests prompted a group of legal bloggers to investigate historic legal figures, including Lord Hardwicke, and upon hearing of his pro-slavery connections, the set made the decision to rebrand.
In its own words: it was "time for a change".
"It is not something you can unlearn", joint head of chambers PJ Kirby QC explains when we meet at the set's new London home. "To me, it seemed inconceivable that we would want to perpetuate the name when that name, on closer examination, was associated with support for the slave trade." Brie Stevens-Hoare QC, who heads up Gatehouse Chambers alongside PJ, agrees. "For me, the fact that I and others in chambers had done a lot of work in the inclusion space and built a reputation for that, meant it just felt incongruous that we were giving prominence to a name with that association," she tells me.
The set's barristers were in agreement that something had to be done. What followed was an overwhelming vote in favour of changing the name, which in turn triggered a major rebranding process involving a newly-formed chambers committee that worked alongside external consultants.
Every member of chambers and staff were invited to submit a new name. This long list was whittled down to just three options and then down to the final choice: Gatehouse Chambers. To Brie Gatehouse "speaks to access, strength, stability and openness".
Coincidentally the new name gives a nod to the new address — 1 Lady Hale Gate. Gray's Inn took on the building's high-spec redevelopment project which Gatehouse Chambers has fitted out. It now features video meeting pods, extensive soundproofing and multiple roof terraces. "When the property subcommittee came up with this building, we couldn't believe they had found something in the Inns which gave us the space and facilities we needed — it is just brilliant", Brie says when we meet.
Lady Hale cuts the ribbon for @gatehouse_law at No 1 Lady Hale Gate pic.twitter.com/5qE2mGvsF1

— John de Waal QC (@johndewaalqc) July 22, 2021
Part of the mission statement was to create an environment to make members and staff think, 'why would I want to work anywhere else?', where people will be excited to come back into work and be energised by their workspace and the people around them. This, according to Brie allows the Gatehouse Chambers members and staff to "perform at their best and progress".
Making a healthy environment fit for the future (whatever that holds) is important for the chambers. The environment credentials for the building which includes effective ventilation and lots of physical space and the fit out with sit-stand desks were important factors. Recognising that remote hearings and arbitrations are here to stay, the building is also kitted out with state-of-the-art technology. "We doubt whether there are many chambers that could now match us in terms of this equipment," PJ tells me.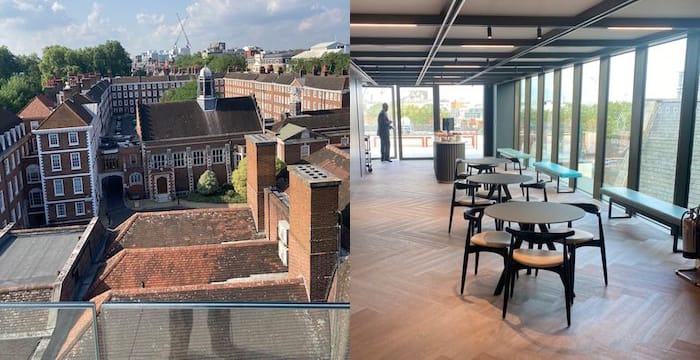 As I explored the six floors, I couldn't help but notice the striking wall art. Fitting with Gatehouse Chambers' leading work on corporate social responsibility and inclusion values, the set were supported by City law firm Travers Smith to start their own project supporting emerging artists. Gatehouse Chambers selected its favourite pieces from those submitted by art graduates, paying them a fee and providing an opportunity for members and clients to buy the artwork on display. Gatehouse Chambers also provides space within chambers for legal charities including Legal Action Group and the London Legal Support Trust.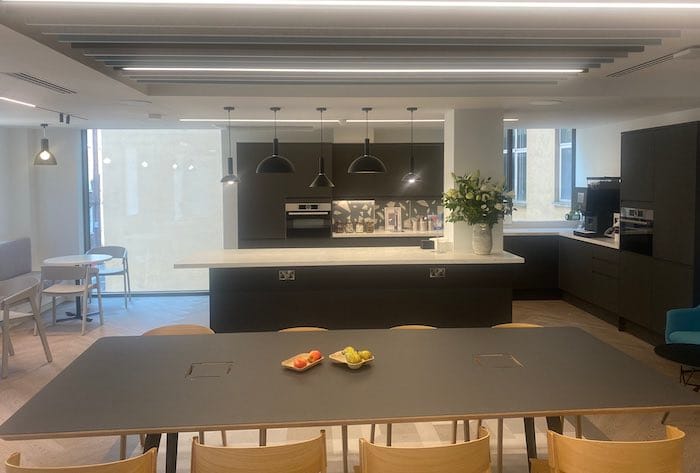 So, what are the joint heads' favourite bits about their new home? For PJ it is the 'Home Hub' (pictured above) which is strategically placed on the first floor and open to the entire organisation, and purposefully designed to promote and encourage collaboration, socialising and conversation. For Brie, "it has to be the roof terraces" which offer stunning views across legal London.
Gatehouse Chambers will be exhibiting at The Legal Cheek Virtual Pupillage Fair 2021 on Saturday 9 October alongside over 30 leading chambers, the Inns of Court and all the major bar course providers. You can apply to attend the fair, which is free, now.
About Legal Cheek Careers posts.