Clare Newton, lecturer at ULaw Nottingham, shares her view on the changing legal market and life as a solicitor, ahead of her appearance at next Tuesday's in-person event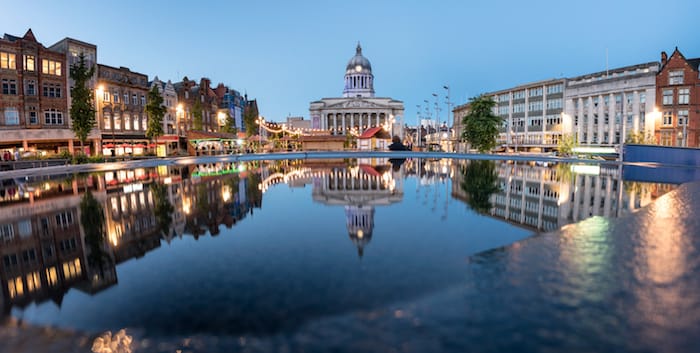 What can you expect from a legal career in Nottingham? In this article, Clare Newton tells us about the variety of opportunities the city offers aspiring lawyers.
Newton is a lecturer at The University of Law's Nottingham campus and a consultant solicitor at national law firm Setfords. We caught up with her ahead of her appearance at next Tuesday's in-person event to find out about her career journey and Nottingham's bustling legal scene.
Can you tell us about your background and your role at ULaw?
I am a consultant private client solicitor for Setfords Solicitors (a national firm) and I previously taught at Lincoln University as an associate lecturer. I am a tutor and module lead for private client on the Legal Practice Course (LPC). I also teach human rights and EU law. I came to law as a mature student and single parent, graduating with a first class honours degree in law at Nottingham Trent University and as the top student. I also graduated from the LPC with a distinction and a master's in law.
How does your work as a consultant solicitor inform the way you teach?
I feel it is really important to practise law whilst teaching as it makes me real to the students. When I teach them, I give them real life examples of when I have encountered what I am teaching them, as a practitioner. I feel this helps keep the students engaged and allows them to actually visualise what they are learning.

You specialise in wills and probate, what drew you to this area of law?
This is an area of law whereby you need to have a knowledge of most other areas of law. So, for example, I am also a trained conveyancing solicitor and this enables me to deal with property work on my estate matters. I was drawn to this area of law because it enables me to use all of my legal knowledge to help people who are often going through a distressing time in their lives. I find it a great privilege to work with people at the end of their lives as I am able to make their final wishes come true.
How would you describe the legal market in Nottingham?
There are a lot of good firms practising in Nottingham and therefore some great opportunities available for students. There is a real mix of corporate and high-street firms, so something for everyone. There are also lots of opportunities to take other jobs within the legal sphere, such as working for the local authority.
What is your advice for students on how to find the right law firm for them?
It's about finding the right fit for you as well as you being the right fit for them. I always try to manage students' expectations, and advise them to take legal jobs like paralegals, to give them an opportunity to try out working in law and see what they think. It also helps them to decide what area they might like to practise in. I say go in and let yourself shine, and often firms then offer a training contract.
What are the big changes you have observed in the legal profession since you started out as a solicitor?
I often think about solicitors 100 years or even 50 years ago, they were in one of the three main professions — banker, doctor and solicitor. All highly respected and wealthy from their success. I think the change brought in by the Legal Services Act 2007 which brought competition into the legal market, has pushed down costs that we can charge for our services and also brought a lack of respect for solicitors into the fore, especially as we live in a society where everything is immediate, and they expect the same from a solicitor. It also means that contrary to popular belief, solicitors are not as highly paid as people think!
How can students best prepare themselves for the legal market of the future?
Just two words — commercial awareness.
Clare Newton will be speaking at 'Secrets to Success Nottingham ­– with Gateley, Shoosmiths, Travers Smith and ULaw', an in-person student event taking place on Tuesday 13 June. You can apply to attend the event, which is free, now.
About Legal Cheek Careers posts.