Chisolu Obumneke-Okeke, an infrastructure, projects & energy associate at Addleshaw Goddard, discusses how this exciting area of the law brought him to the UK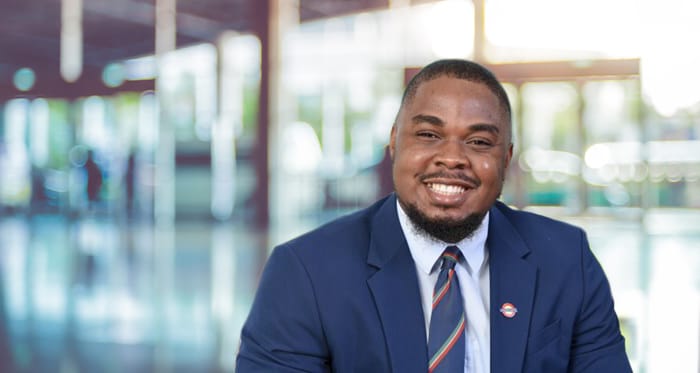 "Often you pick one area of law, but another area picks you," says Chisolu Obumneke-Okeke. It is certainly true in his case. Obumneke-Okeke did not plan to be an energy lawyer — he didn't even select the subject as an elective whist at university in Nigeria (where he was born, raised, and educated). He was interested in litigation, as he wanted to see what it would be like going to court, but he also had an interest in IT law.
Upon graduating from the Nigerian Law School in 2016, he worked as an associate in a law firm for a couple of years as well as for MTN, Africa's largest mobile network provider. In 2018, Obumneke-Okeke moved to George Etomi & Partners, one of Nigeria's leading law firms. Whilst there, he spent time on secondment to Eko Electricity, as in-house legal counsel, and here developed a passion for energy law. He decided that it would be helpful to complete a masters in this field. A friend in the UK happened to mention that Teesside University in Middlesborough offered scholarships and so he applied to their LLM programme and was successful.
The move from Nigeria to the UK seems to have gone smoothly for Obumneke-Okeke. He tells us that since Nigeria is a Commonwealth country, the laws are modelled on English laws. It was therefore relatively easy for him to transfer across both his legal knowledge and skill-set. After completing his LLM, Obumneke-Okeke moved to Warwick and got a job as in-house legal counsel for the National Grid. However, he missed the culture of being in a law firm, where your peers are working on the same things as you and there is a "family-like thinking". Obumneke-Okeke applied to international law firm Addleshaw Goddard, selecting their Leeds office as it was close to Middlesborough, where he completed his LLM, but also came with the advantage of being in a vibrant city with a thriving legal market. He joined Addleshaw Goddard as an associate in the infrastructure, projects & energy team in April 2022 and lives only a few minutes away from the office by e-scooter!
Despite not planning to be an energy lawyer when he was an undergraduate, it is clear that Obumneke-Okeke is now incredibly passionate about the area. He explains that it is exciting because it is always changing. "If you speak to me tomorrow, a new law or directive will have come out," he says. Whilst he admits that this can make the area challenging, he emphasises that it also keeps it interesting. The sector is also an incredibly important one. Obumneke-Okeke is passionate about the environment and achieving net-zero. As he says, "if we succeed in reducing net carbon, we can save the world". The move towards green energy has made the sector more interesting, he says. There is also an advantage to being in the UK, which has net-zero carbon aims, unlike Nigeria which is still heavily reliant on fossil fuels.
Obumneke-Okeke tells us that sometimes when sat watching TV in the evening, an advert for a new electric car will come and he will think: "I remember this!" It will be a project that he has previously worked on. Similarly, he has been at airports when going on holiday, thought it looked familiar, and then remembered that he has advised a sector specialist about that airport. As he explains, "whenever you see an advancement, such as the new Hitachi trains or rollout of new Volkswagen cars, someone has done the infrastructure behind it". Seeing the real-life impact of his work is one of the most exciting parts of his job. He describes it as a "privilege" to work on this developing area of law.
Of course, it hasn't all been smooth sailing over the past few years. The Covid-19 pandemic and Russia's invasion of Ukraine have brought new challenges. Obumneke-Okeke explains that when drafting force majeure clauses, it is now vital "to be mindful of these factual and political scenarios". He gives a hypothetical example of a client with a power base in the crossfire of the war: you will probably have to include certain clauses in their contracts that you would never previously have thought about.
There is no doubt that there are big questions facing the energy industry right now. As an energy lawyer, Obumneke-Okeke is involved in finding practical solutions. He tells us that he is excited to see what will happen going forward and is especially looking forward to attending COP26, the next United Nations Climate Change Conference.
Obumneke-Okeke has undoubtedly had an exciting career journey so far. He says that a lawyer's story often looks easy, but that the hard work goes on behind the scenes. He advises aspiring solicitors to work hard on their applications or covering letters. "Make sure your cover letter reflects what the firm is doing and what value you can add," Obumneke-Okeke says. "You need to be really specific and detailed as nobody will call you and ask you for an explanation." Studying the partners at the firm is a good way to find out what the firm is working on. He recommends reading about some recent projects that interest you. He also recommends students to complete vacation schemes and internships and advises aspiring lawyers from minority backgrounds to apply to initiatives such as 10,000 Black Interns.
Obumneke-Okeke tells us that when he was in law school, a friend told him: "once you are qualified, you have the rest of your life to be a lawyer so there is no rush. You can try and do different things". This stuck with him. His advice to students would be to move at your own pace and not be afraid of changing course. There will undoubtedly be bumps on the road – everyone faces rejections and is confused at some point — but Obumneke-Okeke says to give yourself grace and not give up. He explains that "every step counts" on the journey to being a lawyer, and that "it is always better to apply than to live with regret". His final words of wisdom to wannabe solicitors or those considering a change in career are: "you are not a tree; you can always move".
Legal Cheek is hosting an IN-PERSON event, 'Commercial awareness focus: Navigating a world in flux – with Addleshaw Goddard', on Tuesday 18 October (tomorrow). The event is now FULLY BOOKED but you can take a look at our other student events.
About Legal Cheek Careers posts.