Legal Cheek talks transactions and career tips with Travers Smith partner and co-head of graduate recruitment Hannah Manning, ahead of her appearance at our first virtual student event of 2023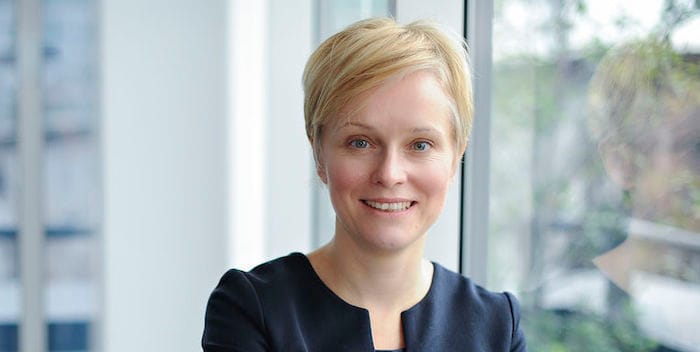 Next month Legal Cheek is hosting its first virtual student event of 2023, in partnership with Travers Smith, on the afternoon of Tuesday 10 January. Ahead of the event, we caught up with Travers Smith tax partner and co-head of graduate recruitment, Hannah Manning, to discuss life at the firm. Check out her Q&A below.
Could you tell us about your career journey and how you came to Travers Smith?
I came to Travers Smith by a slightly unconventional route, as I originally trained as a criminal barrister and then jumped over into tax on qualification. I joined Travers Smith in 2002 as a junior associate, working in the tax team for two of the partners who were closely involved in advising on M&A transactions, often with a private equity focus. That work has formed the core of my practice since I joined the firm, and I advise both investors and senior management teams on the tax aspects of transactions right the way through the investment cycle — acquisitions, reorganisations and restructurings, equity incentives and sales.
I was promoted to Senior Counsel in 2007 — one of the first lawyers at Travers Smith to take that role — and became a partner in 2017.
What got you interested in the transactional side of legal practice?
Like most lawyers in transactional practices, I would say that it's the buzz of the deal. There is something about the pace of transactions, and the challenge of applying the law in a highly commercial way, often under time pressure, that I have always really enjoyed. It also suits my skill set; I like managing processes and implementing as well as creating structures and solving problems, and I have a short attention span, so being able to move from one transaction to another suits me much better than being in the weeds of a single matter for years!
You work in a busy transactional department — what does a typical day look like for you? And how do you maintain a work/life balance?
A typical day for me involves a lot of face to face interaction during my core hours in the office, whether that is catching up with the team or clients on a particular deal, pitching for new work, providing a sounding board for associates and trainees or all of the other management activities that I'm involved in as a partner. The biggest challenge is often to carve out some quiet time to read documents and catch up on the progress of my transactions — the associates in our team are fantastic at running transactions day to day but it's important that I'm over the detail enough to be able to support them and steer things in the right direction when necessary.
All of that can add up to long hours at times, but I try to balance that out with some agile working, which enables me to be around my family, regular holidays, exercise when I can and if it's realistic, trying to finish a bit earlier than usual once a week to have a proper chat with my husband (rather than one that involves sharing information or issuing instructions)!
Can you share one deal you did that was the most memorable or interesting?
I love the work that I do with management teams — I have worked with some really fantastic CEOs and CFOs on multi-billion pound buyouts and it is fascinating to meet them and see the way that they operate. We quite frequently take the same teams through multiple investment rounds and there is a lot of camaraderie and shared experience in doing that.
In the course of my career, I've worked on transactions involving businesses that are real household names — Merlin Entertainments, RAC, Molton Brown, Kurt Geiger and Burton's Biscuits (the Waggon Wheels people) to name a few — and it's fun being involved in those instantly recognisable transactions, but I always enjoy meeting management teams and guiding them through what are often really momentous transactions for them personally.
What are the current trends impacting deal flow and how do transactional lawyers help their clients navigate such?
The current macro-economic uncertainty caused by the war in Ukraine, high inflation and interest rates and some of the recent political missteps in the UK has definitely caused investors to pause and take stock of the market. Asset managers need to deploy their capital, but they also need to make good investments that will generate the returns that their investors are looking for. It's been a seller's market for a while and prices have been high, so it's not surprising that potential buyers are now proceeding cautiously.
Ultimately, as lawyers, it's not for us to assess the financial merits of particular transactions, but it is important that when opportunities present themselves, our clients are well prepared for a transaction, with a clear view of the issues that might arise, and that they can move quickly and smoothly where they are in competition for really good assets.
What opportunities and challenges do you think transactional lawyers will face going into 2023?
Uncertain times always bring both opportunities and challenges. The deal flow may be slightly reduced for a while, but for many businesses, the focus will be on other issues during this period — structuring their financing arrangements, ensuring that their management teams are incentivised and strengthening their client and customer relationships where they can. All of this requires legal advice. And opportunities for transactions will continue to arise, with the best assets still attracting a lot of interest and, at the other end of the spectrum, the possibility of acquiring companies which are undervalued or in financial distress.
What skills do you need to be a good transactional lawyer?
Good organisational skills, a problem-solving mindset, the ability to explain complex issues clearly and concisely and to come up with practical and commercial solutions, empathy and listening skills, tenacity, stamina, resourcefulness and a good sense of humour!
You'll be speaking at our virtual student event next month, 'Life as a transactional lawyer'. What advice can you share with students interested in becoming transactional lawyers? What makes Travers Smith a great place to start out in this area?
Travers Smith's transactional teams (both in Corporate and other areas) are second to none and provide both high quality work and really excellent training. We invest a lot of time in providing both formal training and informal support and learning by osmosis, helped by our room sharing system. For junior lawyers, there is a great mixture of opportunity to challenge yourself and support to ensure that you feel secure in doing so. We're also really focused on ensuring that our lawyers can have long and sustainable careers with the firm, which is important, given the challenges of transactional work. Working long hours is sometimes a necessity, but it is not taken for granted, and we do our best to balance this out with recovery time and holidays where people can take an undisturbed break.
In my view, the culture is all-important here — transactional work can be demanding, tiring and stressful, but the kindness, support and humour of those that you work with is often what carries you through. I'd advise anyone interested in doing transactional work to think hard about this and to make sure that alongside the stellar clients and the NQ salary, you think hard about whether the firms that you are looking at have the culture to make the job enjoyable and fulfilling in the long term.
Hannah Manning will be speaking alongside other Travers Smith lawyers at 'Life as a transactional lawyer — with Travers Smith', a virtual student event taking place on the afternoon of Tuesday 10 January. Apply to attend.
About Legal Cheek Careers posts.