Irwin Mitchell corporate lawyer Matt Smith had to show grit to secure a TC. Ahead of Secrets to Success at ULaw Birmingham next week, he recalls how he did it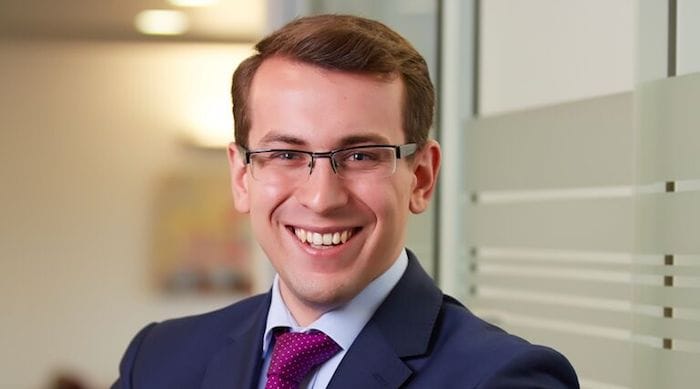 Corporate law solicitor Matt Smith began his legal career at Irwin Mitchell in 2010 in a slightly unusual way. Then studying for his LPC at the University of Law in Birmingham, he earned extra cash by working as a 'twilight paralegal' — which apparently has nothing to do with vampires although he did sometimes start work at dusk, attending classes before heading into the office in the late afternoon.
Matt's part-time work gave him a unique insight into the firm's culture and approach as well as invaluable experience of the practical application of the law. In 2011, he began a full-time paralegal post at the firm, in employment law, and in 2012 he was offered a training contract with a 2014 start-date.
"Lots of people go through the paralegal route," Matt says of his three-year stint, "it gives you an excellent grounding in what it's like to work in a law firm, and takes you away from your textbooks. It's also really useful in that it allows you to get to know the firm from the inside."
Only being "a professional footballer for the Wolves [Wolverhampton Wanderers]" could tempt Matt away from his current job now. He decided to explore law as a potential career while at school. "There are no lawyers in my family but at 16 I did work experience with a law firm in Wolverhampton and enjoyed it," he says. "I took an A-level in law and had a teacher who was really enthusiastic about the subject." After school, he studied law at Brunel University in west London.
He found his niche early on as his first trainee seat was in corporate/commercial law. "I really liked it and found it intellectually challenging," he says. "There's an element of cut and thrust to it and I enjoy working on transactions. I'm quite a driven person who likes to always push themselves to be better and I like working in team environments. On TV, you always see barristers working on their own but as a solicitor you're nearly always part of a team."
The rapidly growing legal community in Birmingham is a natural fit for Matt, who hails from nearby Wolverhampton. The Midlands city is home to a buoyant legal market — Birmingham, Manchester and Leeds boast the biggest legal sectors outside of London — and Matt says he has personally seen considerable growth in the past four years.
The arrival of the HS2 rail link by about 2026 is likely to give a further boost to the city's law, finance and professional services firms. There is a social scene for young professionals too — for example, matches between law firm volleyball, touch rugby and rounders teams and an annual charity football tournament for the law and corporate finance community.
Irwin Mitchell, which was at one time best known for its personal injury practice, has also grown. It has recruited new partners, hired more solicitors and expanded its practice areas, particularly its business legal services division and corporate team, in recent years. The national firm now has 14 offices in the UK, more than 2,500 staff including more than 1,000 lawyers and is ranked in the top 10 most active M&A law firms in the UK, according to the independent Experian MarketIQ report.
Matt's practice consists of mid-market corporate work, acquisitions and disposals, private equity and corporate governance and advisory, with deals generally ranging between £3 million and £30 million in value although the firm also handles smaller and larger deals.
"It's a very dynamic atmosphere and everyone is committed to growing the firm," he says. "I definitely see myself working here long-term. It's a great place to be with good people around, and all my colleagues get along well."
So, what advice does Matt — who mentored LPC students last year — have for graduates seeking a training contract?
"The key thing is to do your research and really understand the firm you are applying to," he says. "Work out why you like them, what makes them appeal to you and why they are the right fit for you. Do this rather than take a scattergun approach. I've been told the recruitment team here can always tell when an application has been recycled. Therefore, you must tailor your application for each particular firm."
He advises that "if you can get a paralegal position then absolutely go for it. Getting to know how a law firm operates is invaluable experience, and you can give answers at interview or in your application of specific incidents where you were able to resolve problems". Another tip he shares is to make full use of the careers service at your college or university. "Mine was really good and would help with applications, acting as a second pair of eyes. However, it always comes back to research. You need to dedicate time to tailoring your application to fit the firm," he says.
Matt Smith will be speaking at Secrets to Success at ULaw Birmingham on Tuesday 4 December. Apply for one of the last few places to attend.