Top lawyers from Irwin Mitchell, PwC and Shearman & Sterling share their routes into the profession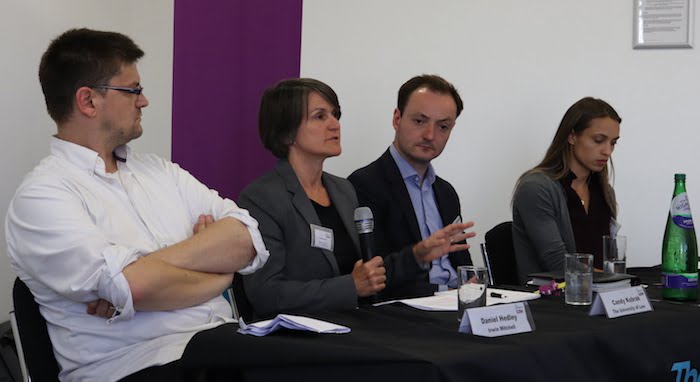 At Legal Cheek's 'How to get into law as a career changer' event, a panel of expert lawyers came together to share how they successfully switched to law. Gathering at The University of Law's (ULaw) Moorgate campus last Thursday were: Daniel Hedley, a partner at Irwin Mitchell, Tom Dale, a senior associate at PwC, Jessica Stanion, a trainee solicitor at Shearman & Sterling and Candy Kobrak, careers consultant at ULaw.
Taking the plunge
Law Society research shows almost 10% of all solicitors admitted to the roll are aged between 25 and 34 years-old, comprising a significant portion of the legal population. Irwin Mitchell commercial partner Hedley, who was an IT engineer before making the switch to law, said firms are gradually tapping into this cohort of career changers:
"It's not a finished job by any means, but law firms are getting better at recognising the virtues mature candidates can bring."
Leaving a successful career behind to venture into another industry can be risky. Having decided to switch from working as a civil servant, the most uncertain point for PwC's Dale was trying to secure a training contract. "Law is quite broad so I didn't doubt there was going to be a speciality that suited me. What was difficult was not knowing the pool of candidates and competing against fresh graduates," he said.
What's more, the first few years can be quite tough. "You may be going from being quite senior in your career to being subordinate to people much younger," added Dale. It's a difficult adjustment, agreed Hedley, but one you quickly learn to deal with.
Transferable skills
"We've been out there and done stuff — that's more valuable than the 21-year-old with netball experience," Hedley told the amused audience of over 50 prospective career changers. Indeed, coming to law much later in life, career switchers often have a wealth of experience that can prove useful.
For Shearman & Sterling second-seat trainee Stanion it was the benefit of having previously worked in an office environment. The business management graduate trained as an account executive before transitioning to law. Two weeks into her training contract, Stanion said her colleague commented on her professionalism and that she knew how to interact with clients. It then dawned on Stanion that these were soft skills she didn't even realise she had.
For Hedley, who quickly found a specialism in IT law, it was being able to translate complex technical issues into simple language for clients. His own background in tech was hugely beneficial in this respect. He told the audience:
"When asked to write advice for a client, the classic first seat trainee that has come straight out of law school will usually end up writing a law essay. With my experience, I was able to pick out the three things the client would care about most and provide that translation layer."
The application process
Latecomers to law must demonstrate that they're making an informed decision, said ULaw's Kobrak, who has advised hundreds of career changers over the last few years. Though employers will appreciate the non-legal work experience on your CV, it's important to seek out legal work experience. Hedley recommended shadowing lawyers, be it your local high street solicitor or a barrister in court, as these are great ways to figure out what the job is like and will also demonstrate your commitment to a career in law.
Dale accumulated over 10 years' experience working in the UK rail industry, first as a civil servant and then as a non-law consultant at KPMG. He leveraged this experience in his training contract application to Eversheds Sutherland, a firm with a specialism in rail law. "Pick somewhere good for what you've done," he advises.
When starting training contract applications, Dale thinks it's useful to apply for a few to get used to the process. Things will start to pick up from there and you'll eventually hit a peak, said Dale, who went from having no vac schemes to completing three one summer.
Kobrak finds the application process to be heavily geared towards students who've just left university. It may be helpful then to apply to firms that still accept the traditional CV and covering letter. Kobrak knew one mature student who secured a training contract this way because he found it much easier to share his story in this less standardised format.
Don't just assert things in the application form, make sure to back your assertions with evidence, said Hedley, who admits he didn't fair too well in his first undergraduate degree. Indeed, he dropped out of the course but went on to secure a first in his second degree. He then drew on this experience to demonstrate resilience in applications. Certainly, career changers may have to think carefully about how they portray their past and Kobrak offered some practical advice:
"Be a striker rather than a defender. Think ahead about what you'll be asked during interview and don't wait until you've been asked."
Putting forward a good story it seems is essential. If you don't have the greatest academic record, Dale recommended career changers seek other ways to demonstrate their potential. He undertook mooting during his Legal Practice Course (LPC) to gain more experience and boost his CV.
Work/life balance
"Law is not a nine to five job and it never will be. That's just the nature of the beast," said Hedley, who began his career at Clifford Chance, later moving to Irwin Mitchell. Indeed, going through a late career change when you have financial and family commitments can be quite daunting. Hedley became a father in the final year of his undergraduate law degree and when he was working "magic circle hours" as a trainee, it "wasn't easy" balancing the two. But it is possible, said Hedley, noting one trainee from his intake who was also a single mother.
For Hedley, it's the "stunningly good moments" that make it all worthwhile. From the moment he received a call from Clifford Chance offering him a training contract to the day he received word his application for partnership at Irwin Mitchell was successful — "those are the moments that make the terrors worthwhile", he added.
But if you are constrained, regulatory and commercial disputes senior associate Dale advised picking your seats carefully. Seats in corporate, competition or commercial law are likely to be more demanding, but if you decide to take these on, Dale had some advice:
"Be upfront about your constraints. Communicate with your team and don't simply let tasks drop. Be proactive and put extra effort into how a task gets done if you're not available."
Training at an elite US law firm, Stanion is coming to terms with the unpredictable hours. "It can be quite tough when you don't have the experience to interpret which stage a deal is at and so can't envisage what comes next the way an associate with more visibility can," she said.
But she's glad she made the switch. "The work is constantly stimulating and varied," said Stanion, who left her previous role in search of an intellectual challenge.
Three very different career changer stories — all ending in success. It's not easy, but for the intrepid the opportunities are there.