Mayer Brown solicitor apprentice Chris Howes reveals the pros and cons of taking an alternative path to practice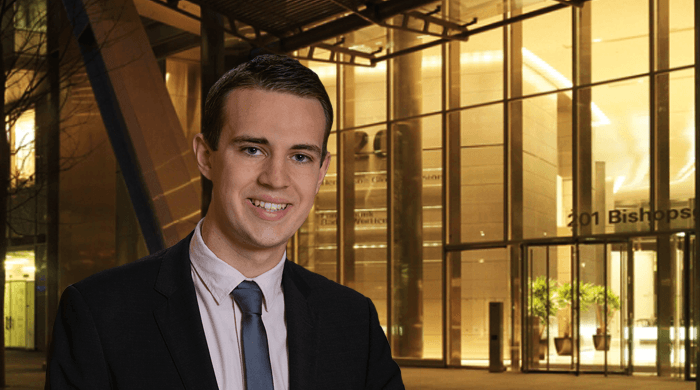 Former Prime Minister David Cameron said in a speech in March 2013, "There's no better way to back people's aspirations than to invest in apprenticeships, to invest in the skills that can make a difference to your careers."
I began my apprenticeship in September 2018, and am currently five months into the six-year programme. However, my own route into law was relatively unconventional. Since the age of around 14, I wanted to join the Royal Air Force as an intelligence officer and, in September 2017, it seemed as though my dreams had come true, when I was offered a place to begin officer training. You can imagine my dejection when an unfortunate situation in my personal life led to me having to voluntarily withdraw from the RAF and reconsider my future.
Law had always been an area of interest for me, so I looked for work experience opportunities in my local area and was subsequently offered a marketing executive/paralegal job.
In that role I really started to develop a passion for law, and began to look at ways in which I could qualify as a solicitor. At this time, the traditional university route was the only method of qualification that I'd heard of and, having to support both myself and my partner financially, the idea of not being able to work full-time worried me. However, as I researched potential university courses I came across the solicitor apprenticeship programme. It seemed to be the perfect programme for someone in my situation and my applications led to me being taken on at Mayer Brown.
The apprenticeship programme was a great match for the circumstances that I found myself in. But would it be suitable for everyone? Looking at the advantages and disadvantages of the apprenticeship programme will hopefully provide some clarity on the matter.
Advantages
No student debt
Perhaps one of the most obvious advantages — the Apprenticeship Levy means that all of an apprentices tuition fees — including the cost of the qualifying law degree (LLB) and Legal Practice Course (LPC) — are paid for. This is a massive advantage of the apprenticeship route, as I'll gain a degree, just as someone undertaking the traditional route would, but won't have the debt that usually comes with it. This could improve access to the profession by appealing to those who are put off by the cost of university tuition.
Earn while you learn
Apprentices are paid throughout their time on the programme and, while the exact amount varies from firm-to-firm, it's usually very competitive. As in my case, not everyone can afford the financial uncertainty of not having a full time job while at university, which is why an apprenticeship provides a fantastic bridge to profession. It removes the finance barrier.
Experience of working in practice
Five months in, six years sounds like a big commitment! However, when you consider that students taking the traditional route would have to complete a three year LLB, spend another year undertaking the LPC and a further two doing the training contract, you realise that the two routes have very similar timeframes. The main difference is those undertaking the traditional route start their working career at a practice when they start their training contract, whereas we begin working in a law firm on day one! This gives apprentices a wealth of experience of working in different practice areas. In addition to this, the contacts and connections that apprentices will make within their own firm and the wider legal world during the six years, could prove to be invaluable for future opportunities.
Disadvantages
Time management
Working and studying at the same time means that it can sometimes be difficult to fit in much else! The apprenticeship route is very full on, with many hours spent studying outside of working hours. With this in mind, it can sometimes be difficult to balance work with, studying, spending time with loved ones and participating in any hobbies. I for one, have definitely had to cut back on the things that I do in my spare time since starting the apprenticeship!
Missing out on the 'university experience'
Doing a legal apprenticeship could mean missing out on the experience of going to university full-time. To bridge this gap, consider the activities that you have access to locally or those offered by the firm itself. There are a number of socials organised at Mayer Brown, as is doubtlessly the case at other firms. That said, the intense nature of the apprenticeship programme will limit how much time you have to spend on extra-curricular activities.
Shorter holidays
The university terms for legal apprentices run from September to September, and there's very little let up in between! Don't expect the 12-week summer holidays that university students get. Twenty-five days holiday is generally standard as an apprentice.
Like anything, solicitor apprenticeships won't be for everyone — they are an alternative. The best thing for a would-be solicitor to do is look at the pros and cons and evaluate which route would be best for them personally. The emergence of a second route to qualification can only be a good thing. With any luck it'll help to strip away any remaining entrance barriers to the profession to ensure that anyone with the drive and desire to succeed can pursue a career in the law.
Chris Howes is the fourth legal apprentice to be taken on by Mayer Brown, and the first ever under the new 'trailblazer' scheme.