Hardwicke barristers Tom Bell and Emily Betts reflect on their journeys from fresh-faced pupils to rising stars of the bar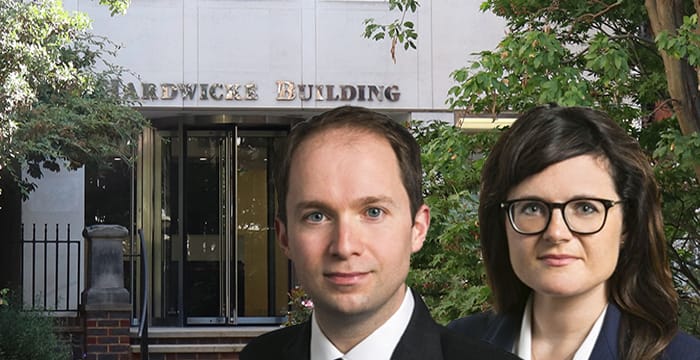 As hundreds of young barristers across England and Wales commence pupillage this month, Legal Cheek Careers sits down with two of Hardwicke's rising stars, Tom Bell and Emily Betts, to discuss career highs, inspirations, and how they like to spend their downtime.
You both studied non-law subjects at undergraduate level. Do you think this has been an advantage for your careers?
Tom Bell: I don't think that it made a great deal of difference in obtaining pupillage. Of the people I met at a similar stage there was a good balance between law and non-law graduates. There used to be a view that some commercial or specialist sets discriminated against those who did the Graduate Diploma in Law (GDL). I don't think that's the case anymore.
In practice itself, I certainly think that the degree that I did — classics with Latin and Greek — gave me useful skills. In particularly it gave me good training at analysing words and sentences, which is very important at the commercial bar when you are interpreting contracts, insurance policies etc. There was also a significant philosophy element to my degree, which is good training for producing the sort of logical arguments that are important when forming submissions. Having said that, I'm sure that a law degree teaches you those skills too.
Emily Betts: There's not a right answer about degree choice. It depends on what you are interested in at the age of 17 or 18 when you're applying to university. You should follow your passion. I did a science degree, which I enjoyed, but I admit that initially it felt like I was playing catch up on the GDL. The first few essays were a shock to the system! But after an LLM things had balanced out by the time I started pupillage.
Commercial barristers are the people City solicitors turn to when they need help with the law. Is that a daunting position to be in?
Emily: The key thing is that it is your job to advise. You would be letting your clients down if you were intimated or shied away from that. You analyse the facts and the law, consider the risks and present your view in the commercial context that your client is operating in. Again, it helps that you have passion for the area of law in which you specialise. I did a broad based pupillage at Hardwicke and was fortunate enough to be able to try different areas and ultimately gravitate towards commercial and property, the two specialisms I most enjoyed.
Tom: Anyone who goes to the bar to do commercial and chancery work has to be interested by the law. That's a big part of enjoying the job. Day after day we read lots of cases, and think long and hard about what the true state of the law is. We then have to combine that legal analysis with a more holistic view. It's a very challenging and enjoyable career.
What has been your most memorable case to date?
Tom: Strangely my most memorable case was also in some respects my least enjoyable. It was a case that I did on a no win-no fee basis that I took on at the last minute before the trial. It involved a fall out between directors of a plumbers training business. I came up with a new legal argument that hadn't been advanced before — and that argument actually won the case. This might seem like a good thing financially, as it should have meant that I'd be paid. But although we won on the law we lost on the facts, as the judge found that my clients had been lying throughout — and punished them by making no order as to costs. I ended up receiving nothing. Which was a real blow financially. But I have to admit that it's still the most memorable case. It was a learning experience in various respects; doing a multi-day trial but also thinking carefully about all the possibilities before agreeing to work no win-no fee.
Emily: I'm lucky enough to have been led by some excellent senior juniors and silks, including on multi-day trials. A particularly memorable case was an action on behalf of beneficiaries of an employee share trust, led by Nigel Jones QC and PJ Kirby QC (who actually took silk during the course of the case). Quite a lot of people stood to benefit. Some took holidays from their job to watch the trial, and it was a privilege to work on a case that mattered so much.
Another memorable one was acting for clients with limited means in a breach of contract against a bank, where we won at first instance and on appeal. Very often it's the people who make the cases memorable.
Tom: I agree. It's either the clients, your opponents, or sometimes even the judge.
What professional quality is most underrated at the bar?
Tom: Humility. In my view there is nothing worse than arrogant opponents. We've all been against them. Not only can they cause people to dislike them, judges pick up on it. If they think someone is behaving arrogantly, they may focus on that and don't listen carefully to the substance of what they are saying. Humble yet confident is the ideal balance.
Emily: Time-keeping. Everyone jokes about barrister time estimates being wildly off, but there is a serious side to it. If you can say to a judge you will be 20 minutes with a witness, and stick to it, it shows how well prepared and in control of your case you are.
What do you do to relax?
Emily: Make sure that you take holiday is one of the best bits of advice I've had. When you are self-employed and very junior, the temptation is to stick around in August because you might pick up some work which ordinarily wouldn't come your way. But you've got to have a break. The same applies at Christmas and Easter. For me the best way to switch off is to ring fence some time and go away.
When I'm at work I relax by doing active things like going for a run — it's the best way for me to get head space from cases. I'll do a run across the river. Half an hour later I'm back at my desk. The flexibility of the bar, where you're not constrained by a lunch break, is great. I try to make the most of that.
Tom: I also try to go for runs or to the gym during the working day. I live outside London, so in the evenings and weekends when there is good weather I go for nice walks. Holidays are important too! The more you work the more you earn and rise up the profession. But if you're not enjoying life, what's the point? Of course, it's easier said than done. There is only so far you can control work flow.
Who inspires you?
Emily: Senior people in chambers. I have undoubtedly learnt a lot from them.
Tom: I can't name some famous lawyer who has inspired me since I was seven. It's more people you work with and people you come up against in court and try to emulate in the future. But maybe it's overstating it a bit to say that they inspire me. You will always come across people who do the job really well.
What is your five-year plan?
Emily: More of the same, hopefully. Good cases, keeping learning from excellent barristers, continuing with the work/life balance.
Tom: It's probably not what my practice managers would like me to say, but I don't really make long term plans. You do each case as well as you can, and think about business and career development — that's a constant theme. But the reality is that you don't have as much ability as you'd like to think to control where your career takes you.
Emily: I agree. Quite a lot of it is taking the opportunities you get and making the most of them, wherever they are and however they come to you.
About Legal Cheek Careers posts.