Allen & Overy associate Gabriella Masding discusses her Parisian secondment, and why she decided to stay for good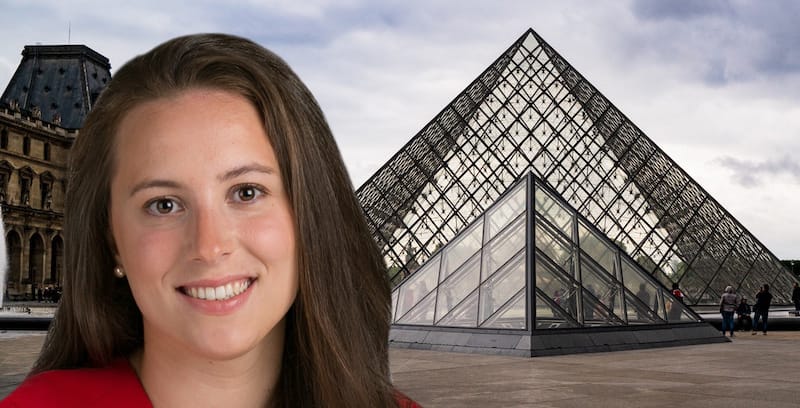 Enjoying the Parisian sun, Allen & Overy (A&O) associate Gabriella Masding tells me about the perks of a global firm, international secondments, and the wonders of a fully-equipped global mobility team. The St Andrews graduate, who moved to Paris for a secondment during her training contract, chose to remain in the French capital with the full support of the international law firm.
"Paris was a great place to be, and the possibility of doing banking was enough to push it over the line. Whilst I was also very interested in Milan and was tempted by how pleasant cycling around Lake Como on the weekends would be, I could also see myself quite comfortably eating a croissant in Paris", she summarises. Clearly a difficult choice, although as conundrums go, not exactly a bad one to have.
"From the very beginning, the support from A&O was absolutely fantastic", the happy junior chimes. "Although it's now equally difficult to get to Paris as, say, Singapore or Hong Kong because of visa and tax issues, the global mobility team meant that I had very little to do. They booked appointments for me and prepared my documents, so that all I really needed to do was turn up to the meetings and hand over what I'd been given." Administratively, Masding says, the process couldn't have been any easier.
"We were also provided with a list of flats available to choose from a few months before we were due to leave." Although, I'm assured, these weren't just any flats, but were in central Paris, a mere fifteen-minute walk away from A&O's office. "We even got a luggage allowance to make sure you could transport your things over. It really couldn't have been any easier or more supported", Masding tells me.
The help doesn't stop there, however. Masding, a self-professed questionable linguist before joining the global giant, received French lessons for several months before leaving for the secondment. "These covered the basics, to help you live in a foreign city, as well as more technical, although equally useful, phrases and terms such as how to refer to partners, and how to discuss matters you're working on", she goes on to say.  "Once in Paris, the office has an in-house French teacher who gives one-on-one lessons every week to take your language up to the next level, and help with any specific issues you're experiencing", Masding adds.
For those concerned that a few months of (even quality) teaching may not be enough to discuss the nuances of (French) commercial law to French partners, associates, and, most importantly, clients, fear not.
"One of the biggest misconceptions about secondments and international work is that when you go to somewhere like Paris, all you do is work on French matters and apply French law, while trying to connect with French clients", Masding observes. But, she reassures, this couldn't be further from the truth. Just because you're in a different office, it doesn't mean you're doing different work. On secondment I was supervised by an English partner based in Paris, and worked on a range of international matters, which was really no different to the work I would have been doing in the London office. In that way, the work doesn't change a great deal."
This isn't to say that you're isolated from the French team, however. "There was lots of integration from the day that I arrived", Masding fondly reminisces. "I remember that we went with all of the French team that my supervising partner worked with to a brasserie across from the office and had a typical long French lunch."
It was this blend of the Parisian lifestyle, the presence of a number of inspirational female partners, and the similar work to that in the London office that tempted Masding to remain in the French capital. "After private discussions with human resources about where I saw my career going and where I wanted to be after qualifying, I settled on remaining where I was."
After making the decision, the fresh associate found the move even easier than for her secondment. "Most of what I had to arrange related to the qualification process, visas and tax status, however, again, the A&O machinery kicked in and the process couldn't have been easier", she notes.
With the international law firm employing the skills of a Big Four accountancy firm, Masding recalls that "everything was again sorted for me, all I needed to do was sign a few forms and attend some pre-scheduled meetings. This let me focus on my career, rather than being bogged down in admin, and allowed me to get on with my work."
As for her work, Masding doesn't have a negative word to say. "Like I said before, the work is very similar to that in the London office. However, the key difference is that the team is much smaller, so I have the opportunity to work on matters directly with my supervising partner, and I take on more responsibility at an earlier stage", she explains.
Towards the end of our interview, Masding shares some advice for aspiring lawyers. "Commercial awareness is key – this is one of the most important things to demonstrate in your applications, but it's not as complicated as most people think. It's not about reading the latest amendments or changes to a piece of legislation or getting your head around Brexit implications. For me, it's about understanding any part of the commercial world, whether or not you ultimately end up going into it. At the time I was applying, I had a real interest in aviation finance, something that now has very little to do with my work. But this allowed me to show that I could understand commercial problems, business practices, and how the systems function", Masding advises.
A keen member of consultancy and investment societies whilst at university, Masding recommends that students read around law and business to build their knowledge base. "What I do on a day-to-day is of course very legal, but you need to understand what the clients are thinking about, what motivates them, and what drives them", she explains.
Gabriella Masding will be speaking at 'Meet our lawyers working internationally – with Allen & Overy', a virtual student event taking place on 21 September 2023. Apply now.