ULaw Newcastle campus manager Larissa Hope explores what the vibrant city has in store for students, ahead of her appearance at tomorrow's in-person student event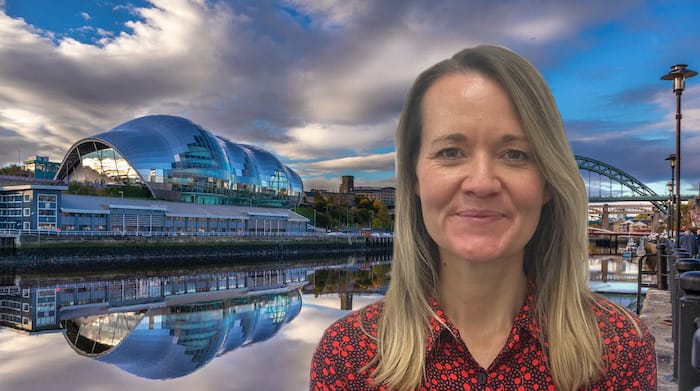 The Newcastle legal sector is thriving and with a number of large law firms offering training opportunities in the region, an attractive destination to launch and grow a legal career.
Ahead of tomorrow's in-person event, we caught up with The University of Law (ULaw)'s Newcastle campus manager Larissa Hope, who will be speaking at the event, to find out about her varied career journey and what the vibrant city has in store for students.
Can you briefly tell us about your background and your role at ULaw Newcastle?
I am the campus manager at ULaw's Newcastle campus, which was established in 2021 in partnership with Newcastle University. I oversee the day-to-day running of the Newcastle campus, which includes supporting our current and prospective students with their career journeys, which is something I am very passionate about.
As with my colleagues on our tutor team at Newcastle, I am a qualified lawyer and teach on our postgraduate courses. Prior to ULaw, I was the senior graduate recruitment and development coordinator at Latham & Watkins, and prior to this I practised as an employment lawyer at the BBC, and before that at Allen & Overy, where I trained.
You studied in the North before working as a solicitor in London and later returned to the North. What took you to London and what brought you back?
I was born and grew up in the Middle East and was open-minded as to where my career journey took me. With my family originally from the North of England, and Newcastle a fantastic city to study in (and work!), I chose to study law at Newcastle University. I was very fortunate to secure a training contract with Allen & Overy, which took me to London. London provided me with varied and interesting career opportunities, lifelong friends and a great place to call home for almost 15 years! It is also where I met my now husband, who was offered a new role which resulted in us relocating to Newcastle, which luckily for me is a city I know well and love. Luck was on my side with ULaw launching its Newcastle campus at the same time, and I was incredibly excited about developing my career within the early careers space and at a university which had helped shape my own career!
You trained and qualified as a solicitor at Magic Circle law firm Allen and Overy. What was that like?
I feel very fortunate to have had the training and early career experience I did with Allen & Overy, with a varied and interesting training contract, great secondment opportunities and a supportive network, which developed into some lifelong friendships (and what may have seemed like a mini-alumni party at my wedding last year!).
In what ways does legal practice differ now to when you started out as a solicitor? How has the legal sector in the North of England, and particularly Newcastle, changed?
I have seen an increased need for flexibility in practice and the ability to embrace technology and adapt to change. In terms of developments with Newcastle and the region: Newcastle is a city that I have seen go from strength to strength with some exciting developments taking place in the region and planned for future years; with a variety of law firms and chambers, and friendly legal community, it's a great place to launch and grow a legal career.
You then went in-house at the BBC — was that a big change?
I had undertaken a couple of client secondments before I moved in-house to the BBC, so I moved roles with an insight into in-house life, which was helpful. Of course you have to adapt to different systems, processes, ways of working, and an organisation's visions and values; however I continued to have an interesting variety of work at the BBC, which was something I had also really enjoyed in my role at Allen & Overy. Two particular positives that I found from moving in-house was being able to better understand the internal pressures that a client may face, and operating as a business partner; it also provided the occasional opportunity to bump into the odd celebrity in the lift!
What prompted your move into legal education?
Early careers is an area that I've taken an active interest in throughout my career to date, and gradually became an area of focus when I moved from legal practice into graduate recruitment and development. I feel that my role at ULaw has therefore been a natural progression, combining my interest in early career development with the skills and knowledge I have built in my roles to date.
What services does ULaw Newcastle offer to support future lawyers?
This is a tricky question to answer briefly, because of the wide support network at ULaw, which provides support in a number of ways! From supporting students to become future lawyers and business leaders taught by qualified lawyers in small teaching groups with high levels of contact time; to practice-led learning and a focus on employability, with students having access to expert career advice, a large alumni network and benefitting from engagement with our fantastic pro bono programmes; to wider support to ensure a positive and enjoyable learning experience — from student wellbeing, to accessing the great facilities Newcastle University and the city centre location offer; there is an important support network and services in place to support our students in the early stages of their career journey.
You worked as a graduate recruitment & development coordinator for Latham & Watkins, what advice do you have for students who are looking for a training contract?
My top tips would be:
• Look for opportunities that interest you — your role, and longer-term career, will be more rewarding if you are investing energy in something you are interested in;
• Research is key to making an informed decision on the type of firm/chambers and practice areas that may suit your career aspirations, and will ultimately result in strengthening your applications. It can feel a little overwhelming at the outset, so if you haven't already, I'd recommend engaging with your university careers service if you have access to one and/or take a look at the great online resources that can help get you started on your application journey, such as Legal Cheek!
• Quality over quantity — it is better to take the time to submit a few good applications then taking a scattergun approach hoping something will stick; focus on what interests you most and spend the time on those applications;
• Be yourself — of course it's important to be professional throughout the application process and at work, but there is no point trying to be someone else in your application or interview — firms/chambers want you to be your authentic self, and this will ultimately help you find the firm/chambers that is right for you;
• Don't forget to proof-read your applications before submitting — sufficient time isn't always given to this, but it is an important thing to get right to make a good first impression!
Larissa Hope will be speaking at 'Secrets to Success Newcastle — with Norton Rose Fulbright, Womble Bond Dickinson, Muckle and ULaw', an in-person student event taking place tomorrow (Tuesday 7 February). You can apply to attend the event, which is free, now.
About Legal Cheek Careers posts.