Black lawyers and allies, of varying degrees of seniority, discuss their experiences during the pandemic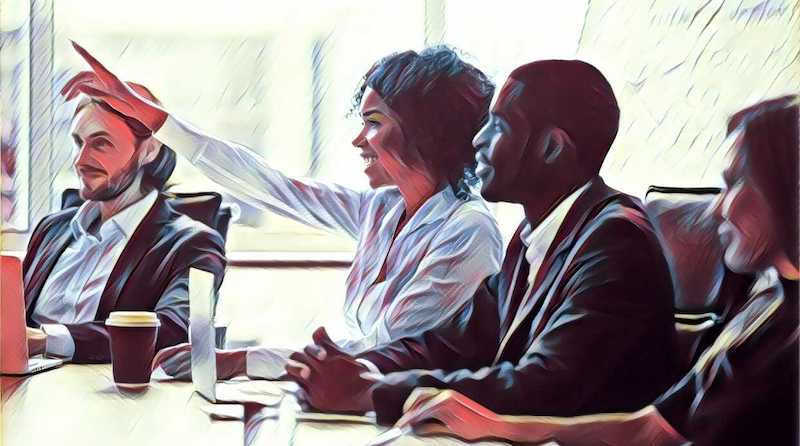 At Legal Cheek's latest virtual event, 'Exploring the challenges and opportunities for Black lawyers in the COVID-19 age', lawyers of varying degrees of seniority at Shearman & Sterling came together to discuss the impact of the pandemic on Black lawyers, and the future of diversity and inclusion (D&I) in the workplace.
---
The speakers
• Samuel Ogunlaja, senior associate in the project development & finance practice
• Jonathan Toffolo, senior associate in the project development & finance practice
• Danielle Altink, associate in the project development & finance practice
• Richard Quarshie, trainee solicitor in the London office
---
Challenges
The pandemic has impacted certain sections of society more than others, and this is true at both a macro and industry-level. For Samuel Ogunlaja, a senior associate in the project development & finance practice at Shearman & Sterling, the biggest concern for Black lawyers in the current climate is isolation. Speaking to an audience of over 100 students, Ogunlaja remarked how "remote-working has made it so much harder to form relationships in the office. We need to ask ourselves: who is investing in, and supporting our young Black lawyers?".
Being the only Black lawyer in a team can be mentally taxing, and the shift to remote-working threatens to make an already lonely experience even lonelier. Panellist Richard Quarshie, a first seat trainee who joined the firm during the pandemic, was able to reflect directly on his own experiences here. He noted, "it does get lonely", but it's also "incumbent on Black lawyers to speak up when they need support".
Ogunlaja also spoke to the personal challenges he's faced as a Black lawyer, namely "knowing how to resolve my 'blackness' within the workplace". This speaks to the identity crisis that many Black lawyers face when determining how much of their wider selves they wish to bring into a corporate environment. "Do you put all of your 'blackness' on the table?", Ogunlaja probed the virtual audience. Having spent time navigating this challenge, Ogunlaja explained "I am now unashamedly myself — I have a Nigerian surname and I don't let people mispronounce it". Everyone has to go at their own pace here. It's all about "being proud of who you are and wearing that, but at the same time, not making it all you are", he emphasised.
Opportunity
With the Black Lives Matter (BLM) movement propelling issues of systemic racism back to the top of the agenda, more conversations around such are taking place in the workplace.
Danielle Altink, an associate in the project development & finance practice, explained how, off the back of the developing situation in March, she was called by numerous senior partners seeking to offer their support. Following such, the firm got together in an open table discussion and just "talked and talked and talked". Ogunlaja hopes that as we move forward, firms will realise that "diversity and inclusion is ultimately about driving behaviour".
To this extent, D&I issues need to be recognised for how they intersect with overall employee wellbeing — "employers need to be asking themselves how a Black lawyer might be impacted differently in a given scenario", for example. The impact of the BLM movement has also been seen across the firm's clients, who are now seeking advice around unconscious bias training and structural racism. As Quarshie remarked, "it has been a year of high visibility for Black issues — the momentum is there, but we need to keep it going".
And all races have a part to play here. As Jonathan Toffolo, an ally to Shearman & Sterling's Black affinity group explained, the onus is on us to "read up on the issues and educate ourselves to become better allies". Indeed, "expanding our ally programme is an important part of the puzzle". For Black lawyers, constantly having to educate others is both tiresome and mentally taxing. When it comes to better support for Black lawyers, it needs to be two-dimensional — at the educational level, and at the corporate level.
The importance of lived experiences
Going back to what Ogunlaja described as "wearing who you are, but not making it all you are", as a Black aspiring lawyer, knowing when to draw on these experiences can be difficult. Looking back at his experience of doing this, first seat trainee Quarshie emphasised how "people's lived experiences are real, and people shouldn't stop themselves from discussing such". As a result, when the panellists were asked about blind recruitment methods, there was a clear consensus that this "fuels the problem, rather than making any effort to tackle it".
Quarshie explained:
"Blind recruitment ultimately fails in what it aims to do because it doesn't take account of what is happening on the ground and is also wholly reductionist. It doesn't speak to people's real-life experience and could lead to great talent slipping through the net. You should be able to contextualise your application around your 'lived experiences'".
Ogunlaja encouraged applicants to think: "is it your experience as a Black person, or your experience as a person?". Your culture is your strength, but at the same time, your race is not all you are. As a final message to Black aspiring solicitors, Altink explained — "you have to be yourself and remember that 'you' is not a bad thing; it is a fantastic thing".
About Legal Cheek Careers posts.