Ahead of Wednesday's event, 'The rise of US law firms in London', we speak to Shearman & Sterling lawyer Jonathan Swil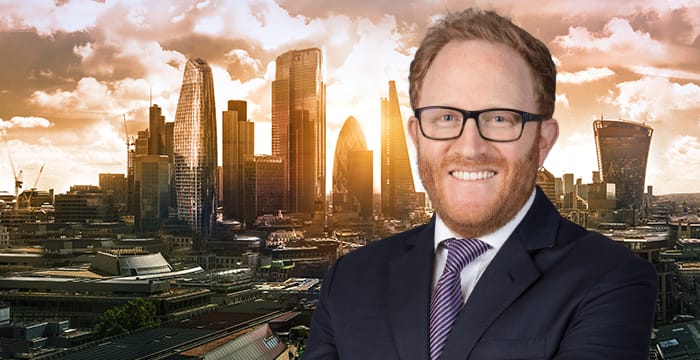 The march of US law firms in London shows no sign of letting up. They are tough competitors to the big UK firms.
In recent years, they have captured magic circle firm territory and poached some of their best lawyers. One solicitor who recently made the jump is Jonathan Swil, counsel, Shearman & Sterling, who joined the US firm from Linklaters.
Jonathan, who has a physics and law degree from the University of New South Wales, Australia, spent four years at what is now King & Wood Mallesons in Sydney, before moving to London in 2010 for a job at Linklaters. He worked at the magic circle firm for more than eight years before joining US firm Shearman's London office in May 2019. His practice at Shearman & Sterling consists of commercial litigation, banking, contentious regulatory matters, insolvency and restructuring.
So, what attracted him to the US firm?
"It was the quality of the firm and its high-end cross-border transactions and disputes work," Jonathan says. "It's similar to the work I did at Linklaters but, because we're a smaller and nimbler team, I can do a wider range of work. There is more variety and breadth, which I like, and a more entrepreneurial approach — if you have ideas about business development or how to improve the practice then you can generally go ahead, which can be a more difficult thing to achieve at a bigger firm."
As for the future, Jonathan expects US law firms to expand their share of the market. "Since I came to the UK from Australia in 2010, I have seen a big change, and I would expect it to continue," he says. "They are stealing high quality people from the magic circle because they can afford to do so, and the more people they poach, it starts to become self sustaining."
While US firms are thriving in London, the reverse has not yet proved true for the big UK firms with offices stateside. The magic circle may be making some headway but they seem to be struggling to crack the US market, the largest in the world. Where cross-border transactions have a US angle, therefore, a US firm has an obvious advantage.
Consequently, Shearman & Sterling competes with the magic circle on a roughly equal footing in several areas. According to Jonathan, its finance practice, for which it is well known, "certainly rivals if not surpasses" magic circle firms and it is "very strong" on M&A. In Jonathan's field of litigation, Shearman & Sterling is "building a strong team, we are smaller but doing the same type of litigation as I used to do."
Current work includes an anti-suit injunction case in connection with a $400 million (£310 million) claim against a client in Russia, which is heading to an expedited trial in December. A few months ago, Jonathan dealt with a market abuse case for a hedge fund.
"Being a lawyer is not the easiest job in town but it is very rewarding, both intellectually and financially, and you will work with great people who are ambitious and energetic," he says. For those starting out at the beginning of their career, his advice is: "Keep planning ahead. Think about what you want to do in the next five years, and the next ten years. The more you think about it, talk about it, and ask around for advice and tips on how to get there, the more likely it is that you will. Other people will see what you want to do and give you advice and ideas. Show that you are ambitious."
To do well in litigation, Jonathan says: "You need to be able to think strategically, write well, be able to absorb and get on top of a lot of facts and have good attention to detail — obviously, all lawyers need good attention to detail but it is probably more important for litigation lawyers than in other practice areas. You should be able to form opinions and give firm advice. You should be able to see the wider picture as well as the details — litigation involves a lot of strategic thinking. Also, there may be varying views across the client company so you should be able to form your view and stick to it, while also being attentive to the client and thinking from their perspective to help them to achieve their goals — as all good lawyers should. Getting the answer right is only part of the story; ensuring you have a happy client is ultimately what matters".
One word, of course, currently dominates the news agenda: Brexit. With a General Election due and the political weather in tornado mode, nobody can predict what the UK's relationship with the EU will look like in the future. Reassuringly, Jonathan says Brexit, in itself, is unlikely to have an adverse impact on litigation. "The high value placed on English law and courts is probably not going to change. Companies around the world want their contracts governed by English law, which creates a lot of work for English lawyers."
Jonathan Swil will be speaking alongside other lawyers from Shearman & Sterling at our latest careers event, 'The rise of US law firms in London', on Wednesday 13 November, at the firm's London office. You can apply to attend the event, which is free, now.