5RB's Christina Michalos, Howard Kennedy's Mark Stephens, RPC's Joshua Charalambous, Wiggin's Ross Sylvester and ULaw's Peter Goodchild share their experiences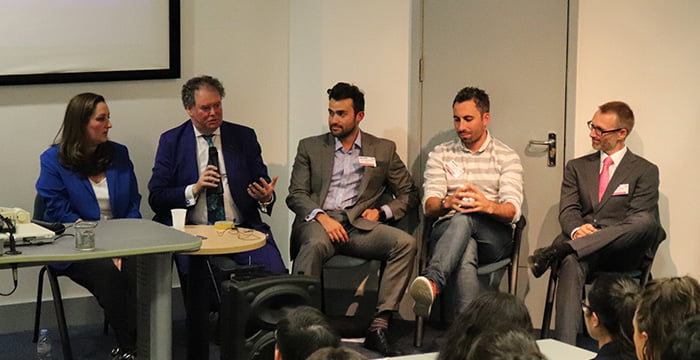 Media and sports law is considered to be one of the more glamorous areas of legal practice. However, for aspiring lawyers hoping to get a look in, this exciting branch of the profession can seem inaccessible.
Gathering at The University of Law's Bloomsbury campus this month to discuss this area of law and offer advice to students were: Christina Michalos, barrister at 5RB, Mark Stephens, partner at Howard Kennedy, Joshua Charalambous, associate at RPC, Ross Sylvester, partner and head of sports law at Wiggin and Peter Goodchild, associate professor at ULaw.
Never a dull moment
Working in this celeb-filled area of law, you're never short of a story or two. "I was hacked by the News of the World on this very phone", said Stephens, holding up his iPhone to a stunned audience of over 70 students. Between them, the panel have acted on a number of very high-profile cases including the Leveson Inquiry and, more recently, the Facebook/Cambridge Analytica data scandal.
Howard Kennedy's Stephens worked on the defence case for Mike Tyson after the American boxer made a derogatory comment about his opponent, Lennox Lewis. The defence was successful, Stephens explained, and Tyson became the first to benefit from Article 10 of the Human Rights Act — the right to freedom of expression.
In another example of just how bizarre the life of media and sports lawyers can be, Stephens said he had advised on the largest art work transaction of this year — 90 Picasso paintings sold to a single private client.
The internet: a double-edged sword
Talk shifted onto more topical areas such as regulation of the internet. "The internet has grown in a way that is impossible to regulate like the print media", said 5RB barrister Michalos. Stephens — who has given evidence on the issue to the House of Lords — stressed that the government needs to identify gaps in the existing internet laws and close these off. Bringing in fresh legislation to regulate the internet risks creating patchwork effect, he added.
"The buzz word in entertainment right now is OTT", said Wiggin partner Sylvester. OTT, or 'over-the-top', allows users to stream film and TV content over the internet, without requiring a traditional pay-TV cable or satellite subscription. Common examples include Netflix, Now TV and Amazon Prime Video. The impact on the hegemony of big broadcasting companies such as BT and Sky, remains to be seen, Sylvester said.
Getting your foot in the door
To get to the training contract or pupillage stage is often a challenge in itself. But Michalos had some practical advice for students: "Shape your own practice", she said. Michalos suggested making journal submissions, joining societies and networking "like a fiend". She even wrote a book, The Law of Photograph & Digital Images, which helped her to get to where she is today. Students should seek out work experience, not just in media or sports law-focused firms but also in places that are tangentially linked, such as news publications and TV production companies. "It's the best way to get a feel for what's going on in the industry", said Michalos, who has worked for the likes of ITN and Express Newspapers. If there's media litigation going on in the courts, "go and observe it", she added.
Another option is to complete a training contract in a variety of seats and make the leap post-qualification. ULaw lecturer Goodchild — who previously worked as an IP specialist in the Denton Hall IP and technology department — advised students:
"You've got to avoid being the bad guest at the party. The bad guest eats through the main course quickly just to get to the dessert. The same applies to the training contract. Give each seat the respect and effort it deserves. It's okay to have an end goal, but you certainly shouldn't be openly strategising."
Charalambous pointed out that to be a good sports or media lawyer, you have to be a good lawyer first and foremost. Then comes focusing on the sectors and immersing yourself in the two worlds.
Demonstrating your commitment to and interest in a career in media or sports law is important, said Sylvester. He gave the rather unusual example of one prospective Wiggin trainee that had written a limerick about section 97A of the Copyright, Designs and Patents Act. She got the job!
The suite of skills to success
Attention turned to the skills lawyers of the future need in this specialist area of practice. Michalos has found analytical skills to be beneficial in her time at the bar, particularly in defamation where cases can often turn on the meaning of words and phrases. The ability to work under pressure is another key requirement, noted Charalambous, because in this line of work "things often come up that are very urgent".
Handling tricky personalities in the media was a skill Sylvester alluded to and Stephens agreed: "Understanding that some of your clients will be in extremis and displaying good interpersonal skills will put you in good stead." If you have a sporting interest, Goodchild advises leveraging this in applications to showcase a level of understanding and commitment.
All work and no play?
Though highly qualified in their respective fields, the panel were asked to reflect on their biggest challenges to date. For Stephens, it was the (much talked about) work-life balance. "It can be very difficult to balance family life and commit to clients in the way that is now expected", said Stephens, who once had to sacrifice his Christmas Day celebrations to deal with a Russian client.
Michalos noted similar challenges at the bar and the pressure on the self-employed to never say no to work. Charalambous highlighted the importance of prioritising your mental health and wellbeing and knowing when to take a step back. "You'll burn out if you grind yourself down too much. Take a moment to breathe every once in a while", he said.
About Legal Cheek Careers posts.