Solicitors from Ashurst, Linklaters and Ropes & Gray join The University of Law's Gareth Richards, LPC programme & student lead, to explore the themes lawyers of the future need to know about, in our first Secrets to Success event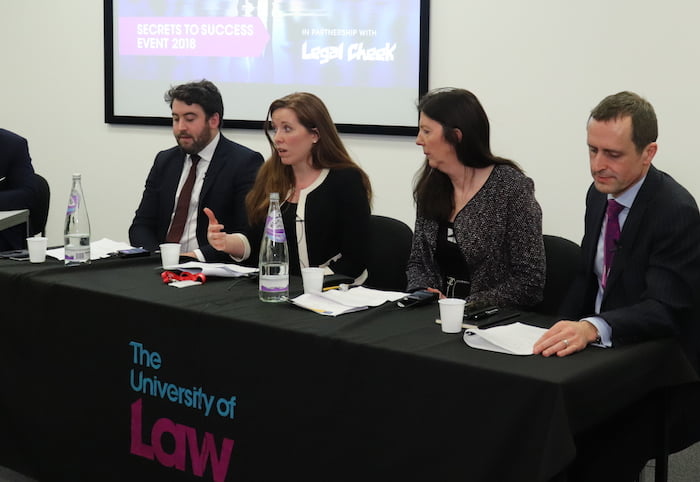 "Twenty-five years ago, law was still a very conservative profession," says The University of Law (ULaw) LPC programme & student lead Gareth Richards at Legal Cheek's first Secrets to Success event. "You just can't say that anymore."
With legal market innovations and developments coming thick and fast, it's imperative students keep abreast of key themes (not least to show off their commercial awareness skills in interviews). Gathering in ULaw's Moorgate campus to discuss these alongside Richards last Tuesday were: Fionnghuala Griggs, a corporate partner at Linklaters, Brenda Coleman, a corporate tax partner at Ropes & Gray, and Braeden Donnelly, a corporate senior associate at Ashurst.
It's perhaps impossible to have a discussion about major legal profession developments without mentioning technology.
Lawtech
A stalwart in legal news of late, the growing sophistication of, for example, artificial intelligence and document review systems is both fascinating and twinged with concern. The big fear is that junior lawyers will be replaced by robots (or at least by less glamorous sounding automation software).
But, says Donnelly, while it's true the growth of technology is having an impact on the legal work done at the more junior end of the profession, it should be welcomed as an aid to trainees. He explains:
"If we can get some of the more routine work done by AI or automated processes, that leaves more time for [trainees] to do the really good work… Rather than people working for 18 hours a day, trawling through documents, you might actually get more of a life during your training contract."
Instead of hiding under your bed afraid of technology's potential encroachment, the panel encourages engaging with the issues and embracing innovation. Sure, you don't need to be an expert on coding and all the things tech, but being alive to the issues and understanding how more tech-minded persons think will make you a more attractive candidate. It's all about providing an "added-value service", Griggs says.
Big Four accountancy firms
Alongside technology, coming to the fore are concerns and questions about the impact of the Big Four accountancy firms on the legal services market. With EY, KPMG and PwC now fronting (albeit relatively small) training contract schemes, are the panel worried about their turf being stamped on?
The role of accountants is having an impact on City law, they concede, but not a turf-stamping impact. It's about collaboration, not competition: Griggs explains that some clients want firms to work alongside accountancy firms in certain disputes. "It's all part of this opportunity to work flexibly and make sure you're working at the forefront if that's something the client wants," she says. Agreeing, Coleman says her firm "works alongside accountancy firms very effectively". Donnelly adopts a similar position: "I think there'll be a place for everyone."
As for training contract-seekers, the rise of the Big Four is no bad thing.
"I think you need to also consider the opportunities that some of these alternative business structures offer to you in your legal careers," Richards, a former commercial property solicitor, says. "They are big entities, they can potentially offer you a really good training experience and potentially good work in the future."
Flexibility
Whether you decide to punt for the Big Four or train at a City outfit, being flexible in the work you do will be a key theme in the future. When asked what the panel predicts the greatest change in the role of the trainee will be in the next five years, Griggs answers:
"We're becoming much more flexible in the way in which we work with our clients and the types of work that we do. So perhaps previously where you might think that you are going to go specialise in a particular area, actually that practice area will adapt. Everything is changing very quickly at the moment in the City and in legal services, and so that kind of flexibility and open-mindedness to doing different types of work and slightly adapting your approach is going to be really important."
But it's not just about demonstrating flexibility within your niche practice area, Coleman thinks. "The types of trainee that thinks they just want to specialise in that area, those days are just gone now," she says. "The more you can keep your horizons broad, have wide training, be prepared to be flexible — that's very important."
Education and training
Though Coleman recommends wide lawyer training, there are compulsory training components all students must complete before they qualify. From 2020, these are changing: traditional postgraduate education will soon be replaced by the Solicitors Qualification Exam (SQE), which Legal Cheek has coined as the solicitor super-exam.
While there remains plenty of uncertainty about what the new route to qualification will bring to the table, the panel moves to quell students' super-exam fears.
It's "early days" on the SQE, Griggs thinks, but rest assured firms continue "to be focused on excellence of training". She says: "It's important to remember that what we've always been focused on in law firms is making sure our training is fit for purpose and making sure you come into the practice as ready as you can be for the day-to-day work you'll be doing."
"Firms are always going to be massively committed to identifying top talent and then getting them ready and up to speed from day one to service the client in the way the client wants to be serviced," Richards explains. "Be reassured… the big City firms will still be looking to provide you with absolutely first-class legal education."
For more on the SQE and what it will mean for law students see The University of Law's latest blog.
Should law students learn to code?
ULaw's Gareth Richards gives his view.
Should law students learn to code?

Should law students learn to code? Gareth Richards, a former magic circle solicitor who now leads The University of Law Moorgate LPC, gives his response #legalcheeklive

Posted by Legal Cheek on Wednesday, February 21, 2018
About Legal Cheek Careers posts.