Ahead of tomorrow's 'Commercial, digital and data awareness' event in London, we spoke to Jeremy Coleman, innovation manager at Norton Rose Fulbright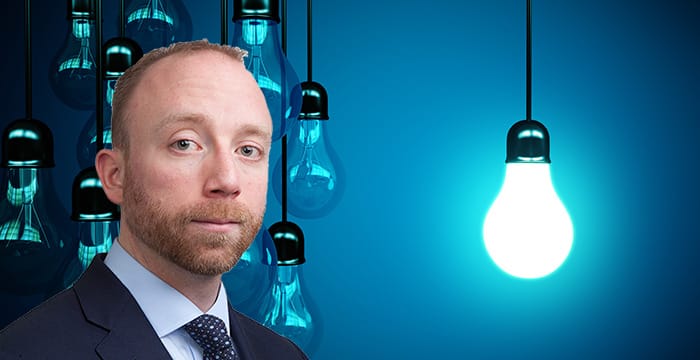 Jeremy Coleman's career illustrates the value of embracing new opportunities within law firms and having business experience outside of the legal sector. He qualified as a solicitor with Norton Rose Fulbright (NRF) in 2016 after completing an LLB at York University, and is now innovation manager for EMEA (Europe, the Middle East and Asia). Based in Newcastle at the firm's innovation hub, which the firm launched in 2016, his responsibility is to research and test new technologies and ways of working, as part of a broader team.
He originally trained, as a sound engineer at the Art Institute of Vancouver. His first job was in 1999 with an internet search company in the heady, goldrush years of internet start-ups. He later co-founded a video game company from a basement and ran it for two years, worked for a company that launched one of the first wearable technologies and was an electronic music producer and DJ. He then studied business intrapreneurship at Canada's St Francis Xavier University, working for a real estate developer in the summer breaks, and after graduating, worked for a process engineering company developing water treatment technologies — a job he loved but left when the company relocated to a different part of the country.
"I know what it's like to work at a start-up, run a business from your basement and work at a successful business in the middle of a boom period where money is no object — you learn from those experiences. For me, personally, I looked at every job as a learning opportunity," he says.
You don't need to start your own business or work in the frenzied atmosphere of Silicon Valley in its goldrush days to gain a useful set of skills. "You can learn a lot about how to deal with clients from any customer service role, where you are representing an organisation. That teaches you a lot. It's a whole area of expertise in its own right."
His story is pertinent because unique opportunities lie ahead for the students and trainees of today, as the lawtech revolution sweeps through City law firms. Not only is technology transforming the way lawyers deliver services to clients, but clients' expectations are changing. This means lawyers' skillsets are adapting and law firms are investing in research and innovation; legal teams are inevitably becoming more multidisciplinary.
Students should not be afraid of these changes as they have the advantage of being "digital natives, they grew up with technology, it's second nature to them", says Coleman.
It's worth pointing out that the non-tech-minded can be successful in the new environment. There's no need for law students to learn coding or to become computer engineers on the side — firms will train them as required or they will learn on the job. Innovation is about a lot more than technology.
"If done correctly, technology should be the last consideration," says Coleman. "Innovation focuses on people first, it's about hearts and minds. For example, if you're introducing technology you need to think first about how to get people to use it. It has to be engaging. It's more about a change in behaviour and the underlying processes that change than tech. Our people are our most valuable assets."
So, what are law firms looking for in the next generation of lawyers?
"It is an amazing time to be involved in the legal sector." says Coleman. "Anyone coming out of university now has to be adaptable to increasing change and dealing with the unknown, because there's so much happening right now. This means the students of today and future trainees will become experts in these emerging technologies as they start to be used within the sector.
To address this change, NRF has a firmwide innovation programme, NRF Transform. The firm opened its innovation hub in 2016, and the firm has recently invested further by launching a graduate scheme focused on business and legal operations. The scheme launched in December 2018, and its first intake of two graduates began work at the firm this month, March 2019, with a further four graduates starting in September. The graduate scheme mirrors the traditional training contract, with four six-month rotations.
"Most law firms have an innovation function of some variety that either sits alongside or supports the work lawyers do," says Coleman. "Firms will be looking for input from experts all over the firm, for example, from non-lawyers on pricing, infrastructure and how to manage mega-projects. Students should be aware they will be working in a multidisciplinary team. Students need to have an awareness of the business of law and how legal work product is incorporated and used within the larger business operations of a client. It's important to remember that the essence of a lawyers' work is solving problems, they are professional problem solvers."
Ultimately, of course, the lawyer's duty is to their client and clients' expectations are evolving fast. Coleman highlights three main areas of change.
First, clients "expect more. They are busy and so focused, they need more help, more advice, and want it in a way that interfaces with them better. They want more for less: more competitive pricing, and increased transparency over the service and how we are organising it."
Second, they want more collaboration. "We are starting to work more for our clients on an ongoing basis rather than on individual jobs with a discrete start and end."
Third, clients want a broad range of expertise. "They don't want just a lawyer, they want the relationship person, the project manager, the innovation person, the technology person and so on." This means law firms are taking a range of expertise into client meetings, to support their lawyers. This opens up a whole new set of career possibilities.
Jeremy Coleman will be speaking alongside lawyers and tech experts from Allen & Overy, Bird & Bird, Freshfields and BPP University Law School at tomorrow's 'Commercial, digital and data awareness' event. You can apply for one of the final few (and free) places to attend now.
About Legal Cheek Careers posts.