Firm that acted for Lehman Brothers in 2008 looks back over last decade and forecasts what may be around the corner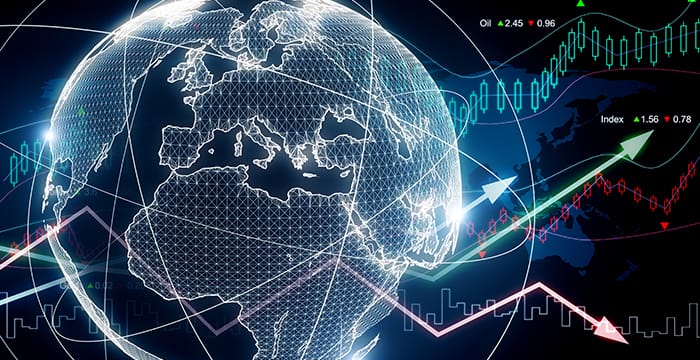 Four lawyers from across Weil, Gotshal & Manges' practice areas were quizzed by nearly 60 students about the future of the global economy at the elite US law firm's London office last Wednesday.
The quartet — whose combined specialties span corporate, restructuring, funds, dispute resolution and banking & finance — began by looking back to the 2008 bankruptcy of Lehman Brothers, one of the firm's clients.
They then considered the changes to the global financial system that have taken place over the last decade, before sharing their thoughts on what will come next. The lawyers rounded off with some careers advice. Here are the best bits.
---
The speakers
James Harvey: partner, corporate & private equity
Charles Hadley: associate, private funds
Christopher Marks: associate, dispute resolution
Tom Richards: partner, banking & finance
---
Lessons from 2008
"Unlike many businesses, we came into a sweet spot in 2008," recalled James Harvey, a partner in Weil's corporate team in London. "Because we have a fantastic restructuring team we were in a great position." Weil acted in various marquee restructurings, including Lehman Brothers, General Motors and American Airlines. Various major pieces of related litigation also arose.
For Christopher Marks, who accepted his training contract with Weil in 2008, the financial crisis "was very personal because it affected the sort of work I started my career doing, and also saw several of my friends at other firms have to defer training contracts". He continued: "Most importantly, I learnt the value of counter-cyclical practice areas to a law firm."
How has banking changed?
On one hand it has changed quite a bit since 2008, banking & finance partner Tom Richards told the audience. "New regulation has seen the European Central Bank and the Federal Reserve focus a good deal more on the leveraged finance market." But, added Richards, the practical effect of the new rules hasn't always been as pronounced as you might imagine. "The reality is that the new regulation hasn't made a huge amount of difference to the day to day … and leverage levels are once again historically high, albeit not hitting new records yet."
For Marks, it's still too early to assess the changes. "No one will know how much banking has changed until the next downturn. That's when it will be tested."
The rise of private equity
As a firm with a long history of advising private equity clients, dating back to the early days of the industry, Weil is well positioned to comment on the growth of this branch of finance. The speakers agreed that it had really come into its own over the last decade, with restrictions on traditional banks helping direct money towards private equity houses, which in turn had become "more institutionalised and sophisticated".
"Twenty years ago you just had private equity deals. Since then, there has been diversification across asset classes with private equity deals structured to give investors exposure to different return profiles, such as real estate, infrastructure and growth funds," said Harvey.
Certainly, as this economic cycle has rolled on, with its highly unusual ultra low interest rates and government-generated quantitative easing, a positive environment has been created for an investment class that is being "rocket fuelled" by cheap debt, in the words of Richards.
So is this a bubble?
Not according to the audience of nearly 60 students. Their collective response to an interactive poll that ran midway through the session suggested a low likelihood of a bust around the corner.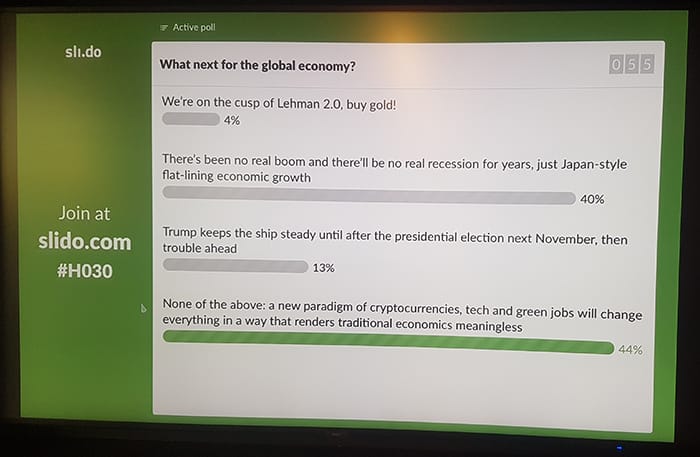 But the panel were not so confident, noting that current high valuations suggested a correction could be ahead, albeit a far milder one than occurred in 2008.
Is this bad news for private equity? Probably not. "Fundamentally private equity does well in a downturn," said Harvey.
"Private equity funds raise money over a period of say 12 months but will invest and divest that capital over a much longer period of say ten to 15 years — a market correction during this period can present unique investment opportunities," said Charles Hadley, an associate in Weil's private funds team.
"Difficult market conditions can also make being a lawyer more interesting. Clients need creative solutions in order to get things done," added Richards.
Geopolitical instability
One of the features of the current market is that geopolitical factors have started to impact the economy. Think Brexit and stalling UK growth, and the uncertainty being generated among global corporates by the escalating US-China trade tensions.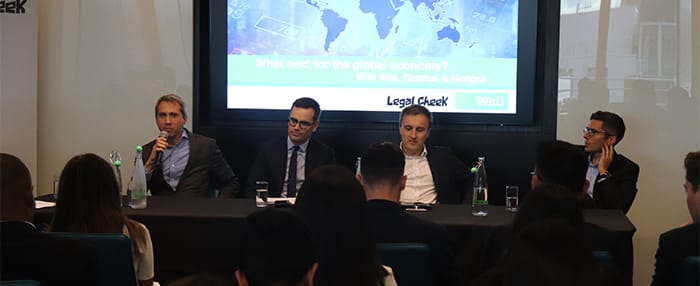 It's difficult to draw hard conclusions on the effect of such upheaval, noted Marks, who leads Weil's London Brexit taskforce. "Our job is to take shades of grey and turn them into black and white for our clients, but sometimes you have to accept a situation has too many variables."
In such circumstances it can be wiser to focus on the bigger picture. Harvey observed how "negative sentiment tends to have a destabilising effect that can prove contagious".
Future areas of economic growth
With the Chinese economy slowing (albeit to still very healthy levels of growth relative to most Western countries), it's natural to wonder if the world is about to see a new engine of growth emerge. But the Weil lawyers questioned this line of thought, suggesting that the Chinese economic miracle still had some distance to run.
"The world's largest population, with a mass of natural resources and growing levels of skills and expertise, and a political system that can move quickly because it is not democratic. No one else can compete," said Marks.
"If China decides to be the world leader in 5G or electric cars, they can make that happen," added Harvey. "The US and China will continue to be the great economies of the world over the next decade."
Careers advice
To the students hoping to follow in their footsteps, the panel had this to say.
Harvey: "Always try and think through problems and come up with an answer even if you are not sure. There are often two types of trainee when presented with a knotty problem to think through: those who just come back and tell you they don't know the answer, and those who come back and tell you they are not sure but they have thought about it and think the answer could be this (for these reasons) or that (for these reasons). Always try and be the second type."
Hadley: "Maintain your university relationships, as they could turn out to be quite useful. You'll be surprised how quickly your contemporaries move into influential positions. I'm doing some remedial work!"
Marks: "I love coming into the office every day — I do interesting work for interesting clients and get to do it alongside some of my closest friends. It's worth putting in all the effort to get here."
About Legal Cheek Careers posts.