CMS real estate senior associate Simon Porter talks tech ahead of our 'Innovation and the law' event in Edinburgh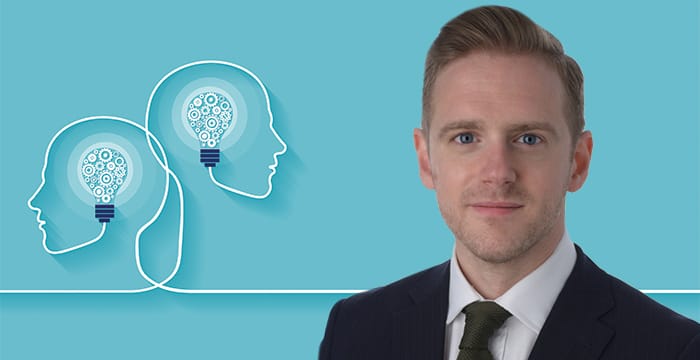 "I've always enjoyed exploring the transformation from natural to built environment, dealing with tangible assets such as buildings and land, much unlike shares in corporate law, for example. It's very rewarding to walk past a development that you helped advise on the property aspects of," says Simon Porter, a senior associate at CMS, on his decision to specialise in real estate law.
Since joining CMS, Porter has been involved on a number of high profile deals. Based in the international law firm's Glasgow office, he acted for a high profile shared office provider on its first premises in the Scottish capital and worked on Scotland's largest offshore wind farm project, the Beatrice Offshore Wind Farm, before its grand opening by Prince Charles this summer. Currently, he is advising on the landmark Edinburgh St James mixed-use project which will open in 2020.
It's a busy role, and one which involves dealing with several cases at once and managing the different parties in each transaction: the client, the party or parties on the other side of the transaction and external consultants. "We have to keep on the front foot and ensure there's no slip off."
Born in Belfast in Northern Ireland, Porter studied law and completed his solicitor training at Dundee University in Scotland. He secured a training contract with Scottish outfit Shepherd and Wedderburn before joining Dundas & Wilson (now CMS) upon qualification. He explains why he switched firms:
"I qualified in 2009 which was the peak of the global recession. My intake was huge; there were 35 trainees qualifying in my year in total, and only seven NQ positions. Understandably, most of my colleagues and I were looking for opportunities to pursue our careers elsewhere."
The legal market at that time was largely dominated by the 'Scottish big four': Dundas & Wilson (Porter's next career move), McGrigors, Maclay Murray & Spens and Shepherd and Wedderburn. The market has undergone significant consolidation in the last decade through a series of mega mergers: Dundas & Wilson has become CMS, McGrigors is now better known as Pinsent Masons, Maclay Murray & Spens is Dentons, with Shepherd and Wedderburn the only firm out of the four not to have merged.
Porter has been at CMS for almost ten years. He says the culture of the firm has remained the same but what has changed is the "breadth of business". The consolidation has brought with it plentiful opportunities to work on cross-border and, pan-European and global, real estate work, and although he is based in Glasgow, he also regularly spends time in the firm's Edinburgh and London offices. This often throws up interesting legal challenges since Scots property law is governed under a different jurisdiction to England.
Porter's colleagues will be speaking at an innovation-themed event held at CMS in Edinburgh on Thursday. Ahead of the event I ask him how the megafirm is investing in innovative methods of client service delivery. He tells me CMS is committed to innovation and focused on making things more efficient and profitable for its clients, stating "we're not just paying lip service to innovation". For example, each practice group has its own "innovation steering group" that identifies and provides innovative solutions tailored to each team's needs.
CMS' tech-savvy extends internally, too. The firm has consistently scored top marks for tech in the Legal Cheek Trainee and Junior Lawyer Survey, and won the award for 'Best Law Firm for Tech 2019'. Every lawyer is given a Surface Pro and iPhone, and Porter says there's a genuine commitment to agile working, with those in real estate encouraged to work from home.
Last year the firm rolled out the 'CMS #hacks' web app that lets its lawyers share and rate innovation ideas worth investing in. The top ideas are rewarded, with a recent prize being a trip to Silicon Valley, California. "It's not just about people sitting on committees steering innovation — anyone can have an idea that can have a positive impact on the firm and at CMS we're harnessing that. We see innovation as a big part of our culture."
Similar innovations can be seen in the real estate sector. Porter uses nifty web app 'CMS Collaborate' to store data and manage client documents, as well as document automation software 'HotDocs'. This particular piece of tech has driven significant efficiencies in the sector: "An entire suite of documents for certain transaction types can be created from a single form meaning the firm can produce and issue documents sent to other parties to a transaction within a half hour from first receiving instruction. That would have previously taken half a day," Porter calculates.
With one eye to the future he forecasts the use of blockchain becoming more prevalent in some elements of document-heavy real estate transactions, particularly for land registration systems. He envisages heavier use of property tech (or proptech) solutions such as Orbital Witness which enables real estate lawyers and clients to view entire portfolios in one place and access all sorts of information related to a particular property conveniently. "Solutions like Orbital Witness can make information so much more accessible than before. That makes transactions flow much better and that improvement is what innovation is all about."
Students hoping to build a career in real estate will be pleased to know you don't have to ace your land law module. "I didn't perform too great in property law", says Porter, "but it's important to remember that what you're taught at university doesn't necessarily bear a resemblance to what you'll be doing in practice as a solicitor." With this in mind, he advises students not to shoehorn their applications solely on real estate:
"The time to specialise is not as a student. Rather, keep your options open, build your technical knowledge and when the time comes to specialise at the end of your training contract, you'll be well-placed to put forward a strong application."
Hear from a panel of CMS lawyers of varying levels of seniority at Thursday's 'Innovation and the law' event in Edinburgh. You can apply to attend the event, which is free, now.
About Legal Cheek Careers posts.