CMS lawyers deliver commercial awareness and careers advice insights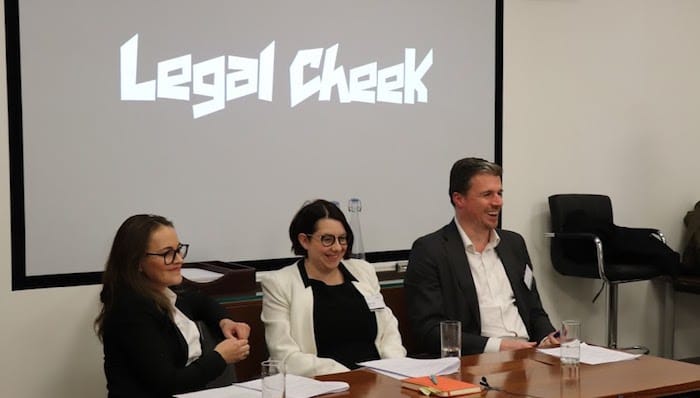 Over 30 students attended CMS' Sheffield office to hear thoughts and insights on the future of law. Regeneration, Brexit, technology and diversity were among the topics discussed at the Legal Cheek event. On the panel fielding the students' questions were Gareth Saynor, a partner in CMS' corporate team; Rebecca Roffe, a senior associate specialising in planning and environment law; and Lily Martin, a first seat trainee in the corporate team. Here's what happened.
'Location, location, location' is no match for knowledge, experience and expertise
Students may feel themselves drawn to London's cluster of legal firms. However, the cost of operating in the capital has forced clients to reassess its value proposition. Gareth highlighted what matters to clients, saying that they now "look more for expertise and knowledge and less for geography."
While legal work moving outside of London is undoubtedly driven by cost, Gareth told the audience that "the expertise that is sat here in this office is absolutely the match of the expertise that's in the City of London."
Students would be wrong to assume that the most alluring legal work is in London. Indeed, for specific practice areas, such as planning and environment, the most complex cases travel north. Senior associate Rebecca told the students that she "always worked for the best clients on the best projects." She went onto explain that "the biggest and best [environmental practices] have grown out of the north because that's where the industrial heritage is."
As for Lily, her team's banking mandates are as international and as impressive as many in the capital. Her current work on an "interesting niche of Islamic finance" requires "working with the Dubai office."
A question of balance
Working outside of London can bring a better work-life balance. Gareth spoke about how he benefits from fewer disturbed weekends and the ability to escape the city. "Sheffield is spot on for me. [I] have got countryside, can go for walks, do climbing, all just a couple of minutes away from me," he said.
Lily was similarly enthusiastic about working in Sheffield. Being able to live "just ten minutes down the road" from CMS's office means that she "could walk to work" if she wanted to. Moreover, as just one of five trainees of Lily's intake in the Sheffield office, and the only one in her department, she enjoys the "one on one support."
Ultimately, Gareth advises prospective applicants to consider "what they want out of where they live?" While Gareth has "always loved London" and "had tons of fun while there," he does inevitably "enjoy being able to leave after a short period of time."
Technology as an enabler
While students are always captivated by how cutting-edge technologies such as AI (artificial intelligence) and big data are going to shape the future legal market, they can sometimes take for granted many of the changes that have already occurred. Indeed, the internet is increasingly rendering physical location even less important. Following the ambitious three-way merger between CMS, Nabarro and Olswang, the combined firm now has more than 4,500 lawyers spread across over 70 offices in 40+ different countries. Managing this scale requires real innovation.
Having partnered with longstanding client Microsoft, CMS is one of the leading firms for technology. Indeed, the firm was one of 11 that received an A* for tech in this year's Legal Cheek Trainee and Junior Lawyer survey.
Industry veterans Gareth and Rebecca have both experienced this change first hand. For Gareth, agile working means his "office is wherever [he] has got a decent internet signal." Similarly, for Rebecca, the Surface Pro "has revolutionised [her] ability to work anywhere."
In short, technology has enabled working practices that simply weren't possible even ten years ago.
Brexit means???
With Theresa May's proposed transition deal failing to gain political traction in the House of Commons, there is considerable uncertainty ahead. The panel shared fascinating insights on what has changed since June 2016.
According to Gareth, this ambiguity means "the regulatory team has seen an uptick in work." However, for Rebecca, the impact on transactional deal flow in real estate has been more nuanced. In the aftermath of the vote, "there was a sharp intake of breath" followed by "a return to normality." The fall in the value of the pound has encouraged inward investment from further afield into the UK. Primarily, the impact so far has involved "replacing European investors with Far Eastern ones."
Pursue a passion not a plan
Though the impact of Brexit will be significant, students should not let any single event dictate where they would like to qualify.
As someone who qualified during the financial crisis, Rebecca shared an anecdote about wrestling with this decision. She was fearful that going into planning and environment was thought of as "a bit niche and a bit of a risk." At the time, she was advised by a partner to "qualify where you want to qualify".
After sharing this message, she cautioned students to not "make decisions about future practice areas on one thing that is happening as the world changes every five minutes".
The scale of the firm and range of practice areas is one of the major advantages of choosing a training contract at CMS. Lily said this system allows her "the chance to see what [she] really enjoys."
Gareth told attendees that "people think that they need to focus or narrow down their options earlier than they actually need to. Firms can't recruit on this basis."
Like Rebecca, he encouraged wannabe lawyers to "do stuff that you enjoy because if you enjoy it and you're enthusiastic about it, it's going to go well and be more valuable for you in the long term."
The glass ceiling is fractured but not yet shattered
The final part of the evening turned to diversity and equality in the legal industry.
Rebecca cited CMS' numerous different networks as reasons why "CMS is so much further ahead" of other firms in relation to diversity and inclusion. More importantly, these initiatives are "actively supported by Penelope Warne, an incredible senior partner" who is "super committed to diversity and inclusion from the very top."
As a closing piece of advice, Lily exhorted future trainees to be confident enough to "be yourself and be authentic!"
About Legal Cheek Careers posts.