Goodwin Procter partner Ravi Chopra opens up about his motivations for pursuing a career in international corporate law, ahead of his appearance at this week's panel event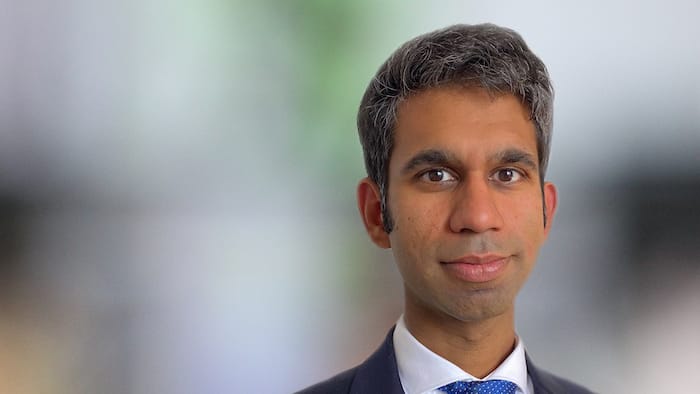 "As a corporate lawyer, you are helping people achieve a business objective that they deeply care about," says Ravi Chopra, partner in the London office of Goodwin Procter. "That is what gets me out of bed in the morning."
"I started flirting with the idea when I was eight," jokes Chopra, when asked why he became a corporate lawyer. But still unsure post his A-Levels and as someone who'd enjoyed French and Latin at school, he decided to study classics and modern languages at Oxford University. Shortly after graduating, he converted to law, starting his career trajectory which would eventually lead him to partnership at a global law firm in London.
Once he realised law was his calling, international corporate law captured his interest. "As international corporate lawyers, we are not just looking at the landscape in one country but across continents, which I find quite fascinating," he says. With exposure to different laws comes what Chopra describes an 'instinctive feel' for the underlying principles. He explains: "By looking beyond a single jurisdiction, you get a feel for the basic principles followed across different countries. You develop an instinctive understanding of how people are trying to legislate and what it is that they are trying to protect."
Interestingly, whilst international corporate lawyers develop a high level of technical knowledge, this isn't the meat of what they talk about with their clients. "Clients just want to know what they can or cannot do. We hardly ever talk about what sections of what statutes apply," Chopra says, adding that law is "very much a people business." This involves stakeholder management, which is particularly relevant in the funds team, where Chopra's expertise lies. The work here involves fundraising for clients, who are most often fund managers looking for investment from large institutional investors and sovereign funds. The fund managers then use this capital to invest in sectors that suit their strategy, for example, infrastructure, technology or drug development.
The role of lawyers in a funds team is varied. "We help businesses draft their constitution or ground rules on things like how the money raised can be invested and how managers are supposed to report decisions. We also negotiate individual investment terms with investors, which looks very different depending on who is investing," explains Chopra.
Continuing, Chopra explains that fund strategies are closely aligned with market trends. "Today, we're seeing more funds investing in fertility clinics as, demographically, people are choosing to start families later in their lives." Similar demographic trends define investment in healthcare too. Chopra adds, "as people want to live longer, healthcare and assisted living are sectors our clients are now actively investing in."
In the context of rising inflation, interest rate volatility and warnings of a deep recession, legal funds teams typically react by helping clients alter the sectors they invest in. "Post-2008, we saw funds investing in more stable sectors such as senior credit and infrastructure. In the current situation, it's hard to predict what's going to happen but it is likely that investors will continue to look for diversified investment portfolios."
So, what makes a good corporate lawyer? In Chopra's view, aspiring corporate lawyers must be commercially aware. He explains: "Learn about new trends and commercial issues that a future client might bring to you. There is a lot of potential for growth and development in a trickier economic environment."
Chopra adds that law firms like Goodwin look for trainees who are smart, collaborative and adaptable. Equally important is to not let ego interfere with the task that's been asked. "Even as partner I will run to the photocopier at times — you have to take everything that comes your way!"
Concluding, Chopra shares the mantra he follows in his career: to consistently ask, 'How can I add value?'. He explains:
"In a team it'd involve thinking about how you can make work easier for your supervisors. In the office it may include getting involved in graduate recruitment. In the wider firm it may mean helping colleagues across offices. In the process, you'll come out as a better lawyer."
Ravi Chopra will be speaking at 'What corporate lawyers do — with DWF, Goodwin Procter, Squire Patton Boggs and BARBRI', a virtual student event taking place this week, on Wednesday 16 November. You can apply to attend the event, which is free, now.
About Legal Cheek Careers posts.