Goodwin senior associate Raymond Fang tells Legal Cheek Careers about his day to day and the standout deals he's advised on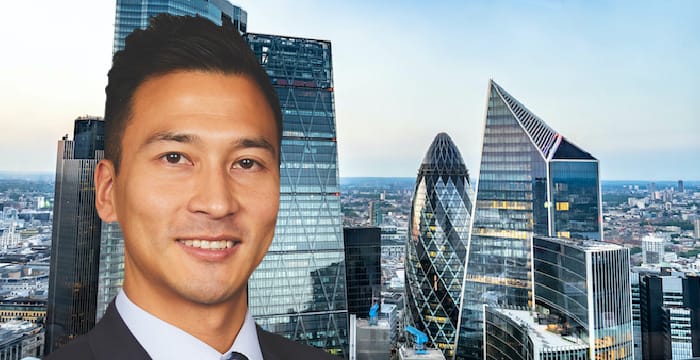 Ahead of 'What corporate lawyers do', a virtual student event at which he'll be speaking, Raymond Fang, senior associate in the London office of US law firm Goodwin Procter talks to Legal Cheek Careers about his day to day and the standout deals he's advised on.
You studied, trained and qualified in Australia before moving to the UK. What prompted the move and how are you finding life as a lawyer in London?
My wife and I have always loved to travel and experience new cities, lifestyles and cultures. We wanted to live an expat life, and London was top of our list. London to us is a city with a dynamic, diverse and inspired population — we love the social scene, the culture, the parks, the access to Europe, and after seven years, it's safe to say we are here to stay! Life as a City lawyer is exciting and packed with responsibility — in my practice, I am exposed to complex cross-border transactions, with every deal presenting unique challenges.
You specialise in corporate real estate. What drew you to this practice area and what might you do in a typical day or week?
In the earlier part of my career, I trained and practised as a corporate lawyer and was largely sector agnostic. On arriving in the UK, I joined Bryan Cave Leighton Paisner, which has a top tier UK real estate practice. Although I sat in the corporate finance team, I often found myself being pulled into corporate real estate work, acting on some really interesting and high profile deals. Over time, I developed a preference for real estate as an asset class and became an expert in the sector.
I was attracted to Goodwin because the firm is known for acting for clients at the intersection of capital, innovation and disruption. Along with private equity, tech, life sciences and financial services, Goodwin has positioned real estate as a core industry focus, with the London office creating an entire team dedicated to corporate real estate — this is the team I sit in.
I act for private equity real estate and institutional clients on a range of real estate M&A and joint venture transactions. In a typical week, deal work will take up a large part of my time. I also spend a lot of my time on business development, thought leadership, pro bono and other firm investment responsibilities, such as recruitment and D&I initiatives (so it's not just the law!).
What are some of the standout deals you've advised on?
In recent years, I acted on the sale of a few significant logistics platforms, including acting for a European real estate investment fund manager on the sale of a corporate structure holding 31 European logistics assets, and another European real estate manager on the sale of a corporate structure holding 42 European logistics assets — these deals were valued at over €2 billion. I am also proud to have been involved on a few standout "trophy asset" acquisitions, including the purchase of a corporate structure owning the iconic "Cheesegrater building" for a Hong Kong investor for over £1 billion.
What are some of the key developments you are witnessing in the real estate sector? For example, has the growth of online retail and the rise in remote working during the pandemic impacted investment in this area?
As you correctly mention, the pandemic has accelerated existing trends (like e-commerce), while creating new ones (like remote working). The rise of e-commerce has resulted in physical retail remaining less appealing for investors, while demand for logistics in all forms shows no sign of slowing down. The effects of remote working are a little bit harder to predict. Confidence in offices has remained relatively high, although this is weighted towards high quality workspaces with appealing features for employees (to try to lure workers back to the office).
In terms of alternative real estate asset classes, there has been a significant investor focus on life sciences (before and during the pandemic) — this has been driven by the significant investment in and government support for the sector, and the corresponding lack of specialised real estate to cater for the growing demand.
PropTech also remains a relevant topic — for example, we are seeing more landlords invest in touch-less tenant experiences, data analytics, sustainability technology, digital leasing and building information technology to drive real estate values.
You worked for both UK and US law firms. What are some of the cultural differences you've noted between the two?
It's hard to make generalisations. For example, there is a view that associates at US firms find themselves exposed to more responsibility at an earlier stage of their career. This might be true, but I found the same at the UK firm I worked at.
What I can say about my experience at Goodwin is that it is a firm where taking the initiative and having an entrepreneurial spirit is rewarded. Participation is key. Associates have the opportunity to be involved at every level of firm life, from being part of affinity group leadership committees, to taking part on client pitches, and leading marketing and media activities. There is an authentic effort to improve diversity and inclusion, with real financial and organisational support on both sides of the Atlantic. There is genuine cross-office collaboration — pre-pandemic, movement between offices was encouraged to strengthen team building, collaboration and knowledge sharing. I enjoyed training sessions in Boston, followed by working in the New York office to get to know my colleagues there better. I believe these opportunities are valuable and more abundant working at a US firm.
If you are looking to work in an area that is not transactional or litigation, as a general comment, a UK firm may suit you better — for example, US firms in London are unlikely to invest in an employment or sports law practice. Having said that, two of Goodwin's core focuses are tech and life sciences, and we were the first in the market to have a PropTech and PropSci practice, so if you are looking at industry specialisations, US firms can be good on that front.
What advice would you give to students seeking to secure a training contract in the London office of a US firm?
It is important to show you can think commercially. Be curious. Read The Economist and the Financial Times. Listen to a business-focused podcast. Have an opinion on the economy and market events.
And most importantly, be yourself. If a firm does not agree with your personality, you are probably not a good fit for that firm.
What do you enjoy doing in your spare time?
I love travelling and exploring new cultures (I have been to 80+ countries… but who's counting!). I used to be a DJ playing at some pretty big events in Sydney, and my Spotify playlist is still full of the latest techno and deep house. I am an outdoors person, and enjoy hiking (and in an earlier life, rugby).
Raymond Fang will be speaking at 'What corporate lawyers do — with Goodwin Procter, Squire Patton Boggs, DWF and BARBRI', a virtual student event taking place on Tuesday 26 October. You can apply to attend the event, which is free, now.
About Legal Cheek Careers posts.