Video series for law students demystifies key commercial awareness concepts — and new season will run this autumn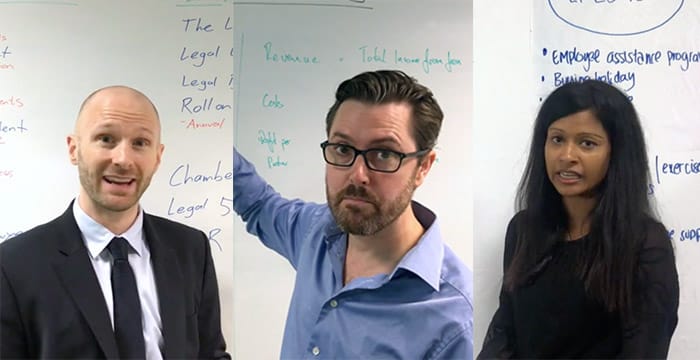 Shearman & Sterling's 'Whiteboard Wednesday' is a stripped back, no-nonsense series of presentations that provides priceless application advice for aspiring lawyers. Delivered by the firm's graduate recruitment team, 'Whiteboard Wednesday' is an excellent starting point for anyone entering into this year's recruitment cycle.
To get you started, we've selected our favourite episodes and extracted what we think is the most valuable lesson in each.
Training contract application strategies that work
In this introductory video, Shearman & Sterling graduate recruitment manager Paul Gascoyne takes you through strategies that have really worked. He knows they have because they stem from research conducted with Shearman & Sterling's very own trainees who compared their successful applications with their unsuccessful ones. So although this video may seem too good to be true, it highlights fundamental techniques that applicants would be foolish to dismiss. If you've already had an application rejected, this is what you need to make your comeback.
Legal Cheek's favourite lesson: Engage with law firms on social media and keep up to date by subscribing to their newsletters.
6 law firm financial metrics you need to understand
An eye-opening crash course in how to measure financial performance and profitability in law firms from graduate recruitment partner James Webber. Prepare yourself for some detailed explainers of jargon and basic arithmetic that may take a moment or two to get your head round. Still, knowing how a law firm operates is a must for any successful, commercially aware applicant.
Legal Cheek's favourite lesson: A useful piece of industry insight for applicants is the departure of the legal industry from traditional financial performance metrics, such as the billable hourly rate structure, to instead focus on fixed fees to stay ahead in the buyer's market for legal services — this change will inevitably affect how future trainees will work.
Beyond salary: The benefits of working in a law firm
In light of the 'pay war' amongst top City law firms where competitive salaries are used to attract the best talent that money can buy, other alluring incentives are easily forgotten about. Head of wellbeing and benefits Mariyam Hassan goes beyond the payslip to discuss benefits divided into three categories: health, wealth and lifestyle. This video is of use to applicants wanting to make an informed decision when choosing between firms and the numerous benefits they offer.
Legal Cheek's favourite lesson: Although buying holiday, subsidised gym memberships and in-house yoga classes are certainly enticing, the most sensible perk is actually the pension scheme where you pay 5% of your basic salary into a pot which is then matched by the firm — an incentive that you will certainly be thankful for upon retirement.
17 websites you can use to research law firms
Perhaps the hardest part of the whole application process is knowing where to start your research — it's a struggle that Gascoyne wants to help you avert. This video walks you through the different sources available (well beyond the firm's own website) to really understand a law firm's unique personality, their practice strengths and what they want from a prospective trainee.
Legal Cheek's favourite lesson: Although researching is a laborious process, how great that Google Alerts can bring the research to you — simply set up an alert for the relevant firm and Google will search the web, summarise its findings and send them to you in the morning.
Look out for the new episodes of 'Whiteboard Wednesday' to be released later this autumn.