Shoosmiths partners and associates explain why a blended approach that mixes agile workplaces with WFH is likely to become the norm and advise future trainees on how to prepare for the changes ahead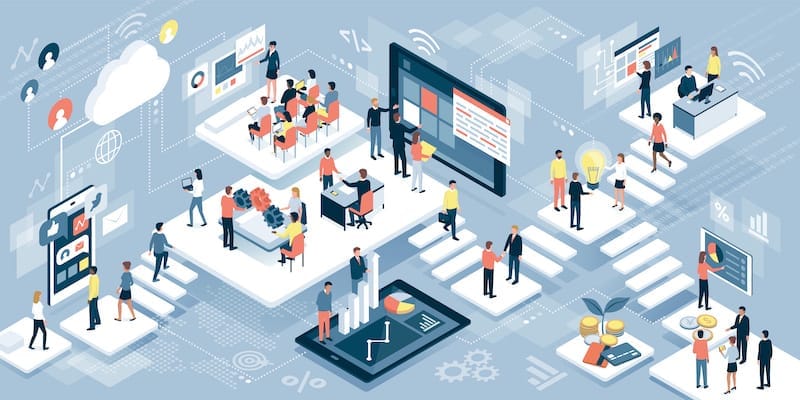 The great working from home experiment ushered in by the coronavirus pandemic is likely to have a long-lasting effect on law firm, and their clients', working practices.
News of successful COVID-19 vaccine trials and their steady roll-out could signal a return to the office in the New Year but it's likely that firms will want to retain the remote-working gains of 2020. It's fair to say a "hybrid evolution" is underway.
This was one of the key messages delivered by partners and associates from across the Birmingham and Nottingham offices of Shoosmiths, at Legal Cheek's latest virtual event.
Shoosmiths partners Alex Bishop, Anna Cartledge and Deborah Gordon Brown joined associate Dan Goddard for a discussion this month where they reflected on how they found the transition to remote-working, offered their views on what to expect in the future, and explained how, amidst all this change, students and future trainee solicitors can navigate the law firm office of the post-COVID era.
---
The speakers
• Alex Bishop, head of the litigation services practice and head of the firm's Birmingham office
• Anna Cartledge, partner in the planning team
• Deborah Gordon Brown, partner in the real estate team
• Dan Goddard, associate in the commercial team
---
They began with advice for students and future trainee solicitors on how they can maintain motivation and productivity levels whilst working from home.
Deborah Gordon Brown, a real estate partner, said the move to more agile ways of working was relatively straightforward given that her team already did so prior to the pandemic. Gordon Brown, who is involved in the firm's wellbeing network, did acknowledge, however, that it can be quite "tough" keeping your professional and personal lives separate whilst working from home. "Your day all merges into one," she said. To keep motivation levels up throughout the day students need to be proactive, she added, before suggesting various ways they can mix up their workday. These included taking regular breaks and going for walks in-between lectures and seminars. She also advised students, particularly those living alone or in small households, to stay connected and keep in touch with their networks of support, even if it means engaging with them online.
Dan Goddard, an associate specialising in commercial and technology-focused projects, joined Shoosmiths a month before the first lockdown. As such, he's spent the majority of his time at the firm working remotely and got to know his colleagues and clients virtually. He echoed Gordon Brown's advice, adding that students should set clear parameters between study and when to switch off. Having daily start and finish times helps, he said, as does "getting out of your pyjamas" because that way "you can't think productively — you've got to have delineation in your day".
And when they eventually join a firm, it's imperative that trainees, who mostly learn through osmosis, continue to seek out ways to ensure their personal development. They could ask to join calls, for example, or opt for a call over email, continued Goddard.
"Trainees are going to have to mirror what we have all been doing fairly organically," said Anna Cartledge, a planning partner. They'll need to have regular touchpoints with their team, supervisor and each other, continued Cartledge, who explained that in her role as training principal for the Birmingham office she has adapted her style of supervision so that she's able to check-in with juniors at least once a day.
Alex Bishop, a litigation partner, who was always on the go pre-COVID travelling for meetings, said that she's seen more of the juniors in her team now than when she would be physically in the office owing to travel restrictions. She told the virtual audience of 350 students that the new adjustments are better for building relationships so long as you put the effort in. "You see a new side to people, they're in your home with you, the guard is down".
Shoosmiths Graduates partner Deborah Gordon Brown explains how law students can remain productive while working from home #LCCareers

Posted by Legal Cheek on Wednesday, 27 January 2021
Beyond the ever-changing government guidance it seems remote-working is set to continue into the next year, with the overwhelming majority (71%) of participants envisaging lawyers will spend three days in the office and two from home, during a poll taken mid-discussion.
Bishop went on to talk about some of the opportunities a so-called 'hybrid' remote-working model brings to law firms and their clients. These include the ability to provide a service globally, and to attract talent anywhere around the world, such as Dubai, where her team recently recruited a partner.
But office life as we knew it isn't dead, said Gordon Brown, who envisions firms having smaller hubs for teams of lawyers to pop in and out of around the country. The rest of the panel agreed saying that offices are likely to remain as meeting points for clients but also to be used as central spaces to foster creativity, innovation and teamwork.