Three Shoosmiths partners look at what's happening now and in the future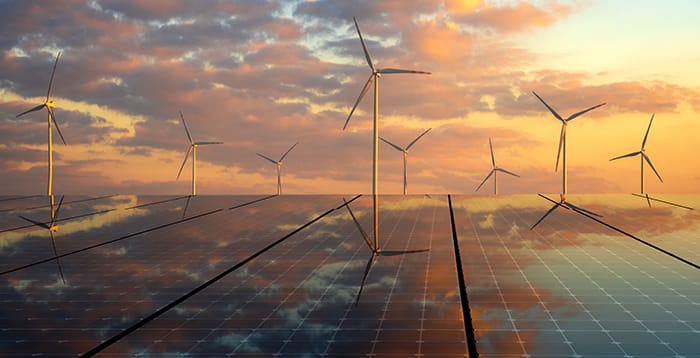 Last month around 50 students braved the wintry weather to hear from a panel of Shoosmiths partners, based in the firm's Birmingham office, about the Green Economy.
In a discussion chaired by Legal Cheek publisher Alex Aldridge, the panel, which comprised of two planning partners, Anna Cartledge and Tim Willis, and one real estate partner, David Perry, examined what's happening on the ground now and, as we approach a new decade, forecast their predictions for the years ahead.
The rise of environmental law
Amid growing popular concern about climate change as manifested in the Extinction Rebellion protests and teen activist Greta Thunberg's carbon free voyage to New York, the panel were in agreement that issues around sustainability and environmental law have soared up the agenda in recent years — particularly in their respective practice areas.
"Issues around sustainability pervade almost everything to do with planning law," said Anna Cartledge. "It's very much at the front of our minds when drafting planning agreements or advising on new schemes. If it's not sustainable, it's not going anywhere fast," she explained. Tim Willis came to legal practice having previously worked in the public sector, including for a local authority. Having seen "both sides of the fence" so to speak, he agreed with Anna, adding, "a big part of what we do each day is balance the need for developments against the need to mitigate any potentially harmful environmental impacts".
David Perry is the national lead for Shoosmiths' social housing real estate team. He said: "We can't do what we do without being alive to the environmental issues at play, if not directly then tangentially." Rather than concentrating solely on "the nasties" in the ground on a new development, the focus has broadened and issues such as air quality are now an important consideration for local authorities, developers, and their lawyers, he added.
What does the future hold?
A lot of environmental law has its foundation in European Union (EU) law. When Brexit takes place, the panel were in agreement that EU legislation and regulation will, for the most part, be "repackaged" and directly transposed into domestic law. Tim was of the view that this will be the case whether the UK strikes a deal in Brussels or not, adding that there will likely be a lengthy transitional period either way.
But expect some changes, he said, particularly in areas where EU law is stringent. We could even see a pushback if new domestic laws negatively impact on climate change.
Tech is another hot topic but what role, if any, will new and emerging technologies such as blockchain (the distributed ledger technology behind Bitcoin) play in the establishment of a Green Economy, the panel was asked?
Tim foresaw potential blockchain use in planning law. It could be a reliable resource to verify that materials on a development have been sourced sustainably. Moreover, since the UK, under the Paris Agreement, has adopted a target for net zero carbon emissions by 2050, blockchain could be used to check whether materials also comply with carbon requirements.
Birmingham, where all three panellists work and reside, and its progress and potential to be green was also on the evening's agenda. The city is doing what it can to deliver innovative green projects, such as ensuring every new development in the city has a charging point for electric vehicles and encouraging more use of public transport and cycling. Plus Birmingham City Council is looking to introduce a congestion charge in the city centre later this year, aimed at improving air quality by cutting emissions. But the city has been constrained by historic use of the land and there's very few greenfield sites left, observed Anna.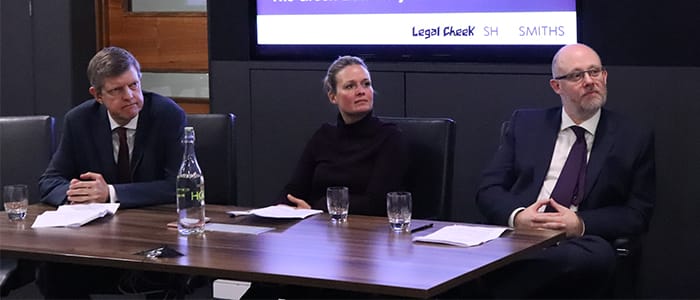 The panel were then asked for their thoughts on what the next big area of investment in Birmingham will be. The combined heat and power (CHP) process was backed by Anna and David. This highly efficient process captures and utilises the heat that is a by-product of the electricity generation process, and is already in use in Birmingham's Victoria Square.
Why do you want to be a lawyer?

Partners will use panel interviews to test your motivations for becoming a lawyer, so come prepared by knowing your 'why', advises Shoosmiths Graduates partner David Perry

Posted by Legal Cheek on Monday, 17 February 2020
Legacy is another key area — as Anna previously pointed out — and she emphasised the importance of ensuring that buildings are built with their end purpose in sight as another area of growth. For example, the stadium used for the Birmingham 2022 Commonwealth Games could be redeveloped into sports facilities for youngsters to encourage them to convert the power they use playing video games to calories burnt in the open air.
Tim projected solid-state batteries to be a big area of growth. These batteries last much longer than the ones currently in use in electric vehicles. This could make the purchase of an electric vehicle a more attractive option which means we may not need as many charging points in the future, he said.
Careers advice
If going green will be the defining theme of the next decade, how can students plan ahead and maximise their chances for a career in planning or real estate law?
It seems a love for politics and current affairs will set you in good stead, as mentioned by Anna, who is also Shoosmiths' training principal in Birmingham. The manifestos for the two main political parties in the run-up to the 2019 General Election were largely focused on matters of importance to a planning lawyer, such as housing, transport infrastructure, and providing social care by way of increasing the affordable housing provision, she explained. "There's always going to be a need for specialist advise on [these matters] and so it's a great option if you want to future-proof your career."
And now that we have a newly-elected Conservative government, it's imperative planning lawyers anticipate and are able to adapt to the potential reforms ahead. Gaining work experience with your local MP is a good starting point, she added.
"Think about getting work experience with your MP, assemblies, local authority & council planning team.

See how planning works from that side before embarking on your career in planning law." @legalcheek #lccareers @ShoosmithsJobs #legalcheeklive

— Shoosmiths Graduates & Students (@ShoosmithsGrads) December 3, 2019
David's top tip was to be alive to what's around the corner because that's how you can add true value to a client's matter. He was a scientist before he became a lawyer and advised the audience: "Where you start doesn't always inform where you end up — be curious and keep learning!"