Milena Szuniewicz-Wenzel, a partner in Clyde & Co's international arbitration group, discusses her varied caseload and ways to build client rapport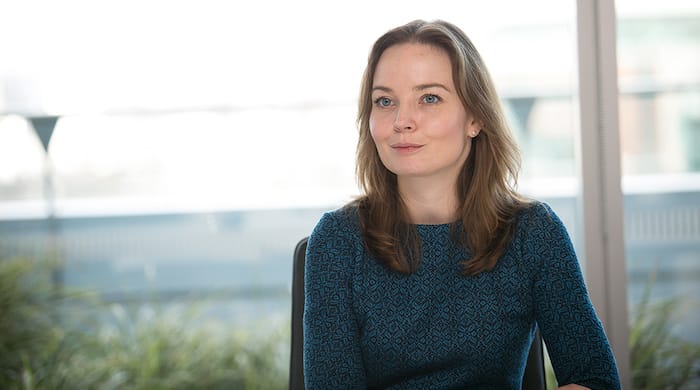 The past 24 months have seen Milena Szuniewicz-Wenzel, a partner in Clyde & Co's international arbitration group, work on a series of complex cross-jurisdictional disputes on cases ranging from telecoms to oil and gas. The common thread to these disputes, she tells me, is the varied nature of the matters which require a comprehensive understanding of the issues at hand.
When we talk Szuniewicz-Wenzel tells me about a recent telecoms case which not only required a technical understanding of mobile telecoms in developing countries but also a strong grasp of the relevant legal issues at stake. "For example, we had complex issues in relation to sanctions and whether tribunals can issue awards where sanctions are applied," she explains.
Within the past five years there's also been a notable rise in oil and gas disputes resulting from the financial crisis, and the oil price crash of 2014. These cases are often multifaceted, not only involving contractual issues but also issues relating to employment, tax and customs, and environmental matters. The length of Szuniewicz-Wenzel's cases can span up to six years, with many averaging around three to four years in length, "but it depends on the issues and complexity of the case", she adds.
A key challenge that Szuniewicz-Wenzel relishes is the cross-jurisdictional aspect of the disputes; not only do the cases themselves involve different legal systems, but Szuniewicz-Wenzel often finds herself working with colleagues in Clyde & Co's offices worldwide, particularly Paris, New York and Singapore, depending on the dispute.
In addition, her clients are from a variety of backgrounds and so cultural differences are apparent. Therefore, a strong understanding of the client is crucial. To achieve this Szuniewicz-Wenzel highlights the importance of good communication and finding the right means to effectively communicate with clients, whether that's through video-conferencing, the telephone, or in some instances, WhatsApp.
Fluent in English, German and Polish, Szuniewicz-Wenzel says her multicultural background helps in her work. Interestingly, she rarely uses German and Polish in relation to disputes, but it is her knowledge and experience of different cultures that aids her understanding of her clients and their needs.
Szuniewicz-Wenzel's time spent in the Middle East has also proved valuable in developing a sound understanding of her clients. She spent six months in Dubai during her training contract and a further year in Yemen working on various cases. "The experience was a real eye-opener for me," she reflects. "It gave me a great opportunity to understand my clients in the Middle East and I've been able to use the experience going forward and apply it to arbitrations."
Since the pandemic hit, the way in which Szuniewicz-Wenzel works with her clients and her team has inevitably changed. But she tells me that communication has actually improved now that Zoom and Microsoft Teams are more widely used.
Szuniewicz-Wenzel originally had a hearing scheduled to take place the week lockdown came into effect in March, however this was postponed and is now going ahead virtually. "I've got great hopes for it," she tells me.
When reflecting on past cases, Szuniewicz-Wenzel recalls not many witnesses being taken by the idea of having to give evidence via video link. She predicts that virtual hearings will become more commonplace in the future. "I think that people will be more open to them which is a big change from the way the world and international arbitration functioned before coronavirus hit", she forecasts.
Szuniewicz-Wenzel believes that this is a positive shift which will enable disputes lawyers to be more environmentally friendly by reducing travel. She adds that the increase in virtual hearings will also be beneficial for trainees and associates who may not have previously had the opportunity to travel to different jurisdictions for hearings.
However, the challenge, according to Szuniewicz-Wenzel, will be ensuring effective advocacy during a virtual hearing which may prove to be more difficult. Szuniewicz-Wenzel also reflects on the "human element" which may be lost: "When you attend a hearing in-person and see the other side, it motivates you and gives you purpose. We are yet to see how this plays out at a virtual hearing."
Having made partner this year, Szuniewicz-Wenzel began her legal career as a trainee at Clyde & Co 18 years ago where she qualified into the marine and international trade department. This saw her spend much of her time working on shipping and trading cases and it was here that she acquired valuable knowledge, for example in relation to oil and gas, which she has carried with her throughout her career.
Szuniewicz-Wenzel grew up in Poland before moving to England with her family at the age of 13, and knew from a young age that she wanted to pursue a career in law. "My parents had a friend who was a famous advocate and he inspired me to become a lawyer," she shares. Szuniewicz-Wenzel went on to study law at Queen Mary, University of London, and as part of her degree spent a year abroad in Germany. She completed a masters at University College London.
Her interest in advocacy stemmed from having an inquisitive mindset. She explains:
"I was interested in the reasons behind a dispute, understanding the people involved, and working with them to resolve the dispute."
For aspiring litigators Szuniewicz-Wenzel shares that "the key is to be flexible — don't be fixated on one sector or one area. In international arbitration many different issues arise so you need to be open to exploring different areas". Additionally, owing to the complexity of cases, Szuniewicz-Wenzel says that the ability to work effectively within a team is crucial to achieving the best outcome for a client.
Milena Szuniewicz-Wenzel will be speaking alongside other Clyde & Co lawyers at 'How law firms go global', a virtual student event taking place on Friday 6 November. You can apply to attend the event, which is free, now.
About Legal Cheek Careers posts.