This month's ULaw Verdict magazine launch event shone a spotlight on stars from Cleary Gottlieb, Reed Smith, Clyde & Co, 11KBW and Obelisk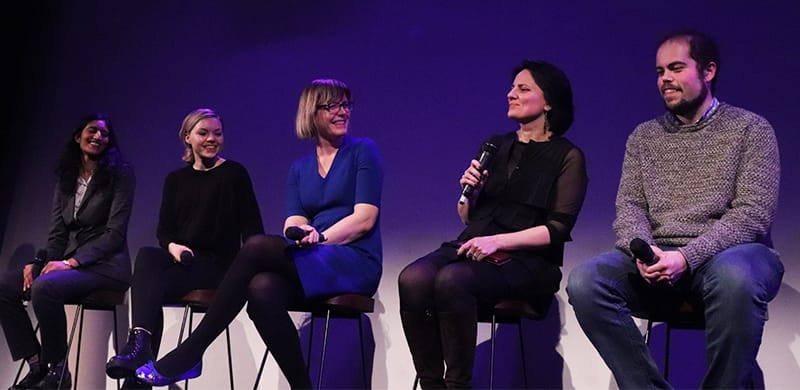 For some, the journey into law isn't a straight line.
Five pioneering lawyers who have broken the mould and brought about change within their respective fields delivered inspiring TED-style talks during 'The Pioneers' event, a collaboration between Legal Cheek and The University of Law (ULaw) to mark the launch of Verdict magazine.
Cleary Gottlieb's Eloise Skinner joined Reed Smith's Jonathan Andrews, Clyde & Co's Wynne Lawrence, 11KBW's Harini Iyengar, and former magic circle lawyer turned First 100 Years founder Dana Denis-Smith at Rich Mix in trendy Shoreditch. Here are the highlights.
This event took place in early March and prior to the lockdown.
Dana Denis-Smith: how to start something from nothing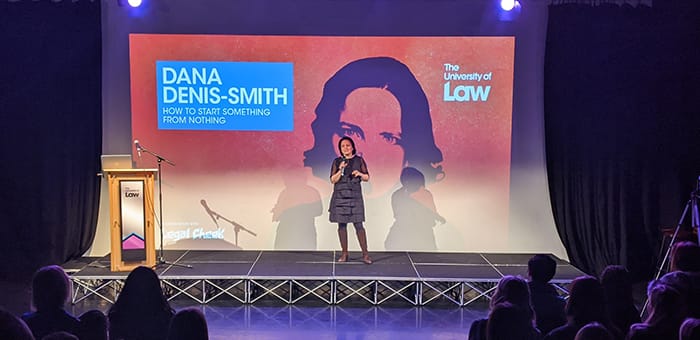 Dana Denis-Smith practised as a lawyer at Linklaters for two years after a first career in journalism. She then went on to found Obelisk, one of the first legal tech companies of the post-2008 wave of start-ups.
How did she do it? During her talk Denis-Smith reflected on the lessons she learnt growing up on a farm in communist Romania. In her quest for pocket money the budding boss woman went selling red apples handpicked from her farm, in front of her mother's factory. She soon discovered her neighbour was selling his golden delicious apples there too and upped her game. "It doesn't matter what cards you were dealt, you can strive to make your business a success," she told the audience of 100 students in Rich Mix's studio.
Then as a teen when she wanted to purchase a pink top she realised: "to get something you've never had before, you have to do something you've never done before". So she went from street to street collecting empty bottles to recycle — and eventually bought it.
Now at the helm of Obelisk, a flexible working platform harnessing the talent of ex-City lawyers, and the First 100 Years project, a digital library charting the history of women in law, what advice did she have for Gen Z lawyers of the future?
"If you don't like something, change it, and if you can't change it, change your attitude," she concluded.
Jonathan Andrews: thinking about disability in new ways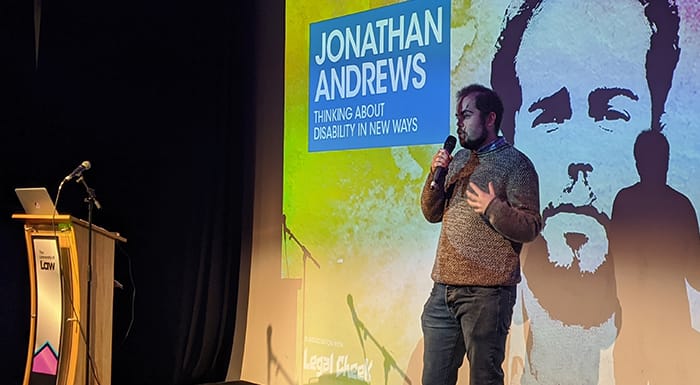 "When I think about disability, I think about how integral it's been to how I experienced growing up in the world," said Reed Smith media associate Jonathan Andrews.
Andrews was diagnosed with autism at the age of nine. "I didn't know any different — I was born as I am," he said. But the media man soon picked up on the differences others had begun to notice in him. His family were incredibly supportive, however, and with their encouragement he adapted to the challenges and recognised the strengths of his condition.
The King's English grad converted to law and bagged a training contract with Reed Smith.
"At the time I was applying there weren't many lawyers speaking out about disability in the profession. I thought, maybe that's a sign, I might not fit in. Thankfully my upbringing taught me not to think in that way, and actually, isn't it possible there are but they're just not open about it? And if there isn't maybe it's time they did," said Andrews.
Since then he has set himself the task of raising awareness of autism in the legal profession and has been re-appointed to a second term on the Law Society's Equality, Diversity and Inclusion Committee.
"When people hear about neurodiverse conditions such as autism, they often think 'what can't they do'. By investing in inclusion we can add a great benefit to the profession and wider society," he summed up.
Wynne Lawrence: the climate risk lawyer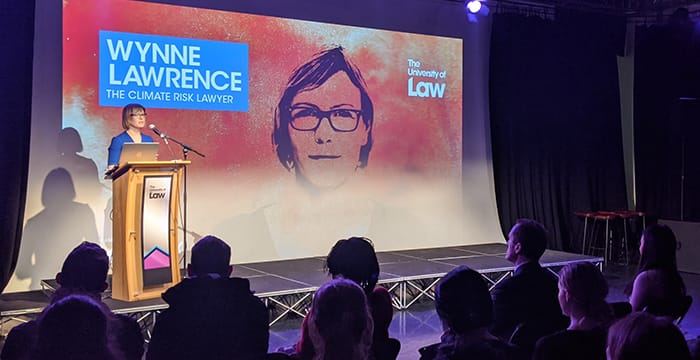 To some students, insurance may not sound like the most exciting subject matter but Wynne Lawrence thinks it's a "hugely stimulating" branch of the law. She does concede, however, that the industry is suffering from somewhat of an image problem:
"When most people think about insurance they picture a man with a hat going from door to door accosting people — like Ned Ryerson in Groundhog Day."
But insurance, an "integral gearbox of societal resilience", is rapidly undergoing a rebrand, she said.
The Canadian Londoner studied international relations at the University of Toronto followed by a masters at the London School of Economics. She trained with Clyde & Co and is now a senior associate specialising in climate risk and resilience.
Lawrence is a founding member of the firm's cross-practice area climate change resilience initiative. The group examines climate risk across the global firm's practice areas and assists clients on the risks posed by climate change to their businesses as they transition to the low carbon economy of the future.
When asked by an audience member what advice she'd give her younger self, Lawrence responded:
"The only constant is change. Life will throw curveballs at you and the beauty is accepting what comes and making the best out of every situation."
Eloise Skinner: making space for wellbeing within corporate law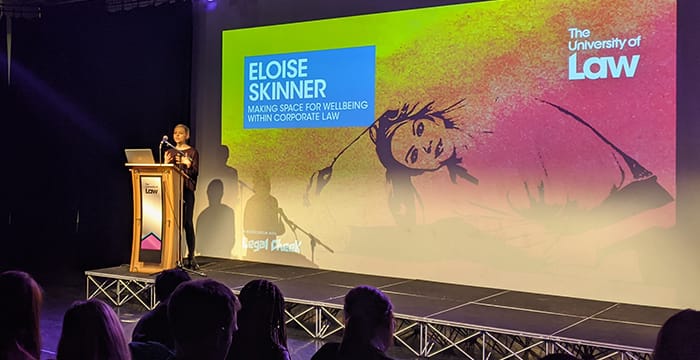 Cambridge University triple-first grad Eloise Skinner is an associate in the London office of US firm Cleary Gottlieb. She completed a total of seven work experience placements at various firms (including US, silver and magic circle firms) before settling at Cleary.
The tax lawyer's upward trajectory shortly came to a standstill when as a trainee and then a newly-qualified (NQ) associate she began to question, "is this it?"
Life as a corporate lawyer in the City can be intense, she said, so much so that you often "can't see beyond the next deal". So she decided to embark on a range of activity to "bring back balance, breadth and depth" to her life.
Skinner is a fitness instructor, a qualified Pilates, yoga and meditation teacher, and a trained Mental Health First Aider. Interestingly, she trained as a monk(!) for a year as part of a programme run by the Archbishop of Canterbury.
The rising star is now on a mission to make space for wellbeing within corporate law. The legal profession has increasingly become mindful of why it's important to maintain good mental health and wellbeing, Skinner noted, but there's more to be done.
She advised putting together a "wellness toolbox" with tips and techniques to help students navigate their first graduate job. These included setting boundaries and being able to prioritise/balance work and social commitments; the ability to focus your attention and use productivity or meditation tools to guide you; realistic optimism; self-awareness and self-reflection.
Harini Iyengar: advocating for equality inside and outside the legal profession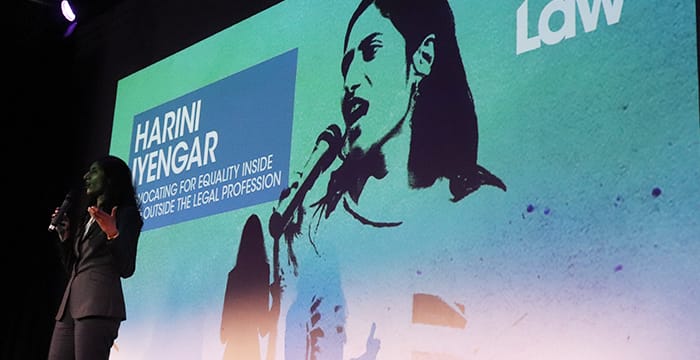 Harini Iyengar was called to the bar in 1999 while seven months pregnant. She completed pupillage as a single parent of a small baby, and successfully obtained tenancy.
A "non-traditional applicant for the bar" and the daughter of immigrants who came to the UK from India to work as doctors, Iyengar told the audience she learnt about the barrister profession while on an outreach programme.
She sought to learn more so she scanned books in career rooms, networked and shadowed barristers on mini pupillages. An Oxford University law degree and Bachelor of Civil Law (BCL) in the bag she set out on her path to becoming a barrister as a woman of colour in '90s England.
My journey from barrister to politician

Speaking at The University of Law's 'The Pioneers' event, Harini Iyengar traces her journey from barrister to Women's Equality Party candidate. "If you feel that you don't fit in with the career path that people in your chosen profession have, ask yourself: Why you can't do it? Why you can't be different?" #LCCareers

Posted by Legal Cheek on Tuesday, 14 April 2020
In the 20 years since she joined 11KBW she has won huge sums of money on behalf of her clients — some of which even make the news. She balances her busy employment, equality and education practice with campaigning for the Women's Equality Party (WEP). She's the WEP lead candidate for the May 2021 London Assembly election.
Harini has also given expert legal evidence to the House of Commons inquiry into high heels and work dress codes and authored 'A Practical Guide to the Law of Gender Pay Gap Reporting'.
Her advice for those setting out in the profession was:
"Go to the place you'll be most successful, whether or not you'll fit in. You don't have to fit in or feel comfortable; growth happens in areas you feel more discomfort."
This event took place in early March and prior to the lockdown.
About Legal Cheek Careers posts.